Pole-Cam Prospecting For Bass
Category: article
May 26th, 2020 by sworrall
Modified May 26th, 2020 at 3:26 PM
An exciting, interactive way to investigate shallow cover for big fish
Crosslake, MN (May 26, 2020) – Beyond a few feet of water, bass and other fish avoid visual detection via the mere presence of the aquatic blanket. They're further separated and shrouded from the terrestrial world by surface glare, wave action and planktonic veils that reduce water clarity. Providing even greater security, boat docks, flooded trees and matted vegetation invite angler curiosity, yet prevent us from seeing what actually lies beneath. The darker and more impenetrable the hideout, the greater its chances, it seems, that a big fish might live there.
Polarized sunglasses help when the water's extra clear and calm. But what to do when fish go where our eyes—and sonar beams— can't?
An emerging and truly enthralling method of scouting for shallow water bass, crappies and other species, 'pole-camming'—connecting an underwater camera to a telescopic pole— reveals amazing perspectives of shallow cover, looking deep into places anglers rarely see.
"You can't believe the rewards of inspecting underwater habitat with an Aqua-Vu camera connected to a pole until you've tried it," asserts Kim Stricker, professional scuba diver, angler and host of Hook 'N Look TV.
"Anglers think of overhead cover in terms of how it looks on the surface," Stricker says. "But from a fish's perspective, it's a whole other universe. And the ability to accurately visualize the underwater world can make all the difference in our success as anglers."
Expert angler Kim Stricker peeks beneath matted vegetation to gain a valuable underwater perspective.
For Stricker and other practitioners, shallow water telescoping is accomplished by attaching the housing of an Aqua-Vu HD series or 715C underwater camera to the end of a telescopic pole. Equipped with XD™ Quick Attachment capability, the Aqua-Vu lens housing allowing for instant connection to an array of underwater viewing accessories. The XD Pole Adaptor connects to any male-threaded pole, including painter's poles and angling push-poles, such as the SuperStick, which fit neatly into a boat's rod storage.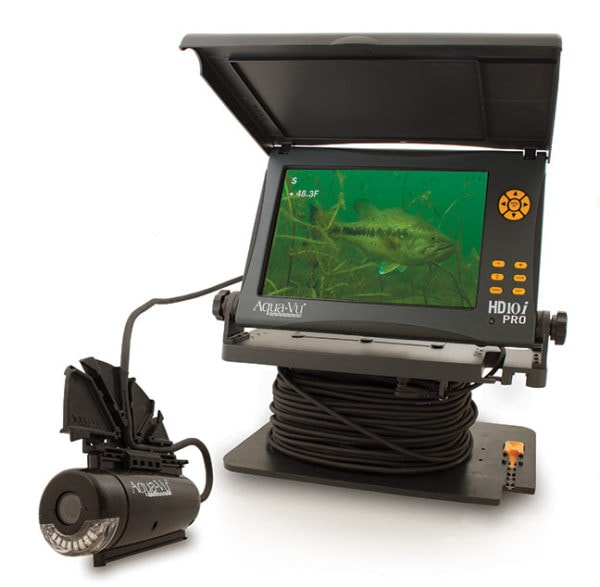 Aqua-Vu HD10i Pro Underwater Viewing System.
"Before casting into an area of matted vegetation, such as pads, milfoil, hydrilla or various weedy 'gunge,' I'll dip the lens into and underneath the mat to get a better understanding of the terrain," adds Stricker. "I get to see if baitfish, such as bluegills, are present. Bluegills almost always mean you've got some largemouths living here. I can see how the vegetation grows beneath the surface, and any underwater lanes or thicker clumps that aren't evident from above. The camera also shows divots in the bottom, and extra dark areas beneath the veg, which can both be bass magnets."
Oftentimes, Stricker also gains valuable visual intel about bass positioning, which aids in lure selection. "Sometimes, I'll spot bass hunkering right beneath the surface mat, just inches below the surface. If I go in there with a Texas-rigged worm or punch with a jig, the bait will plummet past the bass too fast and fail to garner a strike. But by seeing bass positioned just below, I'll choose a lure that stays aloft, tossing a frog, buzzbait or a weightless plastic worm. Visual confirmation of bass presence and position can absolutely mean several big bass in the boat, as opposed to driving away fishless, or thinking bass aren't even in the vicinity."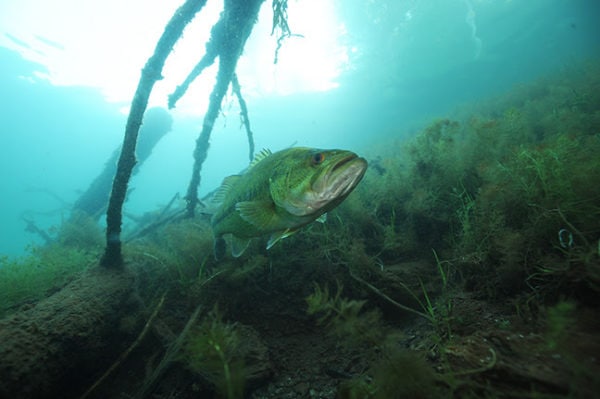 When Stricker talks to anglers around the nation, he's surprised by the incorrect perception that an underwater camera only works in extra clear water. "The reality is, even if the water looks stained to your eyes, the Aqua-Vu will often give you a nice clean underwater picture. Sometimes, even in dirty water, all you need is a few feet of visibility to confirm the presence of fish or baitfish, or to inspect the underwater configuration of cover.
"An Aqua-Vu mounted to the end of a pole gives you total control to look in any direction. It's a fun and truly remarkable way to view the underwater world—even in shallow water—and gain a whole new perspective on your fishing."