This Shad is Ready to Rumble
Category: article
Mar 12th, 2021 by Keith Worrall
Modified Mar 12th, 2021 at 11:10 AM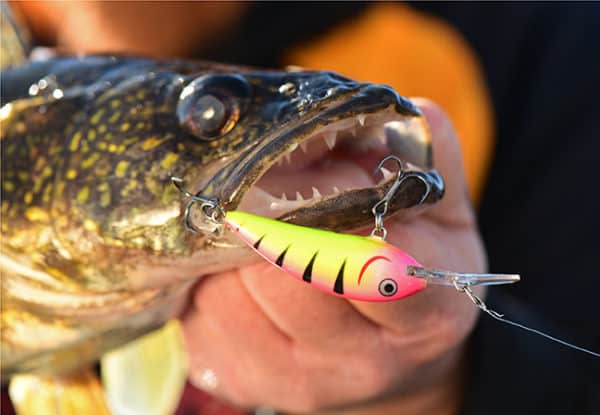 Northland Fishing Tackle's new Rumble Shad set to shake up the water for multi-species action
BEMIDJI, Minn. (March 12, 2021) – Northland Fishing Tackle® enters the premium hardbait game with the new Rumble crankbait series, designed by none other than chief lure designer Jarmo Rapala. He knows fishing is better with balsa…
From a block of the finest balsa wood to welded, through-wire construction to the finished hand-painted and individually tank-tested bait, all Northland Balsa Rumble series baits are handmade with a unique heat compression molding process that ensures unmatched durability, and lures that run true on the troll and retrieve—as well as cast farther than the competition.
Gold Perch
Steel Chartreuse
Northland Team Pro Joel Nelson comments: "I live not too far from Red Wing, Minnesota and shad are the number one forage on the Mississippi River there, so the shad shape is something that's really recognizable. The interesting part is the design of the bait is close enough to a shiner, too, so it mimics a lot of different baitfish. I see the Rumble Shad as a great minnow imitator pattern no matter what species of baitfish are in the system you're fishing. It really is a jack-of-all-trades bait that's super versatile. You can troll it; you can cast it and it's going to imitate a lot of different kinds of forage."
Nelson continues: "In the spring I will troll the bait earlier than most walleye fishermen tend to—like the smaller #5 that dives 5' to 12'. I remember opening up the season on Minnesota's Red Lake when everybody was jigging; the action was slow and the water was cold. People are slip-bobbering and we're trolling figure 8's around them catching fish on the Rumble Shad, just smoking the walleyes. These people could not get bit for whatever reason, but pulling a smaller shad-shaped crankbait was just incredible and we had a three man limit of fish in twenty minutes. So, my recommendation is to fish Rumble Shads early in the season."
"Then you've got the mid- to late-summer period trolling the quintessential last hour of light before dark, pulling them along the weedline and you're going to catch everything: walleyes, pike, bass, and even big, slab crappies. In the fall, the big sizes are what I turn with big wind patterns on a bunch of lakes. If the wind starts howling you go out on that second or third day and cast the bigger size Rumble Shads out on top of the structure and you crank them down into the rocks, and if you get wedged, just pop the bait out and give it some line and big walleyes will take it."
Northland Team Pro Brian "Bro" Brosdahl adds: "The Rumble Shad has a unique tight wobble that fish rush in to eat. In testing, I did a lot of pitching and retrieving, and had everything follow and strike. There are great match-the-hatch colors and wicked colorful patterns. I personally think the Rumble Shad is going to be the hottest new walleye bait this spring. You can troll it on a flat line or lead-core. Personally, I like pitching them – a simple pitch and reel or with a few twitches thrown in. It's definitely a big walleye bait, too. I caught some really big 'eyes on it during testing. Ultimately, the Rumble Shad is a fantastic weapon for every angler to take to their favorite walleye hole. It casts well and you can feel the bait thumping while you're reeling."
You're going to want to up your game with Northland Fishing Tackle's new custom Rumble Shad…fishing's definitely better with balsa.
Sneeze

Blue Tiger
Rumble Shad Features and Specifications:
Made from Premium Balsa Wood
Heat Compression Molding (HCM) Construction
Welded through wire construction from tie eye to the tail
Individually tank-tested
Premium short-shank hooks
Size- #5- 2 1/4″, 3/8oz, #6 hook (Depth- 5-12ft)
Size- #7- 2 3/4″, 1/2oz, #4 hook (Depth- 8-16ft)
Size- #8- 3 1/4″, 5/8oz, #3 hook (Depth- 14-21ft)
15 unique artisan colors
MSRP $9.99