Shore Fishing Tips With Jason Mitchell
Category: article
May 6th, 2022 by Keith Worrall
Modified May 6th, 2022 at 2:49 PM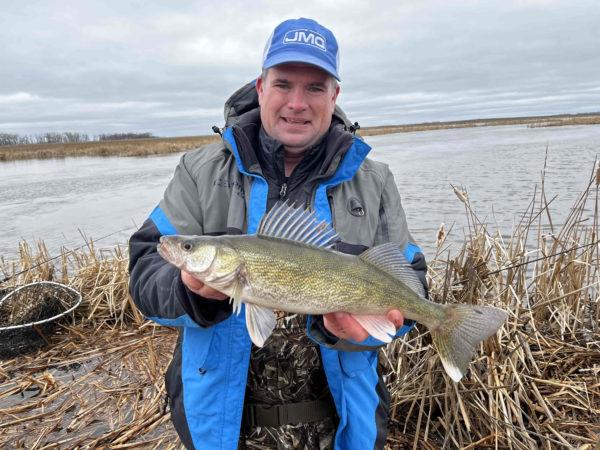 Finally some nicer weather! There is still a lot of ice left on some of the lakes up north but spring is in sight. There is still a surprising amount of ice left on Devils Lake but the shore fishing bite for walleye is picking up in the coulees and channels.
We had a lot of rain last week which muddied up the water but visibility has been improving through the week to four to six inches depending on where you are. Casting 1/4 ounce jigs with soft plastics has been the program.

We filmed an episode earlier in the week where we slow dragged Northland Mimic Minnows along current seams. The key is to find bridges, box culverts or pinch points that create current seams near rock or rip rap. Always fun to put on a pair of waders and catch nice walleye from shore.

Often said that Devils Lake has perhaps the best shore fishing opportunities overall in the upper Midwest for walleye. A lot of nice fish get caught and now is the time to do it.
Watch on Midco on Saturday at 8:30 am | Bally Sports Midwest Saturday 8:30 am | Bally Sports North on Sunday at 9:00 am | ROKU Channel KOTV Sunday at 9:00 am
Also make sure to check out the JMO Podcast each week on the JMO Podcast YouTube Channel, Apple Podcast, Spotify and Stitcher