NWT Insider Report: Earley catches giant late, takes Chamberlain lead
Category: article
Apr 29th, 2022 by Keith Worrall
Modified Apr 29th, 2022 at 9:30 AM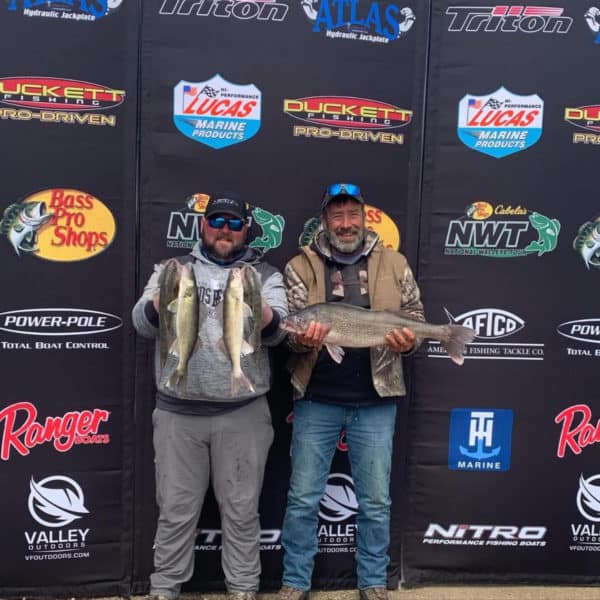 By Brett Carlson
OACOMA, S.D. – The infamous Dakota winds relented on day one of the second National Walleye Tour event of the 2022 season, presented by Bass Pro Shops and Cabela's. With calmer conditions, the turbid Missouri River slowly, but steadily cleared, and the Lake Francis Case walleyes responded with a feeding frenzy. Of the 134 pros competing in the tournament, 120 of them brought a five-fish limit to the scale. In addition to numbers, Francis Case also kicked out a couple of impressive overs, including an 11-plus-pounder by day-one leader Austin Earley.
Earley had a solid, but unspectacular limit in the boat with about an hour and a half left. Earlier in the day, he caught his fish pitching jigs and trolling crankbaits. While jigs and minnows put a few more fish in the boat, a crankbait coaxed his late kicker.
"In town it's been bad for big fish all week," said Earley, who considers Francis Case to be his home water. "Over the last day or so, the weather has calmed down, and the river has cleaned up a lot. I knew the big fish were there, but I also knew it was too muddy. If the weather would tame down and the water would clear up, I knew the big fish would bite."
Halfway through his trolling pass, Earley was proven correct as he landed a 31-inch behemoth. Earley never weighed the fish, but he estimated it was between 11 and 12 pounds.
"Most of the time if you want the big fish, the crankbaits are the way to go. We used many different crankbaits – both Shad Raps and Flicker Shads. I wasn't expecting that good of an over, but I'll take it."
Earley's five best walleyes officially weighed 18.85 pounds, which gives him nearly a 1-pound lead heading into the tournament's final day.
"To be leading the NWT is a good feeling. You're fishing against the best in the world. It's good to be at the top, and I hope I stay there. I love spring walleye fishing on Lake Francis Case, and I've been doing it for a long time."
Tomorrow's forecast calls for rain, increased wind, and potentially stormy weather.
"The wind and cloudiness worries me with the big fish. If we get lightning, that would hurt everyone's bite; it will turn off the big fish. If it's just light rain, it won't affect things too much. The thing I have going for me is that I know this system inside and out. I've been fishing it for almost 30 years, so I have a lot of options that I can go to. With the conditions we've had, I haven't hit them all yet, so it almost feels like I'm still prefishing."
Northrop second with two overs
Cody Northrop, the 2020 NWT Lake Sakakawea champion, sits second with 17.92 pounds. Northop was able to box two overs today. His first at 10 a.m. was a 28-incher, and the second, his last fish of the day, was a 22-incher at 1 p.m.
"It was a slow morning, and I was surprised at the number of boats on the spot," said the South Heart, N.D., pro. "We didn't catch anything for about an hour and a half, and I was just starting to worry, but then it came quickly."
In practice, Northrop tried to find a jig pattern, but was largely unsuccessful.
"We were basically trolling today. We were pretty confident coming in, especially with how the week set up. The water was cleaning up as the week progressed, and today was the nicest day. We knew it was setting up to be a pretty good day, and it was."
Northrop compared this stretch of the Missouri River to his home water.
"This part fishes a lot like the upper end of Lake Sakakawea. What has me a little worried is the rain. I don't know what the rain is going to do to my fish tomorrow. I'll be able to get to my fish, and the winning fish are there; I really believe that, but the rain might change the bite."
Kemos in contention again
In third place is veteran stick Tommy Kemos, the 2014 Lucas Oil Angler of the Year. Walleye fans will remember that Kemos took second at last year's Chamberlain event. He did not weigh a single fish at the season opener as he had to miss day two to attend his brother Telly's funeral. While he knows it was the right decision, missing out on the points means there is little margin for error.
"After Detroit, I came into this thinking I need a top 10 at every event to make the championship," said the Triton pro. "This is a good start towards that, but the championship is out of my mind right now. I'm pretty hungry for a W."
Kemos is once again making a long run south, although he's not fishing the same spots as last year. The rest of his pattern is largely similar. He continues to employ Strike King crater-head jigs with fatheads. Sometimes he's pitching, and sometimes he's deadsticking.
"I lost quite a few fish this morning. They were short grabbing it. I basically stopped setting the hook unless they were swimming off with the jig. They're also a little bit deeper than last year. I'm on the bow casting to 10 feet of water, but sometimes I'll see a pack in 14 feet and pick one off. One of the keys is my Garmin electronics. I'm using my side imaging to locate the areas, then I'm actually looking at the fish and picking them apart with LiveScope. They seem to be sliding up and down more than last year, which you see on the LiveScope."
Like Earley and Northrop, Kemos' biggest fear is the weather. He wants to make the long run again, but he's also aware of the severe weather threat.
"It's going to have to be pretty bad for me not to go. The bottom line is that I can win the tournament there. Anywhere else I go, I don't think I have a shot at winning."
Kemos weighed four nice slot fish and one 6-pound over. His official day-one weight registered 17.61 pounds.
"I think the goal tomorrow is to be consistent and get somewhere around 16-ish. Realistically, 15 pounds could probably do it. Usually, once this place gets beat up for a day, the weights will go down, hopefully not for me. If I can get four hours of fishing, even three, I would feel really good about it."
West fourth, Coon fifth
Rounding out the top five are South Dakota pros Matt West and Jeremy Coon. West, the Langford, S.D., angler, caught a limit weighing 16.15 for fourth place.
Coon, the Wolsey, S.D., local, sits fifth with 15.55 pounds.
Rest of the best
Rounding out the top 10 pros after day one on Lake Francis Case:
6th: Gene Merck of Bismarck, N.D., five walleyes, 15.50
7th: Dustin Kjelden of Brookings, S.D., five walleyes, 15.46
8th: Corey Heiser of West Fargo, N.D., five walleyes, 15.24
9th: Lee Pulse of Kimball., S.D., five walleyes, 15.03
10th: Troy Lorensen of Oacoma, S.D., five walleyes, 14.89
The final day of competition begins today at 7 a.m. Central time as the full field takes off from Arrowwood Resort & Conference Center at Cedar Shore, located at 1500 Shoreline Dr. in Oacoma. The final weigh-in also takes place at the Arrowwood Resort Ramp, beginning at 3 p.m.