Downriggers 101 – Why you should use downriggers
Category: article
4 months ago by Keith Worrall
Modified Mar 4th, 2021 at 12:42 AM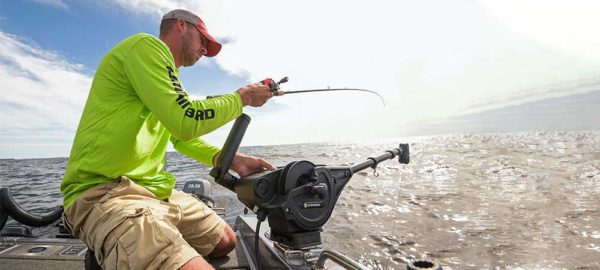 Breaking down the basics of downrigger
By David A. Rose
The downrigger – such a simple device, yet, the most important in an angler's trolling spread.
Fish can get picky, often feeding at one particular depth and only that depth. And with nothing more than a change in, say, wind direction, water temperature and current can change and the sector within the water column they're foraging can modify in mere minutes. A bait being pulled a meager one foot out of the strike zone might not even get a first glance.
With that said, downriggers, without a doubt, are the top tool for getting any bait right into the bite. And any bait will work wonders when coupled with them, from live bait, diving lures, swimbaits, spoons and spinners; from huge saltwater sizes to the littlest lures that could never reach deeper depths by any other means.
"There are so many different techniques anglers can use when trolling; but using downriggers, by far, is the best way to control what depth a lure is running at," says Mark Courts, renown walleye tournament professional and Great Lakes Charter Captain on Lake's Michigan's Sturgeon Bay.
"From walleye, trout, salmon and all species in-between, Courts has caught just about every freshwater species while using 'riggers. "I couldn't imagine trolling without them," he adds. "It's all about being in control of where your lure's at…"
Capt. Mark Courts with a Lake Michigan King Salmon
How Downriggers Work
What a downrigger does is unpretentious: Spooled with several hundred feet of cable, it lowers a weight (aka: Cannon ball or Flash Weight) down through the water column, holds it at the desired depth and then retrieves it back the surface when needed.
A counter lets you know how many feet of cable is out, and your fishing line is attached to a line release. That line will slip free when a fish strikes so you can reel it in uncambered from the ball. Simple, to say the least.
Some anglers run up to four downriggers off the stern and sides of their boat. Yet you're not limited to "deep water" fishing, downriggers are commonly used to target many salmon and trout species when they're in shallower depths than in the summer months. There are other trolling tools that cover these depths, but one thing stands proven, a downrigger will give you complete control of depth and the ability to adjust that depth quickly and easily. Couple a downrigger with your typical dipsy diver and planer board and you'll have a clear advantage over the other boats in the area.
Check out this guide to find the right downrigger for your boat.
Cannon manual downriggers are just as their namesake states; where the ball is lowered and raised via a hand crank. These units are great entry-level tools that allow you to take greater control over your trolling presentations and open a whole new world of experiences.
They are great bolted to boats without accessory batteries, with clamp-on models (or accessory clamps) available for the smallest of boats without wide gunwales. Take a look at Cannon's industry-leading manual downriggers to take the next step in your fishing experience.
Electric Downriggers
Cannon electric downriggers, on the other hand, have powerful motors that can lift 20-pounds worth of weight with ease at the push of a button, and takes the hassle out of fishing. These are advanced, yet simple tools that take your fishing to the next level in productivity and simplicity.
Fish on? With a push of the AutoUp button, Cannon's electric downriggers will bring the ball up to the surface while you do battle with the fish. No muss. No fuss. No tangled lines. And all out of the way and ready to be rigged again before the fish is even in the net.
Not exactly sure of the depth the fish are most active? Utilize Cannon's revolutionary Depth Cycle to sequence the weight, thus your lure, up and down at preset intervals and depths. Advanced features like this are what separate select Cannon electric downriggers from the rest. You can learn more about unique features like this on our Downrigger Technology page.
Of course no modern-day electronics are complete without Bluetooth options, such as with the new, innovative Optimum electric downriggers. Up to four can be controlled with nothing more than a tap of a finger on your smartphone, tablet, and even a Humminbird fish finder interface.
Integrate with the Fish Hawk™ X4D System (sold separately), you'll know the exact speed and water temperature at the weight, as well the same at the surface. And you'd be surprised at the difference in both high and low in the water column, and what a big deal getting your bait running the right speed fathoms below and within thermoclines makes in the bite.
Downriggers in Saltwater
There's nothing vaster on Planet Earth than the salty seas, and downriggers will help you narrow down where fish are in such an abyss.
"I can pick a target on my sonar and get my bait in that zone while covering as much water as possible with downriggers," says Captain Mark Henderson, kingfish tournament professional and charter fishing guru of Liquid Fire Fishing Team off North Carolina's shores.
"I can quickly and efficiently figure out the bite of any species, from top to bottom with them. They really narrow down the hunting and turn that time into catching." Henderson's boat never leaves the dock without downriggers on board, and says 90% of the fish that come aboard are taken from rigs being pulled behind them.
Anglers all around the world utilize downriggers to target saltwater species. Downriggers are an efficient way to put live bait and lures in precise zones of the water column, and all anglers know that being in the right depth leads to more fish in the box. Downriggers are consistently used to target king mackerel, amberjack, cobia, grouper, among others.
Are Downriggers Right for You?
When it comes to trolling, being a control freak is a good thing. Fish can get picky, and knowing where your bait is in the water column at all times is the key to catching them. A downrigger, by far, is the top tool to getting a bait exactly where it needs to be… In the strike zone.
Such a simple device, yet, the most important in an angler's trolling spread.
If you want to learn more about downriggers and see if they're right for you, see the resources below.
Tagged Downrigger Applications + Tips, Manual Downriggers, Electric Downriggers, Saltwater