Offshore Saltwater Advantages of Long Shaft Trolling Motors
Category: article
Jan 27th, 2021 by Keith Worrall
Modified Jan 27th, 2021 at 8:45 PM
Detailing how saltwater trolling motors are giving offshore fisherman better boat control than ever before.
He's as good as they come. Voted the best Captain by his peers and winner of "In The Bite" Magazine's 2016 Florida Captain of the Year. Scott Fawcett has won big money tournaments and captained everything from 12' Jon boats to 72' Vikings. His favorite, and not surprising was a custom 54 Mark Willis named "Bone Shaker".
For Scott, the species does not matter. Whether the target is billfish, yellowtail snapper, black grouper, or kingfish, captain Scott Fawcett is equally at home.
But like all of us, there is always room for improvement. We caught up with Scott to understand some of his newest updates in gear and tactics.
Looking Back to Pre-Trolling Motor Days – Scott Fawcett
First light greeted us on the horizon as we cleared the inlet and made the short run to an area I knew had bait and fish. It was only yesterday that we had released 14 sailfish and boated a half dozen Mahi Mahi, and a stud Grouper.
The strong winds had diminished, but today had more than enough breeze for two important things; to keep the kites flying and to keep the fish feeding. My baitwells were full of Goggleyes, Threadfins and Sardines.
It was on and I could feel it. There wasn't a boat in sight and I knew we were in for a great day.
After putting our third release over the air, I saw it coming. I looked. And tried not to look back again, but here they come. I could hear the buzz on the horizon and the clients on my charter had no idea what it was, but I sure did.
It was 'The mosquito fleet' as I call them. All these small center console boats. They didn't have the range and stability of my 32' Contender but today the sea conditions allowed them to make the short run to the fish.
As the buzz of outboards got closer, they settled in just out of my drift. They were nimble, they were efficient, and they could control their boats with precision. No breach of etiquette here, that's not why I was frustrated with them. It was only because they could do things with their smaller boat that I couldn't do in my big boat.
Center-console boat with Riptide 72″ Ulterra Trolling Motor
Boat control out here means more fish – plain and simple.
I saw one boat sitting over an area and never moved, which defied reason, and I had to swing by for a closer look. I saw a trolling motor on the bow and thought to myself, "Oh no, they're out here too".
Before I even made it past them, they were hooked up again and pulled another decent Gag over the gunnel. They had something I didn't, and it allowed them to get fish I couldn't, and it ate at me.
Minn Kota Riptide Terrova with 87″ Shaft
I resigned to getting one of those motors and I immediately started thinking of how I could put one of these on my bigger boat. I thought it was a long shot, but found out that Minn Kota had the perfect motor to fit my boat – an 87" Riptide Terrova with i-Pilot Link GPS System.
But I made the switch way before it was cool and once the installation was done, that's when the funny looks turned my way. Initially, it was a strange mix of inquiry and envy. Everyone was asking if it was as effective offshore as it was in the river and nearshore.
Scott's 32′ Contender – Vertical fishing over a reef
I told everyone that it's changed my fishing because it's opened up so many opportunities on smaller spots because you would typically drift by too fast. But that was just the start of the trolling motor revelations.
A common joke in my household lately is that I've hired a new captain on board. One that I never get mad at. One that goes where I want him to go.
And it's true, it's my Riptide Terrova trolling motor.
Saltwater Trolling Motors with GPS for Spot-on-the-Spot Fishing
It's pretty crazy to install a "trolling motor" to stay still, but that's one of the best features of my Terrova. Nearshore saltwater anglers have been taking advantage of Minn Kota saltwater trolling motors for years – trolling down skinny water shorelines and beaches to Spot-Lock anchoring on honey holes, but this is new to the offshore world.
Off my coast, we have a lot of grouper, snapper, cobia and my clients love catching them. They pull hard, and they make a great dinner. But catching them reliably requires some solid boat control.
For years, I would use my Yamahas and bump the engines in and out of gear for most of the day to slow our drift, which is sometimes as fast as 4.5 kts.
Add in the wind and then add in clients that need rods baited, hooks tied, fish unhooked and who knows what else. I needed 4 more arms to do all that, but these days, I just press the Spot-Lock button and it's all done!
The Terrova has a built-in GPS that keeps it right on the spot and I'm able to tend to my customers and I can't believe how much easier my life is now as a professional captain. This thing is the best first-mate I've ever had.
The number of bottom fish and reef fish that we've caught running the Terrova is incredible. In most conditions, I'm able to keep my clients directly over top of the fish.
With their lines being straight down, feeling a bite in 80 or 90 feet of water is way easier than playing-out a bunch of line, fighting the slack, waves, and current to feel the bite.
Our hook-up ratio is way up and I can feel good about getting novice anglers reliably on fish.
The Minn Kota AutoPilot for Sailfishing
So no, this isn't the AutoPilot that will efficiently steer your vessel and save fuel consumption over a course of a hundred nautical miles. But it does operate a little bit like that – just on a smaller scale.
Sailfish hooked up while the Riptide Terrova continues to work
The Terrova uses its built-in or external Minn Kota compass to travel in a given direction. It all sounds pretty simple, but the benefits of steering my boat, hands-free at exactly the speed I want, while I'm kite fishing for sailfish has been one of the biggest benefits of running a Minn Kota on the bow of my 32' Contender.
I'm able to keep the bow pointed in the right direction all day long and I don't have to mess sea anchors and all of the frustrations that come with them. Now, I set the motor in the direction that I want and simply hit AutoPilot from the i-Pilot Link remote or my Humminbird units.
Depending on wind speed and current, I can simply throw one of the outboards in gear to push the boat and let the Terrova do all of the steering.
I can run several kite baits on multiple kites and know that my spread is going to stay intact, and I'm able to maximize all the effort that kite fishing requires. I didn't think that this would be such a big deal for sail fishing, and I almost hate to share it, because so many other captains are going to make the switch and I'll lose my edge.
But I want people to catch more fish and this is the exact way to do it.
Fishing A Wreck or Reef with Precision
There are so many wrecks to fish here in South Florida and I've marked so many myself over the years fishing these waters. One of the bigger wrecks is the USS Rankin, a 459' ship that's big enough to be its own ecosystem.
I've got a number of coordinates that mark distinct features all along this wreck and on any one day, we can catch a number of species. Some spots are better than others, given the tides and wind direction. Often, I have to visit each waypoint one-by-one, if for only a few minutes, before moving onto the next set of coordinates.
To make this efficient, I simply hit the "Go To" on my Humminbird SOLIX, and the motor comes alive and takes us right to the next spot. I'm able to fish that reef and every other reef for that matter, better than I've ever been able to – even when I had perfect conditions. I can pick apart a reef like the Rankin so fast because I go straight to the 'spot on the spot' that's proven effective before.
Often small adjustments in boat position can make a big difference. 20 feet can be the difference between catching only a few fish and being right on them, and sometimes you're only 40 feet away from catching no bites whatsoever.
To do that, I just hit the "Jog" button on my remote or on my SOLIX, and every time I press that button, my Contender moves 5 feet in that direction. I can move forward or backward; left or right at the press of a button.
I can make quick work of a spot and make the subtle adjustments needed to keep my clients right over the fish.
One-Boat Network™: Always in Control
I have the Terrova and my SOLIX chart plotters connected to their proprietary One-Boat Network, so I run my Terrova right from the helm or from the upper station depending on where I want to be.
But when I need to move around the boat, I just use the remote control.
I run a center console, so my clients can fish the full 360 degrees around the boat. But this also means that I have to be able to move the full 360 as well and the remote lets me do this with ease.
Using Trolling Motors to Get Bait
I can't overlook the impacts on how I start my mornings – getting bait. Humminbird's MEGA Side Imaging has been a huge help to find schools of bait. Once I find them and get near the school, that's when I hit a button and put my Riptide Terrova into Spot-Lock GPS Anchor mode to stay put when I throw the cast net.
Spot-Lock is a huge help, because you never know which side of the rock the bait will be on. Small patches of hard bottom are difficult to stay over in a big boat with big engines, but Minn Kota's Spot-Lock has made a tough task very manageable.
There are times when fishing is pretty simple. No bait, no fish. So when I've got clients getting fresh bait like [sardines] is mission-critical. As a lone captain, I have to see the school of bait, ready my cast net, throw it, empty the net into the bait tanks, and get ready to do that as many times as needed to get a day's worth of bait.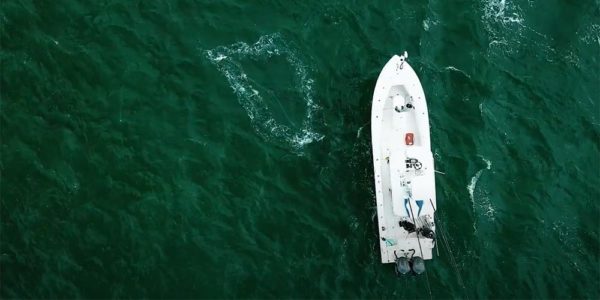 That's a lot to manage for one guy. But since getting my 87" Riptide Terrova, I sit on the bow, with the remote control on my lanyard and look for schools of bait, with my net always at the ready.
Getting bait with the cast net is one thing but when you have four clients slinging Sabiki Rigs on 1oz. weights, things get scary in a hurry. This is where Spot-lock really shines, and it allows my clients to stay straight over the bait and feel the subtle bites.
Now instead of just getting one or two baits per drop we get several each time. What's better is that we never leave the spot. Since we are Spot-Locked, we simply unhook our baits and drop straight down again, and again, and again.
Saltwater Trolling Motor Power and Charging
There are a couple of things to think about when adding a motor, like where to place my power center. My Terrova is a 112lb thrust, 36-volt motor that is powered by three 12V batteries that I have wired in series in my console.
Establishing where you have the room for the batteries is different on every boat, so once you have that figured out, you're on the right track.
To keep them all charged, I use a Minn Kota Precision On-Board Charger because it helps me charge and maintain my battery power day to day and long term. I'm on the water every day and I use my Terrova every day, so I'm pretty careful about keeping my batteries charged. The Precision 460 PC Charger is a 4-bank, 15Amp charger, so I'm able to charge batteries every night and rest easy, knowing that they'll be ready for my next charter.
I don't ever have to worry about power and I'm able to make it through a day's fishing on a full charge.
On days when the wind is extreme, I will put one engine in gear to add enough thrust to keep me on the spot and the Terrova makes the fine adjustments.
Mounting the Trolling Motor
To keep it basic – If you're a do-it-yourselfer kind of person, and you don't mind drilling a couple of holes in your boat, you can certainly install this yourself. I found it really easy to do. Obviously, each boat style will have its intricacies when it comes to installation.
Or, if you prefer to have an expert installation, you can easily find a local shop to do this for you. And once you do, you too will have the best boat control possible
Taking Offshore Saltwater Fishing to the Next Level
After using the Minn Kota Riptide Terrova long shaft trolling motor for a few years now, I've been able to approach my offshore vertical fishing with a whole different level of efficiency and the possibilities are endless.
Witnessing a trolling motor on a 30+ foot vessel years ago would have been unfathomable, but it is now the reality for captains like me. Thinking outside the box and taking your fishing to the next level can be accomplished with tools like this.

Learn more about the 87" Riptide Terrova and all of Minn Kota's saltwater trolling motor options.