PMTT – VITAMINERALS SPRING SHOOTOUT
Category: article
Apr 28th, 2021 by Keith Worrall
Modified Apr 28th, 2021 at 9:13 AM
PMTT – VITAMINERALS SPRING SHOOTOUT
CAVE RUN LAKE, KY – APRIL 24th & 25th , 2021
HOSTED BY MOREHEAD TOURISM
Bob Osborne – PMTT MEDIA/PRESS RELEASE
The Professional Musky Tournament Trail Kicked Off an amazing 23rd Season with an air of excited anticipation and anxiousness to reclaim some semblance and normalcy as 105 Teams, representing 12 States, gathered to visit the familiar, ruggedly beautiful mountains of Eastern Kentucky's Cave Run Lake in Morehead, KY this past weekend in what has become an annual event graciously hosted by Morehead Tourism.
Generally considered a predictable numbers lake, 23 years have also shown this Highland Reservoir system to be wildly unpredictable in Spring when subjected to the fickle whims of Mother Nature's usual suspects. Flooding rain, cold/muddy/heavy stained water, near freezing temps and the inevitable hard draw down to try and get to summer pool were not in the anglers favor. Water temps had flatlined in the mid-50s for the past month and were keeping most fish in what seemed to be an extended negative-to-neutral pattern.
With temps in the low 40s and the promise of a cold rain did little to dampen the spirits of this eager field of musky hunters Saturday morning and an inconsistent smattering of musky began to hit the nets as steady, cold, wind-driven rains delivered only 13 muskies registered, up to 45.75". With no one doubling up by the end of the day, things were still wide-open for Day 2. With no runaway leaders, a positive weather change in the forecast and parts of both major & minor moon phases hitting during tourney hours, everyone was excited for day 2.
Well-known local anglers, Scott Salchli & Anthony "Pork Chop" Smith, both from Morehead, Ky. had been among those able to get on the board the day before and having lost a nice one and moving others, the duo was very hopeful of a good finish. They were targeting a very tight area Salchli had located earlier and had been nervously babysitting near the popular Scott's Creek Marina. They were focusing on a near shore stretch, setting up in about 10-feet of water and casting white/chartreuse Hot Tail Gliders up in the minus-2ft range with a painstakingly slow retrieve to provoke a strike.
Immediately out-of-the gates and finding their spot unoccupied, the pair set to work right where they had left off the day before and put two more muskies in the boat. Registering three muskies up to 37.50″ over the course of two days in an honestly tough bite put them in 1st Place and crowned the champions of this annual event as they took home more than $15,000 cash payout!
2nd Place was earned by James Reiter & Cesar Saucedo of the Chicago area who registered the only double of this event. Also working Glide Baits in shallower water but off main lake points that produced a pair of nice sized musky hitting the bumpboard at 37.25" & 38.25" respectively the second day that were enough to have won if not for that late heroics of the eventual winners. There efforts earned them a total of 110 points and with the TTAP award, they took home over $5750 for their 2nd place finish.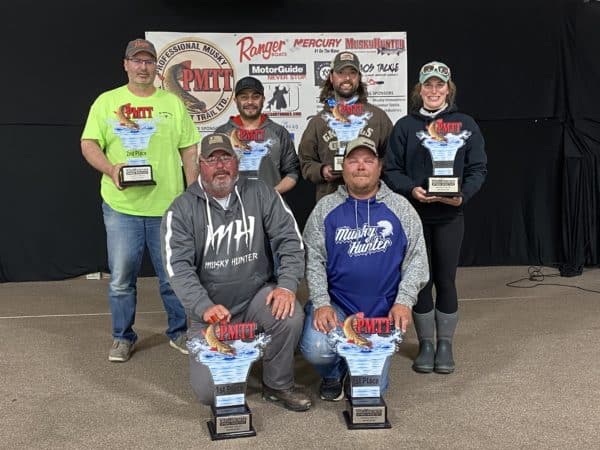 Top Three Teams
3rd Place: Event BIG FISH: MUSKY HUNTER MAGAZINE BIG FISH AWARD… was claimed by Brad & Chelsey Sheridan, a husband-and-wife Team out of South Dakota who Registered a beautiful 45.75" Musky that ate a Homemade White crankbait being trolled in 20'-25'water through bait clouds they had located. 4th Place went to veteran local angler Darrell Seasor and Virginia Guide, Ken Trail, working a white, RED OCTOBER TUBE in areas holding bait at 10-to-15-foot, using a mix of jigging and casting that put a fat 43.50" in the net. While 5th Place and the TTAP BIG FISH BONUS went to Dennis Sweeney and Jerry Ulaszek of Illinois, casting white Bull Dawgs off points to register a musky of 42,25"
Day 1 Big Fish – 45.75″ Brad & Chelsey Sheridan
In closing, Tournament Director Tim Widlacki, expressed his deep appreciation to our many outstanding Sponsors for their continuing support and the important part they have played in our growth as the 1st and only truly National Pro Musky Circuit; Highlighting Freshwater's most elusive and challenging fish and the Community of Extreme Anglers who give chase over the past 23 years. Special thanks were given to the great folks at MOREHEAD TOURISM, who have been with us since our very first Season… 23 years ago. EAGLE RIVER CHAMBER OF COMMERCE & VISTORS CENTER; MUSKY HUNTER MAGAZINE, MERCURY MARINE; RANGER BOATS; KEYES OUTDOORS; CHAOS TACKLE; MOTORGUIDE; VITAMINERALS; LAKE CHIPPEWA FLOWAGE RESORT ASSOC; TREELAND RESORTS; THREE LAKES AREA CHAMBER OF COMMERCE; EAGLE WATERS RESORT; VISIT BEMIDJI; RUTTGER'S BIRCHMONT LODGE; MOTORGUIDE and our entire family of contributing & associate sponsors. Please let them know you how much you appreciate what they do whenever you get the chance… these are difficult times for many businesses so show them some Musky Love when you can… they are part our growing PMTT Family
104 Teams; Registered 21 Musky: 13 Day One & 9 Day Two: Saturday/Event "BIG FISH"/Musky Hunter Magazine "BIG FISH" was 45.75: Sunday BIG FISH/TTAP BIG FISH 40.75"; Registered by Trail Team #59: Nickolas Kushnerik & Mark DiMatteo: TTAP HIGH FINISH AWARD; Trail Team #20, James Reiter & Cesar Saucedo