PMTT / MERCURY MARINE EVENT SETS RECORD
Category: article
Jun 13th, 2023 by sworrall
Modified Jun 13th, 2023 at 10:28 AM
25th SEASON – 2nd QUALIFIER – HOSTED BY LIGWOOD, LLC –   MADISON CHAIN OF LAKES, WI.  JUNE 10TH & 11TH, 2023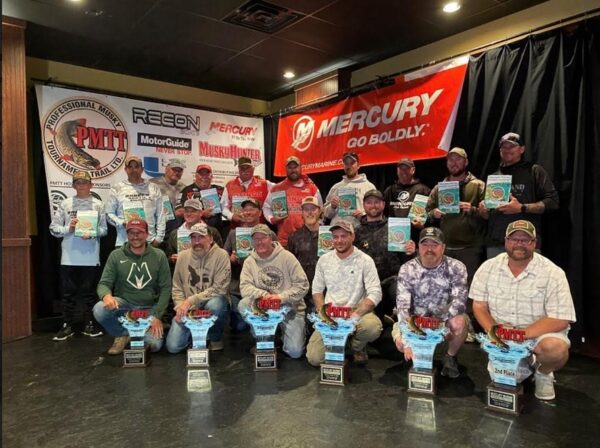 The Professional Musky Tournament Trail made its second stop during its historic 25th season with the Mercury Marine's Summer Challenge on the Madison Chain of Lakes, Madison WI. June 10th & 11th. This record-breaking tournament saw some of the best anglers from twelve different states converge in the town of Madison to compete in this event. With the extended drought hitting the entire Midwest and water temps warmer than usual, the anglers were hoping the frontal conditions moving in would help turn the big fish on and did it ever.
Mark Lijewski from Minocqua, WI and Nate Ruszkiewicz of Pewaukee, WI teamed up for the first time in a PMTT qualifier and lit the Madison Chain up by landing the largest musky ever in a Wisconsin PMTT event by boating a giant 52.75" beast. "It was all kind of crazy because I was just fishing for one musky, one that might help us qualify for the Recon Boats World Championship" stated Lijewski.
After blanking on day one of the Mercury Marine Summer Challenge, Lijewski & Ruszkiewicz decided to go deep and fish some big fish spots on the second day. "We didn't think we had a chance at winning this tournament, so we really were just trying to catch one to put us on the board", stated Ruszkiewicz. With less than two hours left in the tournament, while throwing natural color rubber baits over deep water humps, Lijewski and Ruszkiewicz put three muskies in the net of 44", 45" and the biggest Wisconsin musky ever recorded during the past 25 years of PMTT tournaments at 52.75". They not only left town with the first place hardware, they also captured the big fish bonus, the TTAP bonuses and the Recon Boats $1,000 first place bonus to take home over $21,000 in prize money!
2nd Place: Ethan Rogers of Bemidji, MN and Mike Brister of Bemidji, MN lead the event after the first day by boating three muskies up to 45.25". They caught all three fish throwing carp-colored Dying Dawgs off the weed edges and worked the baits back in very aggressively. The pattern died on day two as they slide into second place and took home $4,400 in cash.
3rd Place: Joey Rozanski of Pewaukee, WI and Mark Gillich of Arbor Vitae, WI were also on the big fish as they boated a 48.75" and a 51.50" muskies on day two of the event throwing natural colored jerk baits over deep rocks and took home over $3,000 in prize money.
4th Place: Jeromy and Trevor Barber, the father and son team from Eagle River, WI boated two muskies of 45.75" and 46.50" on natural colored rubber baits over deep baitfish and big fish of the day Saturday and a total of $2,700 in prize money.
5th Place: Gus Mantey of Eagle River, WI and Max Mantey, Minneapolis, MN, brothers that doubled up on muskies of 41,75" and 44.75" one each on a black rubber bait deep weed edge and black crankbait on a shallow weed line.
PMTT Tournament Director, Tim Widlacki, acknowledged the Trail's deep appreciation to our many outstanding sponsors, for both their continuing support and the important part they have played and are playing now in our growth over the past 25 years as America's 1st and only; truly National Professional Musky Circuit. Leading the way with new, challenging, and innovative formats, featuring many of America's Top Musky Fishing Destinations. Special thanks to our Q-2 Event Sponsor, MERCURY MARINE and our good friends at Ligwood, LLC for hosting the PMTT in Madison. Also, the Official Boat & World Championship title sponsor RECON BOATS, MUSKY HUNTER MAGAZINE, MOTORGUIDE, LIEF LABS and to all of our wonderful Hosts and Site Partners for their support ; Lake Chippewa Flowage Resort Association, Treeland Resorts, The Landing, Sunset Bay, Morehead Tourism, The Boathouse and our entire  family of Contributing & Associate Sponsors Please let them know how much you appreciate what they do whenever you get the chance… show them some Musky Love, returning their support when you can… they are a vital part our growing PMTT Family.
TTAP Bonus Big Fish Contingency Award – Mark Lijewski & Nate Ruszkiewicz – 52.75"
TTAP Bonus Top Team Contingency Award – Mark Lijewski & Nate Ruszkiewicz
Saturday's PMTT BIG FISH Award – Jeromy and Trevor Barber – 45.75" – $500
Sunday's PMTT BIG FISH Award – Mark Lijewski & Nate Ruszkiewicz 52.75" – $500
MHM BIG FISH – Ethan Rogers & Mike Brister – 45.25"
FINAL RESULTS – 30 Musky up to 52.75"
DAY-1 Total – 17 Musky Registered
DAY-2 Total – 13 Musky Registered
UP NEXT – Lake Vermilion, MN – August 18th & 19th, 2023