Winter Ice Fishing in Chautauqua County, NY
Category: article
Feb 1st, 2022 by Keith Worrall
Modified Feb 1st, 2022 at 9:41 PM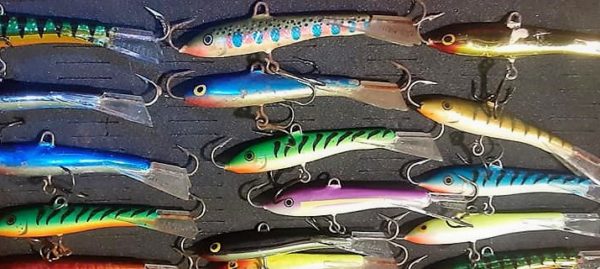 Negative temperatures and sunny days offer Winter Fishing Fun on Chautauqua Lake!
Chautauqua, New York – Jan. 30, 2022: Tried, tested, and true, the winter fishing in Chautauqua Lake is pure fun. Yellow perch, walleye, bluegills and crappie are among the usual catch. Anglers are generally species-specific with tactics, but when fishing the weed edge with minnows, tiny ice jigs, or swim-jig lures, you never know what mini-monster fish might be swimming nearby.
At the village of Mayville, in the north end of the lake, abundant parking at the Mayville Village Park is available for anglers. The Mayville end of the lake is famous for taking little kids on the ice for their first hard water fishing adventure. The excitement of walking on water for the first time is a once-in-your-lifetime experience not to be forgotten. That end of the lake seems to be the wintertime nursery for thousands of small perch that are always eager to bite. The kids enjoy it immensely. Colorful ice huts dot the lake here, right now, on each weekend when the kids are home from school.
Farther south, on the east side of the lake, the sharply descending lake bottom off Dewittville Bay, Mission Meadows and Long Point, offer angler-access to some of the deepest holes to be found in Chautauqua Lake. Schooled walleye are more common here at some point of the downward slope between 10 feet and 70 feet. Once found, it can be an angler "Hay-Day!" If you are registered in the Chautauqua Lake Winter Fish Derby, it could be an angler "Pay-Day!" The derby started on Jan. 22 and will run through Feb. 27. Registration is open to kids and adults, and you can register after the start of the derby, as well. Charter Captain Mike Sperry is host of the Chautauqua Lake Winter Fishing Derby at Chautauqua Reel Outdoors Bait and Tackle, located in Lakewood, NY, in the south end and west side of the lake. Derby founder Rich Davenport says, "This derby allows fishermen of all ages to compete, kids too, and offers prizes for six species of fish including walleye, perch, crappie, sunfish, silver bass and white perch. Anglers can register in person at the tackle shop in Lakewood (716-763-2947) or online." To register online, visit https://weloveoutdoors.org/2021/12/new-ice-fishing-derby-set-for-chautauqua/. The cost is $25 with 100 percent payback. Talk about sharing! The contest is based on fish length, not weight, and open water catches are allowed if the ice goes away early, though that's not likely with the deep freeze we have here.
Is winter fishing through a hole in the ice new for you? If so, and you want to learn from first-hand from experts, two fellas can guide you to catch fish with confidence. Dillan LaBarbera and Justin Whalen are two young certified NYS guides that can teach folks about fishing (winter and summer) on many different Western New York waterways, but with a focus near their home in Chautauqua County. They like Chautauqua Lake, Findley Lake and the three Cassadaga Lakes for crappie, perch and walleye in the winter months. Dillan says, "As kids, Justin and I have always dreamed about doing what we love for a living! Our fathers taught us how to be outdoorsmen, and they were taught by our grandparents. We come from a long line of outdoorsman folks, and now we want to share the knowledge we have collected with as many people as possible. We plan to do this through fishing, whether bringing people out to fish with us or making videos of our own experiences. So join us and get hooked on fishing. You won't regret it!" These guys have winner personalities, and they share. You can contact Dillan at 716-499-7545 or Justin at 716-969-6155. For more, check out www.hookedonfishin.net.
If you are on your own, a sonar unit, electric drill/auger and pop-up wind shelter will make the day even more fun. Drill a hole, drop a swim jig or a minnow-tipped lead jig, and try your luck. If there are no takers, move around to find active fish. Sensitive-tip ice fishing rods offer help, though it can be vicious when walleyes strike, and there is little doubt about detecting the strike.
Swim jig lures with the tail fins, and vertical jigging lures (like the Stingnose Minnow in ¼ to ¾ ounce sizes) are among the usual winter walleye lures. Lift-drop action from the rod tip or repetitive rod snaps can entice a strike. Each day is different. For variation, alter the jigging frequency and rod-snap height from a few inches to a few feet. Start at the bottom with each technique. Then start over 1-foot off the bottom, then 3-feet off the bottom, and so on. Hang on to your rod!
It's easier to fish shallower water where crappie and yellow perch are more common inside the 10-foot weedline. Tiny ice-jigs with wax worms, spike grubs or mousee grubs are a favorite winter panfish bait, though small minnows, including emerald shiners, fat heads, and Rosie reds, work too. Many anglers carry artificial Berkley Gulp Maggots as a backup.
When the wind blows from the northwest, the smaller Chautauqua County lakes can be more comfortable than Chautauqua Lake (13,156 acres) and these smaller lakes are well-populated with the same fish species. The lakes include Bear Lake (141 acres), Cassadaga Lake (102 acres), and Findley Lake (292 acres).
When ice fishing, ALWAYS remember to keep safety first. Never let your guard down when walking out on the ice. Fish with a buddy when possible, carry a spud bar to check for safe ice as you walk out, especially on fresh or refrozen ice, and have a spike safety lanyard around your neck and shoulders just to be extra safe.
Latest Chautauqua Lake Fishing Reports: Check w/Mike Sperry, Chautauqua Reel Outdoors, 716-763-2947, www.chautauquareeloutdoors.com/; Hogan's Hut, 716-789-3831, www.hogans-hut.com/.
Chautauqua Ice Fishing Regulations: https://www.dec.ny.gov/outdoor/50474.html.
Chautauqua Area Lodging: winter season rates: http://www.tourchautauqua.com/where_to_stay.aspx.