The Ice is Progressing on Lake Of The Woods but Mother Nature is Boss
Category: article
Nov 19th, 2021 by Keith Worrall
Modified Nov 19th, 2021 at 11:56 AM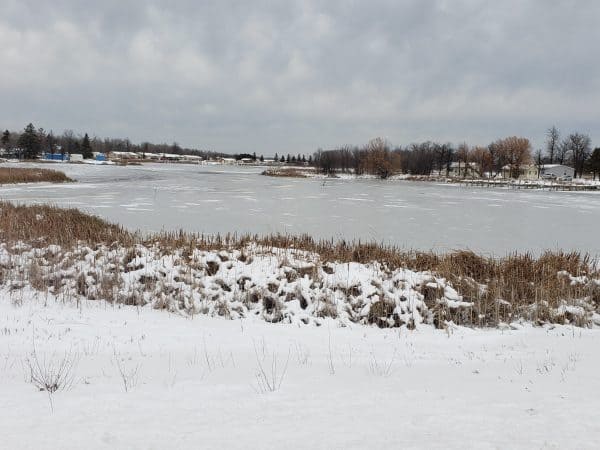 Ice is starting to form in back bays around Lake of the Woods. When it is time to fish, our resorts and outfitters will be sure to let you know but that time is not yet!
It would behoove us not to mention safety first. This is the time of year many ice anglers have been looking forward to for literally months and many are ready to get out there. Mother Nature always determines the progress of ice and sometimes it is prudent to pull back on the reigns a bit. It won't be long and the progression of ice fishing on Lake of the Woods will begin.
We really encourage ice anglers any time of the year to use the marked trails ice guides have created. There is a lot of intel that goes into these trails such as routing around springs, cracks, holes in the ice, etc. In addition, strategically, many of these trails were flooded, which is a process to put water on top of the ice which freezes faster than ice naturally forming at the bottom of the ice.
Another technique used to build ice for an ice road or trail is keeping the trail or ice road plowed. This removes the insulated blanket of snow allowing the ice to get thicker quicker.
In another case, there is a resort that has an important part of their ice trail that is back in a bay that doesn't see much wind. The wind will actually blow the snow preventing it from accumulating as it normally would in a protected area. To create a bit of wind, the resort fires up the airboat that is designed for ice fishing. The huge fan blows the snow off away from the trail area forming a nice early base.
Ice angling, or actually spearing, is one of the first fishing activities to start. A few resorts offer spearing for pike on back bays that get ice first. Again, these are not areas where you should just go out on your own. This is early ice, there are springs, current, cracks, etc that ice guides are aware of and their routes naturally avoid.
Typically when the big lake freezes over, ice guides will work together for safety and venture out checking thickness, where the cracks and ice upheavals have formed. In some cases, when there is thin ice and a strong wind, ice sheets will get blown on top of each other creating a wall of ice. This is most common on the south shore. There have been years where to get ice anglers out to the fishing areas, resorts and their ice guides have literally had to use chain saws and chisels and create an opening through a 10 foot high ice upheaval.
In most cases, it takes sweat equity to get through this ice. If there was a machine to do it, trust me, they would be using it!
Eventually, south end resorts and outfitters will allow ATV and snowmobile traffic on a marked trail with collapsible fish houses.
Next, the resort day houses will get out. Guests are then typically shuttled out by resorts in light ice rigs if they don't have their own light ice transportation. Mother Nature always determines when this is, but as a rule, around December 10th, give or take.
Eventually light vehicles will be allowed. Then mid sized vehicles and maybe an ATV or side by side with a smaller wheelhouse. As the ice thickens, the weight capacities rise.
It is important to note, you can have neighboring resorts with ice roads right next to one another and ice conditions can be very different. Ice forms differently every year. In some cases, the ice when forming may have broken apart in an area which takes time to heal up whereas in another area the sheets of ice are solid. This is why it is important to follow the advice of ice guides and stay on the marked trails.
If we see someone getting themselves in trouble, almost all of the time, it is when they go off on their own off of the marked trails. Being out on a frozen lake is nothing to mess around with and everyone's intent is keep everyone safe. Second, let's get on fish.
As the season progresses, half ton pickups will be allowed. Then 3/4 ton. Eventually 1 ton.
Did you know up at the NW Angle, late in the year on good ice years, semi trucks will actually haul on the ice? It is true. In some cases, they may be hauling construction materials to an island for a home, cabin or resort. In some cases, they haul rip rap to areas for shoreline restoration. Nonetheless, it is hard chatting about this without someone bringing up the show, "Ice Road Truckers"!
Ice fishing is a part of life up at Lake of the Woods. It is tradition, a way to get out and thoroughly enjoy a cold Minnesota winter in heat and comfort. Let's work together and with our hard working ice guides whose #1 goal is to keep everyone safe and happy!
This year's predictions for ice fishing Lake of the Woods are most excellent. Driven by a healthy population of walleyes and saugers, ice anglers are chomping at the bit to get on the ice. Ice safety first has to be the message and constantly in the forefront of any ice fishing adventure. As we approach a new ice season, there are some ideas that overall will lead to safer experience up at Lake of the Woods. Here are just a few things to keep in mind when thinking ice safety.
Work through a resort or outfitter. It sure is nice to be able to head out ice fishing via an ice road, snowmobile or resort ice transportation. In many cases, people don't realize all of the behind the scenes work that takes place to make sure visitors are safe. Ice workers are constantly monitoring the ice thickness and ice conditions. Ice roads are driven each morning. If there are problem areas that can occur in the ice, the resort either adds bridges or re-routes for safety. Resort ice workers are constantly monitoring, plowing and repairing ice and considering ice safety for their guests. Staying on the trail is your best bet. If you decide to venture out on your own, be sure to know the ice conditions first.
Be Prepared: Ice picks. They aren't expensive and if the unthinkable would ever happen, could save your life or if someone else if you would toss them to someone else in distress. When people have fallen through the ice, one of the challenges is getting out of the water. The ice is wet and slippery. Picks allow someone to dig in and get a grip when pulling themselves out. Please, invest in a pair this week. If they don't benefit you, perhaps someone else.
Markings. When following a marked trail on the ice, double flags mean caution ahead, such as a big ice chunk, crack to avoid, etc. On snowmobile trails you might actually see a caution sign. Trails in good condition are marked with single stakes or flags. If you are ever in doubt, feel free to ask.
Who to contact in the event of an emergency. If you ever experience a situation in which you or someone else is in need of help, your first call should be 911. This call is routed to professionals who have an entire list of agencies and resorts for that matter who may be able to help. Resorts often times are right in the middle of assisting with emergencies, medial or otherwise. With this being said, your first call should be 911.
Be Prepared: cell phone. When you venture out on the ice, it is a good idea to have your cell phone charged up. Some people will actually carry the small portable battery packs that can plug into most cell phones for a good charge. Remember if you are out of cell range, a text can sometimes get through.
Be Prepared: Clothing. A good rule of thumb is to be over prepared. If you are venturing out on a snowmobile, in your car or even with a resort, having warm clothing, a hat and gloves can be crucial in the event of a breakdown, snow storm or other situation that can occur. The boy scout motto, "Always be prepared".
Be Prepared: Vehicle. Whether you are traveling up to Lake of the Woods or headed out on the lake, it is a good idea to have your gas tank above a half a tank. This will help with extreme freezing temps and if you would happen to run off of the road while driving. Other good items to have are a tow strap, jumper cables, and a shovel.
Be Prepared: Snowmobile. In general, it is a good idea to keep you sled tuned up and in good working condition. Have plenty of fuel, an extra belt (know how to change it), have safety materials in the storage compartment. Some people will carry a rope along for a rescue situation or even a tow. Some anglers who use sleds invest in a Nebulus. In the event you sled goes through the ice, this device is attached to your machine and has a pull cord which inflates a raft. This raft can save you and keep your machine from going to the bottom of the lake or river.
Be Prepared: GPS. A GPS whether in your car or a handheld version can be handy. I like to turn it on when leaving shore so I create a plot line from shore to where I am headed on the ice. In the event of a whiteout, you will be able to follow your plot line back which will help to stay on the ice road or trail you came out of and obviously get you safely home. If conditions are extreme and you are in a fish house with ample heat, it is a good idea to stay put until the weather clears. Contact a resort or someone to communicate your whereabouts and game plan. In some cases, resorts may be able to assist.
Don't take chances. There is always someone who is the first one to walk out, take out an ATV or drive a vehicle. Let the resorts who are trained, who are on the ice daily and have years of experience guide you in what can be used and what is too heavy for the ice conditions.
A big thank you to all of the resorts, ice workers, various agencies around Lake of the Woods including the police departments, fire fighters, local sheriff departments, the MN Highway Patrol, Coast Guard, Border Patrol, U. S. Customs, Canada Border Services Agency, MN DNR, Ontario Ministry of Natural Resources, Valley Med Flight and anyone else who helps with ice safety and has ever assisted or is willing to assist in an emergency situation.
This quick video will give you an idea of near white out conditions and how the wind can whip up on the ice of Lake of the Woods and why it is so very important to be prepared, have the right equipment and have a plan of action while on the ice. Being prepared for this is part of ice safety prep.
This year is expected to be an excellent year of ice fishing. Let's think ice safety first, walleyes second!
Click Here to return to Lake of the Woods Tourism
Click Here for a list of Lake of the Woods Area Resorts and Ice Fishing Outfitters