Lake Of The Woods MN Fishing Report
Category: article
Jan 11th, 2021 by Keith Worrall
Modified Jan 11th, 2021 at 6:44 PM
On the south end… Good numbers of walleyes and saugers are being caught this week, but a lot of sorting as lots of small fish in the system Most ice fishing is taking place between 23 – 31′. Jigging one line on one line and using a bobber with a live minnow on the other is the goto strategy. Electronics are helpful to show suspended fish coming through such as walleyes and tullibees. Popular colors… gold, glow red, glow white, pink and orange. Lures with a red light stick and rattle baits are also effective. Some big walleyes over 28 inches caught this week. Walleyes, saugers, jumbo perch, big pike, tullibees, eelpout and even an occasional crappie being caught on Big Traverse Bay.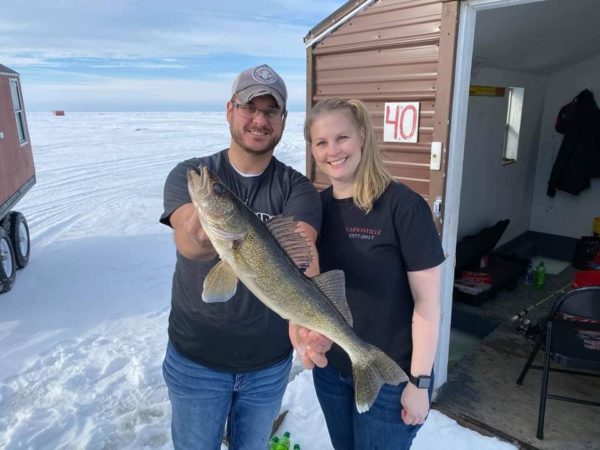 On the Rainy River… Ice fishing on areas of the river continues to produce some walleyes mornings and evenings. Ice conditions vary greatly on the river as there is moving water. Work through a resort for safety.
Up at the NW Angle… With the border closure, there are four ways to travel to the NW Angle without crossing the border. 1. NW Angle Guest Ice Road (opening end of week). 2. Snowmobile trails across the lake are open. 3. Lake of the Woods Passenger Service (bombardier). 4. Lake Country Air.
Angle ice fishing continues to be very good with numbers of walleyes being caught. Walleyes, saugers and jumbo perch with an occasional pike, eelpout, or tullibee in the mix this week. Ice fishing taking place in 20-26′. Communicate with your favorite NW Angle resort for specifics. A complete list of lodging and ice fishing packages available at www.LakeoftheWoodsMN.com/Lodging