Hackler And Wilkins Breakthrough For Eufaula Victory – Crappie Masters
Category: article
Apr 30th, 2019 by Keith Worrall
Modified Apr 30th, 2019 at 1:35 PM
So Close Yet So Far No Longer Applies As Hackler And Wilkins Breakthrough For Eufaula Victory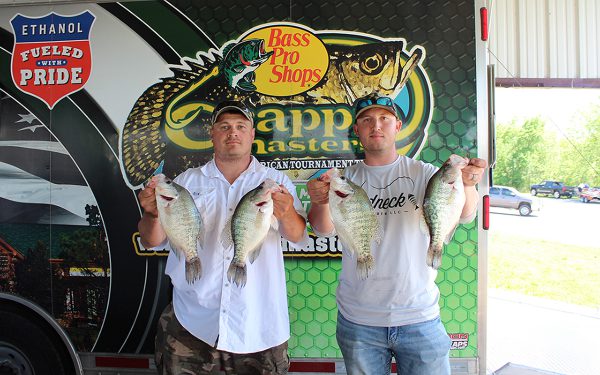 With strong winds, rain and even midday trolling motor battery issues to deal with, it seemed like another close but no cigar finish for the Oklahoma and home lake team of Dillon Hackler and Beau Wilkins who had three consecutive third place Crappie Masters finishes in the 3 prior tournaments on Eufaula was their destiny again, but not on this day as the team outdistanced a strong field to claim their first Crappie Masters win with a weight of 11.65 pounds at the Crappie Masters sponsored by The Renewable Fuels Association, "Ethanol Fueled With Pride", American Ethanol, and Bass Pro Shops Lake Eufaula, Oklahoma National Qualifier hosted by the Lake Eufaula Association, and the Eufaula Chamber of Commerce. Even though the last practice day was absolutely weather perfect, teams knew things were about to change with strong winds and rain expected on Championship Saturday, and Mother Nature delivered making fishing productive waters nearly impossible for many teams who struggled finding quality fish which played right into the hands of Hackler and Wilkins as Hackler guides on the lake and knew areas out of the wind that held tournament quality fish. Everything seemed to be set up for a victory, until midday when Hackler realized the teams Trolling Motor batteries were dead and hadn't charged overnight rendering them helpless to fish the way they planned. The team decided to tie a rope to a tree and did catch a couple more fish but was unable to upgrade from their morning total. Thinking it was going to be another disappointment at home, little did the team know they had just enough to inch out the win over the team of Will Scott and David Earls who made a run at the title weighing in 11.34 pounds. Hackler and Wilkins single Poled in 8 to 12 feet of water catching fish generally 8 foot down using predominantly a bluegrass colored jig. While they could use it the team praised their Minn Kota Trolling Motor and Electronics to find the better fish and combat the wind. Hackler and Wilkins took home $3,800.00 for the win and an additional $250.00 for using E10 fuel from the Missouri Corn Merchandising Council and American Ethanol. Dillon Hackler and Beau Wilkins are sponsored by Redneck Rubber, Power Crappie, and The Bass Tank.
The runner up slot was filled by the team of Will Scott and David Earls who made it close and dramatic as the scale locked in at 11.34 pounds just shy of Hackler and Wilkins. Scott and Earls chose to battle the wind and spider rig minnows and a Bobby Garland Bluegrass colored bait in 8 foot of water catching fish 3 to 5 feet down. The team also praised their electronics and Minn Kota Trolling Motor to target and keep the proper speed to trigger bites. Scott and Earls walked away with a $1,900.00 check for their second place finish.
Third place went to past champions and last years runner up, Charlie and Travis Bunting who rolled in with the only other weight above 11 pounds with a weight of 11.09 pounds, good for $1,000.00 along with an extra $686.00 for weighing in the tournaments big fish, a 2.11 pound Eufaula Slab. The Buntings relied on lake experience and their Mercury Motor, Humminbird Electronics, and Minn Kota Trolling Motor trio to spider rig 12 foot B'n'M poles to alleviate Rod bounce in 10 to 13 feet of water, with the best bite 6 to 12 feet down on black and glow Muddy Water Baits on Whack 'Em Series Jig Head. Charlie and Travis Bunting are sponsored by Power Pole, B'n'M Poles, Humminbird, Minn Kota, Muddy Water Baits, Ranger Boats, Mercury Motors, Off Shore Tackle, Missouri Goldfish Hatchery, Balzout, and Pros Choice Marine.
Fourth place and $900.00 went to the team of Joey Johnson and Chris Coffman who weighed in a respectable 10.86 pounds on 7 fish.
Rounding out the top five was the team of "Mr. Crappie" Wally Marshall and long time partner Jeff Heuman who relied on lake experience to bring in 10.79 pounds and take home an $800.00 check.
1.90 pounds was good for second big fish of the tournament and the $294.00 that went along with it, weighed in by the team of James Fanning and Matt Carroll.
Top Male/Female team honors went to the defending champion team of Eric and Leann Howard who ended up in 10th place with 10.04 pounds and went back to Florida with a new Humminbird Helix 5.
Click here to download full tournament results.
Special thanks to local sponsors that include: Lake Eufaula Association, Eufaula Chamber of Commerce, Jellystone Park Camp Resort, Lakeview Landing Motel, B&B Bait and Tackle, Highway 9 Café, Eufaula Cove Marina, and VFW Post 8798.