Ware Wins Toyota Series Event on Lake Guntersville
Category: article
Feb 25th, 2022 by Keith Worrall
Modified Feb 25th, 2022 at 8:35 AM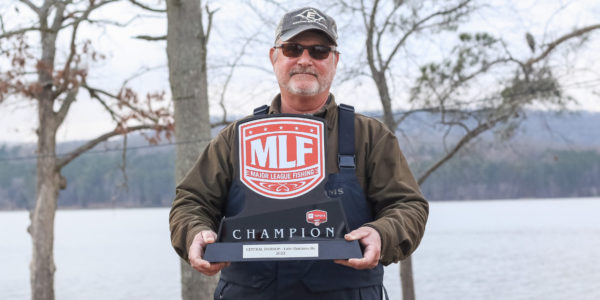 SCOTTSBORO, Ala. (Feb. 24, 2022) – With big bags of smallmouth leading the tournament after the first two days, it seemed brown fish would win the Toyota Series Presented by A.R.E. event at Lake Guntersville. However, local pro Kent Ware of Guntersville, Alabama was slowly and steadily climbing up the leaderboard. Moving from 17th place into 8th after the first two days, Ware brought a final-day total of five largemouth weighing 22 pounds, 8 ounces to the scale Thursday – his biggest bag of the tournament – to win the Central Division season-opener. Ware's three-day total of 15 bass weighing 59-15 earned him the win by a 2-pound, 4-ounce margin over second-place pro Casey Martin of Brownsboro, Alabama, and earned Ware the top payout of $80,000.
Amid changing weather and water conditions and a shortened Day 2 due to a fog delay, Ware persevered with patience and consistency. Although he's had a handful of top 10 finishes with Major League Fishing and won the Southeastern Division Angler of the Year (AOY) title in 2012, this is his first big tournament win.
"Patience is one of the things I try to stress to my co-anglers," said Ware. "If you get in an area like we found that's got fish in it, you just have to be patient. They'll bite in little spurts throughout the day. A lot of guys run and gun all over the place, but I grew up in Florida and when I try to fish like that, I don't do well. The fish live there, and a lot of them stay shallow year-round. It's just a matter of being patient and figuring out a bait that will trigger them, and that's exactly what we did."
Ware said he fished mostly around the central part of the lake and was fortunate to find some clean water that was protected by an island – clean water where a lot of healthy largemouth lived.
"My key bait throughout the tournament was the Bill Lewis Rat-L-Trap. I tried some a few other vibrating baits and caught some fish the first day on a Z-Man Evergreen ChatterBait Jack Hammer but ended up culling those fish with the rattletrap, even that first day. "
Ware was surprised to realize his win had guaranteed him a spot in the Toyota Series Championship and he would have another chance to fish Lake Guntersville later this year – this time for a top prize of up to $235,000.
"It's exciting to be able to come back to Guntersville this fall to fish the Toyota Series Championship – that's actually the time of year I'd prefer to fish it," said Ware. "The goal was to make the championship, and I've had some good years and some bad ones – some good championships and some bad ones – but I'm definitely looking forward to it."
When asked if he was planning to contend for another AOY title, Ware said absolutely.
"I always try to gun for AOY, that's the biggest award to me, but it was nice to finally win a big tournament. It's a little overwhelming at the moment, but it will sink in eventually."
The top 10 pros on Lake Guntersville finished:
1st: Kent Ware of Guntersville, Ala., 15 bass, 59-15, $80,000
2nd: Casey Martin of Brownsboro, Ala., 15 bass, 57-11, $35,000
3rd: Derik Hudson of Concord, Va., 13 bass, 57-5, $21,200
4th: Bo Collins of Robbinsville, N.C., 15 bass, 56-5, $20,000
5th: Nathan Brewer of Lawrenceburg, Tenn., 11 bass, 53-12, $18,000
6th: Ethan Greene of Eufaula, Ala., 15 bass, 53-6, $14,500
7th: Shawn Penn of Benton, Ky., 15 bass, 52-9, $13,000
8th: Kyle Palmer of Winchester, Tenn., 15 bass, 52-8, $10,250
9th: Miles Burghoff of Dayton, Tenn., 15 bass, 51-0, $9,000
10th: Andrew Loberg of Rocklin, Calif., 14 bass, 50-5, $7,000
Complete results can be found at MajorLeagueFishing.com.
Pros Hunter Eubanks of Inman, South Carolina and Kyle Palmer of Winchester, Tennessee, tied for the $500 Day One Berkley Big Bass award in the pro division Tuesday, both bringing a bass weighing 8 pounds, 7 ounces to the scale and taking home $250 each. Brad Burkhart of Speedwell, Tennessee, won Wednesday's $500 Berkley Big Bass award, bringing an 8-pound, 12-ounce bass to the scale.
Collins took home an extra $1,000 as the highest finishing Phoenix MLF Bonus member. Boaters are eligible to win up to an extra $35,000 per event in each Toyota Series tournament if all requirements are met. More information on the Phoenix MLF Bonus contingency program can be found at PhoenixBassBoats.com.
Charlie Crouch of Waterloo, Alabama, won the Strike King Co-angler Division Thursday with a three-day total of 13 bass weighing 45 pounds, 8 ounces. Crouch took home the top prize package worth $46,000, including a new Phoenix 518 Pro bass boat with a 115-horsepower Mercury outboard motor and $12,500 cash.
The top 10 Strike King co-anglers on Lake Guntersville finished:
1st: Charlie Crouch of Waterloo, Ala., 13 bass, 45-8, Phoenix 518 Pro boat w/115-hp Mercury outboard + $12,500
2nd: Greg Surratt of Canal Winchester, Ohio, 11 bass, 42-3, $9,500
3rd: Chris Quaintance of Muscle Shoals, Ala., 13 bass, 40-14, $8,000
4th: Alex Moore of Chester, Ill., 14 bass, 37-8, $6,500
5th: Darren Kelly of Wartburg, Tenn., 12 bass, 37-6, $6,200
6th: Alan Hults of Gautier, Miss., 12 bass, 36-13, $4,500
7th: Cooper Jett of Grand Rapids, Mich., 12 bass, 36-13, $4,000
8th: Randy Wiggins of Birmingham, Ala., 11 bass, 36-5, $3,250
9th: Victor Cuevas of Supply, N.C., 11 bass, 36-3, $2,100
10th: Roger Olson, Jr. of Eagle River, Wis., 10 bass, 33-8, $1,900
The Day One Berkley Big Bass $150 award winner in the Strike King co-angler division, was Emil Wagner of Marietta, Georgia, with an 8-pound, 6-ounce bass, while the Day Two $150 award went to Heath Greene of Eufaula, Alabama with a 7-pound bass.
The Toyota Series Presented by A.R.E. at Lake Guntersville was hosted by the Mountain Lakes Chamber of Commerce. It was the first tournament in the Central Division. The next event for Toyota Series anglers will take place on Mar. 1-3 – the Toyota Series Presented by A.R.E on Lake of the Ozarks Presented by Smart Digital in Osage Beach, Missouri, hosted by the Tri-County Lodging Association. For a complete schedule, visit MajorLeagueFishing.com.
The 2022 Toyota Series Presented by A.R.E. consists of six divisions – Central, Northern, Plains, Southern, Southwestern and Western – each holding three regular-season events, along with the International and Wild Card divisions. Anglers who fish in any of the six divisions and finish in the top 25 – or the top 12 from the Wild Card division – will qualify for the no-entry-fee Toyota Series Presented by A.R.E. Championship for a shot at winning up to $235,000 cash. The winning Strike King co-angler at the championship earns a new Phoenix 518 Pro bass boat with a 115-horsepower Mercury outboard. The 2022 Toyota Series Presented by A.R.E. Championship will be held Nov. 3-5 on Lake Guntersville in Guntersville, Alabama, and is hosted by Marshall County Tourism and Sports.
Proud sponsors of the 2022 MLF Toyota Series Presented by A.R.E. include: 4WP, 13 Fishing, Abu Garcia, AFTCO, A.R.E. Truck Caps, B&W Trailer Hitches, Berkley, Black Rifle Coffee, E3, Epic Baits, Favorite Fishing, Gary Yamamoto Baits, General Tire, Lew's, Lowrance, Lucas Oil, Mercury, Mossy Oak, Onyx, Outlaw Ordinance, Phoenix, Polaris, Power-Pole, Strike King, Tackle Warehouse, T-H Marine, Toyota, Wiley X and YETI.
For complete details and updated information visit MajorLeagueFishing.com. For regular updates, photos, tournament news and more, follow the MLF Toyota Series on the MLF5 social media outlets at Facebook , Instagram and YouTube.
About Major League Fishing
Major League Fishing (MLF) is the world's largest tournament-fishing organization, producing more than 250 events annually at some of the most prestigious fisheries in the world, while broadcasting to America's living rooms on CBS, the Discovery Channel, the Outdoor Channel, CBS Sports Network, the World Fishing Network, and on-demand on MyOutdoorTV (MOTV). Headquartered in Tulsa, Oklahoma, with offices in Benton, Kentucky, the MLF roster of bass anglers includes the world's top pros and more than 30,000 competitors in all 50 states and 13 countries. In 2019, MLF expanded its portfolio of catch, weigh, and immediately release events to include the sport's strongest five-biggest-fish format tournament circuits. Since its founding in 2011, MLF has advanced the sport of competitive fishing through its premier television broadcasts and livestreams and is dedicated to improving the quality of life for bass through research, education, fisheries enhancement and fish care.
Major League Fishing – WE ARE Bass Fishing™