Texas Baptist University Grabs Early Lead at 2022 Abu Garcia College Fishing National Championship Presented by Lowrance
Category: article
Mar 30th, 2022 by Keith Worrall
Modified Mar 30th, 2022 at 2:14 PM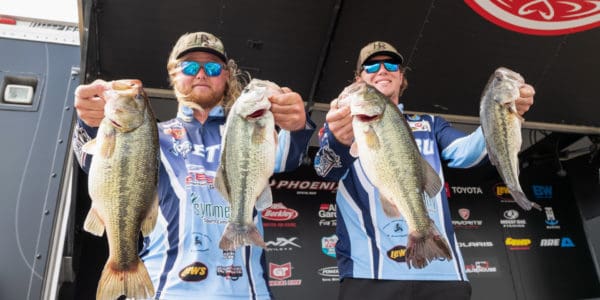 WAGONER, Okla. (March 29, 2022) – The East Texas Baptist University duo of Kaden Proffitt of Pittsburg, Texas and Cason Ragsdale of Winnsboro, Texas, grabbed the early lead Tuesday after Day One of the 2022 Abu Garcia College Fishing Presented by YETI National Championship Presented by Lowrance at Fort Gibson Lake. The Tigers team brought a five-bass limit to the scale weighing 17 pounds, 9 ounces, giving them a mere 1-ounce lead over the second-place Kentucky Christian University team of brothers Lafe and Matt Messer of Warfield, Kentucky.
After a blustery start to the day, competition on Day One was shortened by an hour due to high winds in the forecast; however, that didn't seem to put much of a damper on the outcome for the young anglers in the top position.
"The numbers on the scales made it seem like we smashed them, but it was pretty tough," said Ragsdale. "It was a grind, and the wind blew us around a lot. I think the key difference is that we were able to get out of the wind, then just stayed in one area and really pounded it. It took us 20 to 40 minutes sometimes, making the same cast over and over again, just to get a bite. There were some fish here and there that just happened to be the right ones today."
"We fished a lot of transition banks, where there were fish that wanted to move up but with the water and weather changing, they don't know really where they want to be," said Proffitt. "They are kind of staging in areas in front of where they are going to be spawning."
The pair started the morning on the south end of the lake, where they caught two fish, before spending the rest of the day down in Long Bay. As for experience on the fishery, Ragsdale said he'd only fished on Fort Gibson Lake once before, in the summertime, under completely different conditions.
"When I was younger, I spent a little time fishing on Lake Texoma, and this lake feels a lot like that, so I've used a few things that I learned there," continued Ragsdale. "Mostly though, we are just fishing things that make sense, areas where fish can sit and be comfortable, whether the water is going up or down, and the water isn't going to run off of them – steeper banks, things like that."
The senior business administration majors said they only caught five keepers today, landing the last one only 35 minutes before they had to check in, but they were thankful those five had the numbers to keep them on the top of the leaderboard.
When asked their expectations for tomorrow, Ragsdale responded, "I think we can duplicate what we did today, but we could also zero. It's one of those weeks that if we get the bites, we get them, but it probably won't be a slugfest."
"I think most of the fish we are around are good quality fish, so if we are fortunate enough to get five bites again, there's a good shot that we'll have another good bag in the 12- to 14-pound range," said Proffitt.
The 13th annual College Fishing National Championship is a three-day event – hosted by the Wagoner Area Chamber of Commerce and the City of Wagoner – featuring the top 176 college bass fishing teams from across the nation competing in an internationally televised, no-entry fee tournament for a $33,500 prize package, including a new Phoenix 518 Pro bass boat with a 115-horsepower Mercury outboard.
In addition to the boat package, both members of the winning team and the runners-up at the 2022 Abu Garcia College Fishing National Championship will advance to the 2022 Toyota Series Championship where they will compete as pros for a top prize of up to $235,000. Both members of the third-place team will advance to the 2022 Toyota Series Championship to compete as co-anglers for a shot at winning a $33,500 Phoenix 518 Pro with a 115-horsepower Mercury outboard.
The full field of 176 teams compete on Tuesday and Wednesday, with only the top-10 – based on two-day cumulative weight – advancing to Championship Thursday. The National Champions will be crowned Thursday based on the cumulative three-day weight total.
The top 10 teams after Day One on Fort Gibson Lake are:
1st: East Texas Baptist University – Kaden Proffitt, Pittsburg, Texas and Cason Ragsdale, Winnsboro, Texas, five bass, 17-9
2nd: Kentucky Christian University – Lafe and Matt Messer, both of Warfield, Ky., five bass, 17-8
3rd: Missouri Western State University – Gaige Blanton and Kody Mazur, both of Saint Joseph, Mo., four bass, 14-4
4th: University of Louisiana Monroe – Jacob Andrews and Connor Nimrod, both of Monroe, La., five bass, 14-0
5th: McKendree University – Kyle Hopping, Lake St. Louis, Mo., and Lane Stephens, Grove, Okla., five bass, 13-15
6th: McKendree University – Bailey Bleser, Burlington, Wis., and Nathan Doty, Decatur, Ill., five bass, 13-9
7th: Stephen F. Austin – Austin Anderson, Nacogdoches, Texas and Cal Cameron, Coppell, Texas, four bass, 13-0
8th: Carson Newman University – Caz Anderson, Haysville, N.C., and Lee Rose Koza, Marietta, Ga., five bass, 12-15
9th: Bethel University – Chase Milholen, Lexington, Tenn., and Levi Mullins, Nineveh, Ind., four bass, 12-12
10th: Stephen F. Austin – River Lee, Nacogdoches, Texas, and Hunter Muncrief, Pineland, Texas, four bass, 12-11
10th: Dallas Baptist University – Reece Martin, Lindale, Texas, and Jacob Witkowski, Dallas, Texas, four bass, 12-11
For a full list of results, visit MajorLeagueFishing.com.
Overall, there were 298 bass weighing 813 pounds, 4 ounces caught by 131 teams Tuesday. The catch included 10 five-bass limits.
Anglers will take off from Taylor's Ferry North, located on Dock Road in Wagoner at 7 a.m. CT each day of competition. Weigh-ins will be held at Taylor's Ferry North starting at 3 p.m. and will be livestreamed daily. Fans are welcome to attend the event or tune in to the weigh-in and follow the online coverage at MajorLeagueFishing.com .
Abu Garcia College Fishing Presented by YETI teams compete in three regular-season qualifying tournaments in one of five conferences – Central, Northern, Southern, Southeastern and Western. The top ten teams from each division's three regular-season tournaments and the top 20 teams from the annual Abu Garcia College Fishing Open advance to the following year's Abu Garcia College Fishing Presented by YETI National Championship.
Proud sponsors of the 2022 MLF Abu Garcia College Fishing Presented by YETI include: 4WP, 13 Fishing, Abu Garcia, A.R.E. Truck Caps, B&W Trailer Hitches, Berkley, Black Rifle Coffee, E3, Epic Baits, Favorite Fishing, Gary Yamamoto Baits, General Tire, Lew's, Lowrance, Lucas Oil, Mercury, Mossy Oak, Onyx, Phoenix, Polaris, Power-Pole, Strike King, Tackle Warehouse, T-H Marine, Toyota, Wiley X and YETI.
For complete details and updated information visit MajorLeagueFishing.com. For regular updates, photos, tournament news and more, follow the Abu Garcia College Fishing Presented by YETI on MLF's social media outlets at Facebook, Twitter, Instagram and YouTube.
About Major League Fishing
Major League Fishing (MLF) is the world's largest tournament-fishing organization, producing more than 250 events annually at some of the most prestigious fisheries in the world, while broadcasting to America's living rooms on CBS, the Discovery Channel, the Outdoor Channel, CBS Sports Network, the World Fishing Network, and on-demand on MyOutdoorTV (MOTV). Headquartered in Tulsa, Oklahoma, with offices in Benton, Kentucky, the MLF roster of bass anglers includes the world's top pros and more than 30,000 competitors in all 50 states and 13 countries. In 2019, MLF expanded its portfolio of catch, weigh, and immediately release events to include the sport's strongest five-biggest-fish format tournament circuits. Since its founding in 2011, MLF has advanced the sport of competitive fishing through its premier television broadcasts and livestreams and is dedicated to improving the quality of life for bass through research, education, fisheries enhancement, and fish care.
Major League Fishing – WE ARE Bass Fishing™