Seaguar Expanding High School Angler Team Support
Category: article
Jan 8th, 2020 by Keith Worrall
Modified Jan 8th, 2020 at 11:27 AM

Seaguar® connects with Student Anglers
(January 7, 2020) – We need more kids and young adults fishing. Those of us who have fished since our youth recognize the joy and fulfillment that accompanies time on the water. More than 80% of adult anglers report that their fishing experiences began as children, so if we want people to fish throughout their lives — and to care about fish, fishing, and the outdoors as adults — we need to start them young.
Organized fishing teams and leagues at the high school level are helping to bolster participation by teenagers and young adults, and that's a good thing – for those participants as individuals, and for the future of fishing as a whole. A pivotal organization in the national youth fishing movement is The Student Angler Federation (SAF), founded in 2007 by The Bass Federation (TBF). In 2019, the Student Angler Federation hosted 63 high school-level events, including the 10th Annual High School Fishing World Finals that featured 405 registered teams from 38 states. The coming year of events promises to be bigger and better than ever.
High School Fishing
The SAF's High School Fishing Program works hard to eliminate barriers to participation in fishing and to recognize the accomplishments of their anglers. Indeed, every event on the High School Fishing tournament schedule has NO entry fees for participants, and last year, the prize pool of scholarships awarded to student anglers was a staggering $2.8 million! Beyond an extraordinary experience for all of its participants, the SAF's National High School Fishing Program positions young adults for success — both on and off the water.

Seaguar, the originators of fluorocarbon fishing line, is proud to announce its partnership with the Student Angler Federation in support of the National High School Fishing Program for 2020. By connecting avid student anglers with the best 100% fluorocarbon lines and leaders and braided main lines available, Seaguar will help them to meet their lofty goals in the boat, in the classroom, and in the community.
Kelly Gohman, the Student Angler Federation VP for Sales and Marketing, notes that, "The High School Fishing Program is the best-kept secret in the entire world of competitive fishing. We pride ourselves in providing the best tournament experiences possible, from the pre-event meetings to the final weigh-ins, so that we can attract and retain enthusiastic young anglers and provide them with the opportunity to enjoy the sport of fishing throughout their lives."
"We are excited to welcome Seaguar to our family of partners for 2020," continued Gohman, "so that all of our anglers can experience the difference that Seaguar lines and leaders can make in their fishing — whether in a tournament or just out for fun with family and friends."
One benefit that student anglers can access immediately is the exclusive Seaguar High School VIP program. Team coaches of any Student Angler Federation club can register for the program online, and then purchase any Seaguar line, leader, or branded apparel for their young anglers at a substantial discount. Now, student anglers can spool up with Seaguar 100% fluorocarbon and braided lines more easily than ever before.
Gerry Benedicto, Seaguar General Manager, reflects that, "no matter where we fish or what we're fishing for, we all measure the success of a trip by the number and size of the fish we catch. 100% Seaguar fluorocarbon leaders and premium braided lines can have an immediate positive impact on success by helping anglers to catch more and bigger fish. Seaguar is excited to partner with the Student Angler Federation for 2020, so that young anglers across the country can experience the difference that Seaguar lines and leaders can make in their tournament success."

Red Label, InvizX, Smackdown
"We know that we're going to see Seaguar anglers carry heavyweight sacks of bass across weigh-in stages in 2020," continued Benedicto, "but more importantly, we're also going to witness the thrill of victory and the joy of fishing on scores of young faces, thanks to the efforts of the Student Angler Federation."
The positive impact that organized youth fishing has on anglers, both on and off the water, is undeniable. Hunter Sales, Coach of the Carson-Newman University fishing team, asserts that, "competitive fishing is great for the development of students at all levels. Not only are they learning to become better anglers, but they are also learning valuable life lessons – especially how to work as a team. As these young anglers get older, and perhaps compete at the collegiate level or simply enjoy recreational fishing as an adult, their memories of traveling, competing, and fun days on the water with their friends will be priceless."
"Terrific lines like Seaguar Red Label fluorocarbon and Seaguar Smackdown braided line have put our anglers in position to catch some giant bass under challenging circumstances," continued Sales. "and have helped us leap from 66th to 11th place in our overall team-of-the-year standings." Those are positive results that any competitive angler — at the high school, collegiate, or professional levels — can easily appreciate!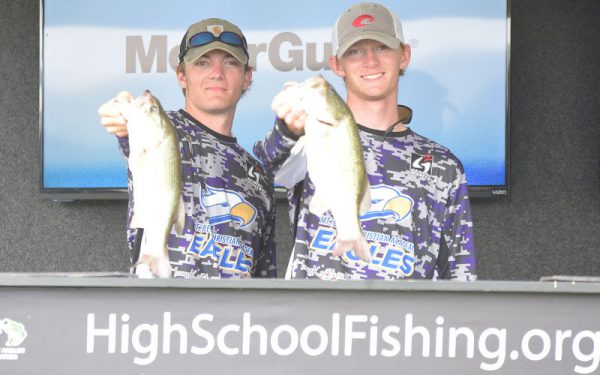 We need to encourage more young adults to be involved in fishing. It's good for our sport, it's good for us, but above all, it's good for them. Seaguar is proud to partner with the Student Angler Federation and the National High School Fishing Program to help increase young anglers' access to the outdoors, and we anxiously await the parade of big bass and young Seaguar anglers across weigh-in stages in 2020. To learn more about the Seaguar Scholastic Program — Click HERE.