Sam Rayburn To Host Costa FLW Series Tournament Presented By Mercury
Category: article
Jun 4th, 2019 by sworrall
Modified Jun 4th, 2019 at 2:42 PM
BROOKELAND, Texas (June 4, 2019) – Top bass anglers from around the region are set to compete on Sam Rayburn Reservoir June 13-15 at the Costa Fishing League Worldwide (FLW) Series Southwestern Division tournament on Sam Rayburn Reservoir presented by Mercury. The three-day tournament will feature a field of more than 200 pros and co-anglers vying for the top prize package of up to $92,000, including a brand new Ranger Z518L boat with a 200-horsepower Mercury outboard in the Pro Division.
"Anglers are going to catch them doing a lot of different things. I think we're going to see flipping, as well as throwing crankbaits and a worm as primary tactics," said Strike King pro Andrew Upshaw of Tulsa, Oklahoma, who has three career top-10 finishes on Sam Rayburn Reservoir in FLW Series competition. "They've had a lot of rain, so the water is high and up into the bushes. The fishing is still going to be pretty good, though."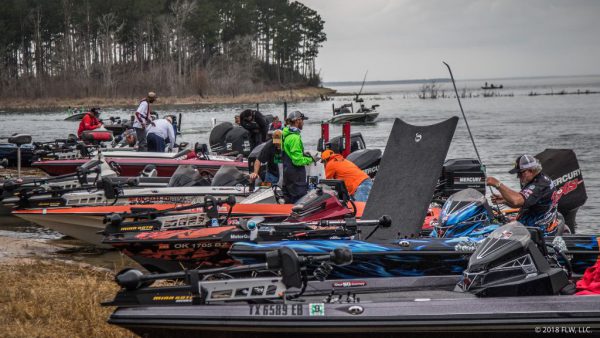 Upshaw said flipping bushes with a Texas-rigged Strike King Rage Bug will be a good bet, with crankbaits and worms also being options in those areas. For anglers working deeper on ledges and points, he cited 6XD crankbaits or Thumper Worms as good choices.
"When the water is high, pretty much all of the lake produces because it puts new cover in the water that the fish might not have seen," said Upshaw. "We should see the ledges on the south end of the lake in play, as well as the flooded bushes and willow trees on the north end. Covering a lot of water will be key. I think whoever wins it will have a couple of different deals going on."
Upshaw went on to predict that it will take a three-day total around 60 pounds to win the event.
Anglers will take off from Umphrey Family Pavilion, located at 5438 Rural Route 255, in Brookeland, at 6 a.m. CDT each day of competition. Weigh-ins each day will also be held at the park beginning at 2 p.m. Takeoffs and weigh-ins are free and open to the public.
The tournament is being hosted by the Jasper-Lake Sam Rayburn Area Chamber of Commerce.
In Costa FLW Series regular-season competition, payouts are based on the number of participants competing in the event. At Sam Rayburn Reservoir, pros will fish for a top prize of up to $92,000 including a brand new Ranger Z518L boat with a 200-horsepower Mercury outboard if Ranger Cup qualified. Co-anglers will cast for a brand new Ranger Z175 boat with a 115-horsepower Mercury outboard, and $5,000 if Ranger Cup qualified.
The Costa FLW Series consists of five U.S. divisions – Central, Northern, Southeastern, Southwestern and Western – along with the International division. Each U.S. division consists of three regular-season tournaments with competitors vying for valuable points that could earn them the opportunity to compete in the season-ending Costa FLW Series Championship. The 2019 Costa FLW Series Championship is being held Oct. 31 – Nov. 2 on Lake Cumberland in Burnside, Kentucky.
For complete details and updated information visit FLWFishing.com. For regular updates, photos, tournament news and more, follow the Costa FLW Series on FLW's social media outlets at Facebook, Twitter, Instagram, and YouTube.