Plano's College of Bass Continues Dropping Knowledge
Category: fishing tips
Mar 23rd, 2021 by Keith Worrall
Modified Mar 23rd, 2021 at 11:53 AM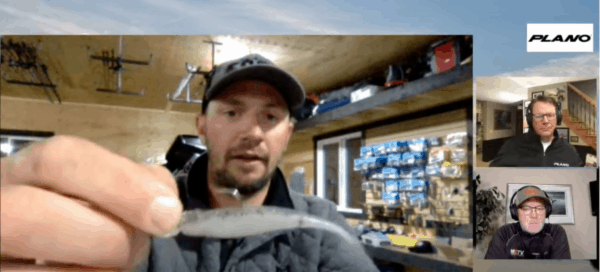 Grand Prairie, TX (March 23, 2021) Kevin VanDam, who has hoisted more trophies than any other professional bass angler, has continued to teach viewers valuable tips, tricks and techniques through Plano's College of Bass. KVD along with multi-species expert, TV host of Lake Commandos and co-host Steve Pennaz live on Plano's Facebook page each week. KVD, Pennaz, and a series of special guests log on every week and share their secrets to help anglers catch more bass. Wherever you are, you can tune in to the College of Bass live on Plano's Facebook page Wednesday at 7 PM Central time to ask questions to some of professional fishing's best anglers. Can't make it? No worries, past episodes are available whenever you can log on.
It may be cold, but some pros have already broken out the frog. KVD gives viewers insight into the many ways to fish hollow body frogs, including some pretty unconventional scenarios. Fellow Plano pro, Jeff Gustafson, who is fresh off his first Bassmaster Elite Series win, joins KVD and Pennaz to talk about his winning strategy. Jeff used the damiki rig to take the prize on the Tennessee River and focused 100% on giant smallmouth. He tells viewers how they can use it to score too. Later, kayak-pro Kristine Fischer checks in and chats about life on the road and all things kayak all in Episode 5.
The guys talk Junk Fishing with Clark Wendlandt in episode six. The trio discusses how to deal with the unpredictable and rapidly changing conditions that often occur in the spring and offer some strategies to rip some lips on the toughest days. When the bite gets tough, even those guys have to abandon their favorite methods to put fish in the livewell. KVD also goes over the ins and outs of lipless crankbaits and lets viewers know how to identify the scenarios where the often overlooked bait can excel.
The College of Bass gives anglers a behind-the-scenes look at the strategies used by bass fishing's winningest anglers. Join Kevin VanDam, Steve Pennaz and special guests for a crash course in catching more—and bigger—bass each Wednesday at 7 PM Central time on Plano's Facebook page. Upcoming guests include Edwin Evers, and Brian "Bro" Brosdahl on episode eight which is dedicated to fan Q&A. Tune in live and ask some of professional fishing's greatest anglers questions, or catch up with all the great tips, tricks, and fishing know-how later—all from the comfort of your own home.
For more information, please visit: www.planomolding.com