Northland® Fishing Tackle Introduces Reed-Runner® Color Extensions
Category: article
Aug 12th, 2021 by Keith Worrall
Modified Aug 12th, 2021 at 11:31 AM

Now anglers can match-the-hatch with their favorite spinnerbait designs
BEMIDJI, Minn. (August 12, 2021) – Northland Fishing Tackle is proud to introduce three new bass-centric patterns into their premium line of Reed-Runner® spinnerbaits. These new colors were formulated by a team of bait designers and pros to mimic a variety of forage in different water types.
The new patterns include Gizzard Shad, Gold Shiner and Sexy Shad and are available in all Reed-Runner spinnerbait styles, except for the Reed-Runner Magnum, which comes in a fish-catching Silver Black versus Gizzard Shad.
All Reed-Runner blades are affixed with slick spinning and robust swivels. The bait's stout steel hairpin features a loop bend tie-eye for easy clipping with snaps and leaders, too. Inclusion of the loop bend tie-eye truly separates the entire Reed-Runner series from the competition.
Reed-Runner weighted heads are sculpted to emulate a baitfish, their bulging bicolor eyeballs infusing added attraction. The jighead opens into a firmly embedded premium Ultra-Point hook, which can easily support a trailing Northland Slip-On Sting'r Hook to thwart short strikers.
Not your typical skirt, the Crazy-Legs® silicone skirt is cap-wrapped, meaning the individual legs are unified into a single component. The benefit is that if a bass or pike pulls on the skirt, you don't lose individual strands. We've all had skirts thinned out to uselessness over time. Not true with Northland's Crazy-Legs silicone skirt. And beyond durability, the skirt itself is supple and pulses seductively in the water.
Packs of individual Crazy-Legs Skirts in these colors will also be available in either two per card (MSRP $3.99) or nine per card (MSRP $12.99) for anglers looking to dress their own Reed-Runner® spinnerbaits.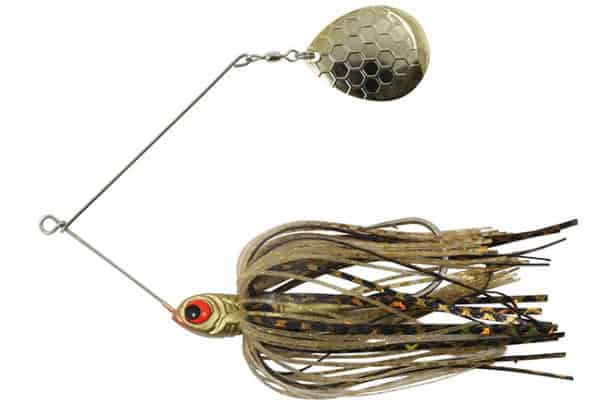 Gold Shiner
GOLD SHINER – 12
Designed to mimic all types of shiners, the Gold Shiner pattern brings anglers just the right amount of flash to get the job done in waters with shiners as primary forage. Available to ship Spring 2022.
Gizzard Shad
GIZZARD SHAD – 31
The Gizzard Shad skirt offers just the right amount of white, black, and silver making it ideal to mimic all types of shad. Available to ship Spring 2022.
Sexy Shad
SEXY SHAD – 32
Featuring ample amounts of blue, green, white, black and silver, the Sexy Shad skirt is a go-to for those blueback herring or threadfin shad bites. Available to ship Spring 2022.
Whether you're a fishing pro or a weekend angler, you're going to want to give the new Reed-Runner colors a shot. They represent serious coast-to-coast fish-catchers and have been painstakingly designed to meet the forage-matching requirements on waters from the deep south to the far north. Trust us, you will not be disappointed.