Major League Fishing Introduces Free MLF Fan Pass Membership, Includes Access to SCORETRACKER Insider
Category: article
Mar 17th, 2021 by Keith Worrall
Modified Mar 17th, 2021 at 9:04 PM
Free Membership Offering Includes Access to Revolutionary Member Experience
TULSA, Okla. (March 17, 2021) – Major League Fishing (MLF) announced today the rollout of a new free membership offering called MLF Fan Pass. The free membership is a part of several new membership offerings from MLF in 2021 and now offers fans access to SCORETRACKER™ Insider, a digital subscription to Bass Fishing magazine, the MLF e-newsletter and access to member sweepstakes and giveaways.
With free access to SCORETRACKER Insider, for the first time in history, fans will have access to real-time catch data. MLF Fan Pass members will see in-depth information including weight, depth, lure, cover and the general catch area for every scorable bass – from every angler – during competition, all archived and available from each Bass Pro Tour tournament.
MLF Fan Pass members can follow the action in real-time, while also using the data as a tool when preparing for their next day on the water. Anglers will know exactly how the best pros in the world established dominant patterns on lakes all over the country.
SCORETRACKER Insider is included with every MLF membership level, including the High School membership, Subscriber membership and Premium membership offerings.
In addition to its new membership offerings, MLF also recently unveiled its Champions Club subscription service, the first and only monthly subscription service that follows a professional bass fishing tour, offering a wide variety of benefits including five to six premium lures from industry-leading brands delivered each month, exclusive discount codes on fishing gear and outdoor products, exclusive webinars and more.
To register for a free MLF Fan Pass or other MLF membership offerings and gain access to SCORETRACKER Insider, visit MajorLeagueFishing.com/Join.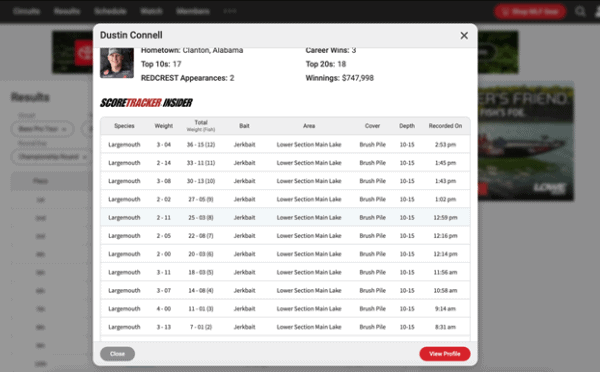 For regular updates, photos, tournament news and more, follow MLF's social media outlets at Facebook, Twitter, Instagram, and YouTube.
About Major League Fishing
Founded in 2011, Major League Fishing (MLF) brings the high-intensity sport of competitive bass fishing into America's living rooms on Outdoor Channel, Discovery, CBS, CBS Sports Network, World Fishing Network, Sportsman Channel, and on-demand on MyOutdoorTV (MOTV). According to Nielsen ratings, Major League Fishing remains the number one series on Outdoor Channel for five years and MLF premiered as the number one outdoor show in their time slot on Discovery in 2019.
In 2019 MLF acquired FLW, which expands their portfolio to include the world's largest grassroots-fishing organization, including the strongest five-biggest-fish format professional bass fishing tour, the MLF Tackle Warehouse Pro Circuit presented by Bad Boy Mowers, as well as the MLF Toyota Series, MLF Phoenix Bass Fishing League presented by T-H Marine, MLF Abu Garcia College Fishing presented by YETI, and MLF U.S. Army High School Fishing presented by Favorite Fishing.