Major League Fishing Delays REDCREST 2021 Start One Day Due to Inclement Weather
Category: article
Feb 15th, 2021 by Keith Worrall
Modified Feb 15th, 2021 at 1:56 PM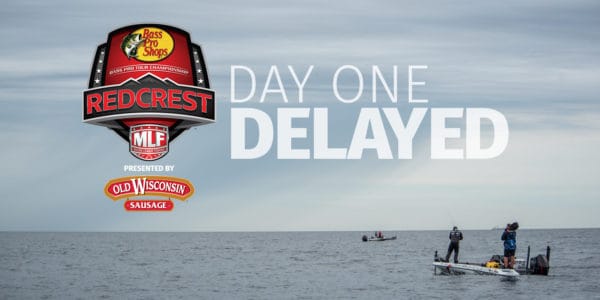 FLINT, Texas (Feb. 15, 2021) – Major League Fishing announced today that the dates for REDCREST 2021 presented by Old Wisconsin Sausage, the Bass Pro Tour Championship, has been delayed one day due to inclement weather in the region. The championship event, scheduled to start on Sunday, Feb. 21, has been postponed one day to allow for safer travel conditions. The tournament will now take place Monday through Friday, Feb. 22-26, on Lake Palestine in Flint. The practice day for the anglers will now be on Sunday, Feb. 21.
"The safety of our anglers and their families, our staff, our sponsors and our fans are priority number one," said Michael Mulone, MLF Senior Director of Events & Partnerships. "With the tough weather conditions that a large part of our country is currently facing, we made the decision to postpone the start of the event by one day to allow everyone an extra day to safely travel to the event. The competition will start on Monday and we look forward to a very successful championship tournament."
All 40 Anglers will compete on Days 1 (Monday) and 2 (Tuesday) of the event. After two days of competition, the field is cut to just the top 20 based on two-day total cumulative weight. The remaining 20 anglers are split into two groups – 10 compete on Day 3 (Wednesday) and 10 compete on Day 4 (Thursday). The top five anglers from each group based on total single-day weight will advance to the sixth and final day of competition (Friday), where weights are zeroed and the angler that catches the highest total weight on the final day will be crowned the REDCREST 2021 champion.
Due to COVID-19 protocols, attendance at the tournament is limited to competing anglers, essential staff and media covering the event. Fans are encouraged to follow the event online through the MLF NOW!® live stream and SCORETRACKER® coverage at MajorLeagueFishing.com.
The MLF NOW!® broadcast team of Chad McKee, Marty Stone and J.T. Kenney will break down the extended action on all five days of competition from 7:45 a.m. to 4:30 p.m. MLF NOW!® will be live streamed on MajorLeagueFishing.com. and the MyOutdoorTV (MOTV) app.
For complete details and updated information on REDCREST 2021, visit MajorLeagueFishing.com. For regular updates, photos, tournament news and more, follow MLF's social media outlets at Facebook, Twitter, Instagram, and YouTube .
About Major League Fishing
Founded in 2011, Major League Fishing (MLF) brings the high-intensity sport of competitive bass fishing into America's living rooms on Outdoor Channel, Discovery, CBS, CBS Sports Network, World Fishing Network, Sportsman Channel, and on-demand on MyOutdoorTV (MOTV). According to Nielsen ratings, Major League Fishing remains the number one series on Outdoor Channel for five years and MLF premiered as the number one outdoor show in their time slot on Discovery in 2019.
In 2019 MLF acquired FLW, which expands their portfolio to include the world's largest grassroots-fishing organization, including the strongest five-biggest-fish format professional bass fishing tour, the MLF Tackle Warehouse Pro Circuit presented by Bad Boy Mowers, as well as the MLF Toyota Series, MLF Phoenix Bass Fishing League presented by T-H Marine, MLF Abu Garcia College Fishing presented by YETI, and MLF U.S. Army High School Fishing presented by Favorite Fishing.