Shimano Innovation on Display at the ICAST New Product Showcase
Category: article
Jul 20th, 2022 by Keith Worrall
Modified Jul 20th, 2022 at 11:04 AM

Shimano Innovation on Display at the ICAST New Product Showcase
New Products Enable Angling Excellence Across the Globe
Shimano leverages over a century of manufacturing supremacy to deliver genuine innovations to anglers across the globe. Outstanding Shimano and Jackall offerings are featured in seven New Product Showcase categories at ICAST 2022, demonstrating Shimano's enduring legacy of design and engineering distinction in support of angling excellence.
Shimano Stella FK
The new Stella FK enriches angler performance through the debut of industry-leading Shimano reel technologies. Built upon the Shimano legacy of the cold-forged HAGANE Gear and MicroModule Gear II technologies, new InfinityXross technology provides unequaled durability by extending the gear tooth horizontally to distribute load more evenly. Infinity Drive delivers light rotation and increased cranking power under load. The new DuraCross drag system provides the smooth feel and operation of a felt drag but with 10x the durability. To provide a beautiful winding shape for increased casting performance, Shimano's InfinityLoop technology extends the spool oscillation to produce a more even line lay. Making its debut in Stella FK, Shimano's Anti-Twist Fin – an innovative elastic polymer tab that maintains constant tension on the line as it enters the spool – eliminates line twist that may develop while fishing with monofilament or fluorocarbon. A redesigned drag knob and fortified propulsion lip further enhance line management and provide superior reeling performance. With the 2500-series Stella (STL2500HGFK) featured in the Freshwater Reel category, Stella FK is available in five models from 1000 to C5000 and has MSRPs of $749.99 to $779.99.
World Pop 69F FB
Shimano's legendary BOOST CONCEPT technology prevails with the introduction of World Pop 69F FLASH BOOST, a multi-purpose popper unlike anything else on the market. The World Pop FB is the first topwater lure to incorporate Shimano's FLASH BOOST technology. This innovative and proprietary technology suspends a highly reflective foil on micro springs within the lure body to create a continuous flash that mimics a wounded baitfish, even as the lure sits motionless. SCALE BOOST technology utilizes a lifelike composite-pitch hologram to provide World Pop with a natural scale pattern. Whether presented with a walk-the-dog action or large pops and deep chugs, the World Pop 69F FB embodies BOOST CONCEPT technology and elicits aggressive strikes from trophy bass. With the N Smelt color pattern (WP69FLNS) featured in the Freshwater Hard Lure category, the World Pop 69F FB is available in ten colors and has an MSRP of $19.99.
Shimano Saragosa SW BFC
Shimano developed the all-new Saragosa SW BFC for the dedicated billfish angler looking for the upper hand when a tournament check or world record is on the line. Saragosa BFC reigns supreme when tossing live baits at billfish tailing down sea or cutting through bait balls on the surface. Designed to perform when there's no other choice than to get the release, the 14000-series Saragosa SW BFC (SRG14SWBFCXGA) boasts the market's fastest retrieval rate at 56 inches of line per turn, helping anglers to stay tight no matter the conditions. Saragosa SW BFC features an optimized drag curve for fighting sailfish and other billfish on light-line applications with a lower, more gradual drag curve compared to the battle-tested Saragosa SW A. Saragosa SW BFC also incorporates Shimano's Rigid Support Drag for enhanced spool support to produce smoother and more consistent drag. Featured in the Saltwater Reel category, Saragosa SW BFC has an MSRP of $339.99.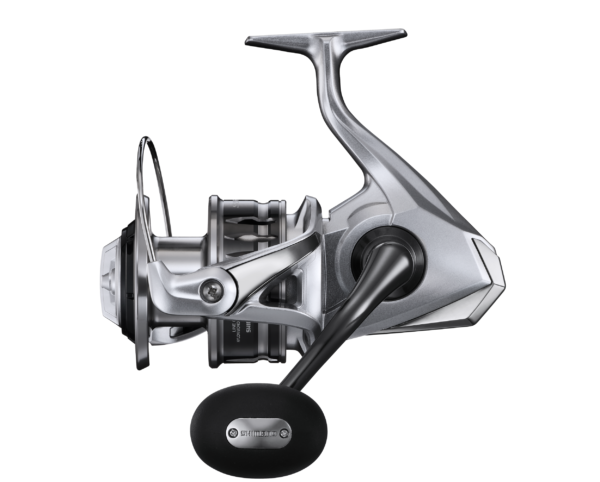 Shimano Expride B
Command tournament-winning performance with Shimano Expride B casting and spinning rods. All Expride B rods incorporate Shimano's exclusive Hi-Power X blank technology to deliver the optimum blend of performance and durability across a wide range of presentations. Shimano engineers further enhanced the Expride B series by incorporating premium Carbon Monocoque handles, delivering up to 30% more sensitivity for superior bite transmission. Expride B rods also feature CI4+ reel seats and Fuji SiC guides for premium angling performance in an exceptionally light and well-balanced rod family encompassing 16 casting and 6 spinning models. With the 7'2" Medium Heavy power, Fast action casting model (EXC72MHB) featured in the Freshwater Rod category, Shimano Expride B rods have MSRPs of $389.99 to $419.99.
Shimano Trevala B
The redesigned Trevala B continues the legacy of an iconic crossover rod series. Designed for maximum versatility — jigging, tossing lures or live bait — the Trevala B's TC4 blank construction provides bulletproof durability. All models feature a rubber gimbal for added security in rod holders during long runs to the fishing grounds while also adding comfort and fish-battling benefit when using a fighting belt. With reduced overall weight and an optimized guide train for enhanced rod balance, the Trevala B family of eight casting and 7 spinning models raises the bar for versatile performance. With the 6'6" Medium Heavy power spinning rod (TVS66MHB) featured in the Saltwater Rod category, the legendary Shimano Trevala B series has MSRPs of $189.99.
Shimano Spheros SW Combo
Shimano designed the Spheros SW Spinning Combo to offer anglers a saltwater combo with increased versatility and capability. Four new models offer exceptional performance for multiple saltwater species. Durable blanks designed with EVA handles and large comfortable reel seats built to handle powerful Spheros SW spinning reels offer versatility for anglers throwing artificial lures or using live bait. Rods ranging in length from 7 to 9 feet make the Spheros SW Combos ideal for everything from fishing on piers to light offshore applications. The Spheros SW Combo features the redesigned Spheros SW A spinning reel with premium Shimano technologies – including Infinity Drive – to provide unparalleled cranking power and increased smoothness when targeting hard-fighting game fish. Four different combos are available with powerful 5000, 6000, or 8000-series Spheros SW spinning reels paired with durable Shimano rods. Look for the Spheros SW Combo featuring a 6000-series Spheros A reel paired with a 7' Medium Heavy power, Fast action spinning rod (PSPSW6000HGASPS70MH) in the Rod and Reel Combo category. The four Shimano Spheros SW Combos have MSRPs of $199.99 to $209.99.
Jackall Rhythm Wag
The Jackall Rhythm Wag is a versatile stick bait that provides anglers with the perfect solution for weightless rigs, drop shots, jig heads and Carolina rigs. Available in 3.5 and 4.5-inch sizes, the Rhythm Wag features a split-tail design that emits fish-attracting vibrations and gives the bait a dynamic swimming action. Featuring a two-layer construction with a denser "High-Gravity" material in its lower half, the Rhythm Wag maintains a stable action when twitched and has an enticing shimmy action during the fall. The added density also enables long casts, even when fished weightless. Ideal for anglers fishing a variety of techniques, the Rhythm Wag is the perfect all-around soft bait for targeting trophy bass. With the Prism Shad pattern (JRHTWAG45-PSS) featured in the Freshwater Soft Lure category, the Jackall Rhythm Wag is available in nine colors and has an MSRP of $5.99 for a pack of three baits.
Shimano thanks you for these outstanding products in the ICAST New Product Showcase. Please visit Booth 2244 at ICAST 2022 to learn more about all of the new offerings from Shimano, G. Loomis, PowerPro and Jackall.