Major League Fishing Bass Pro Tour Set to Visit Harris Chain of Lakes for Favorite Fishing Stage Three Presented by Bass Cat Boats
Category: article
May 13th, 2021 by Keith Worrall
Modified May 13th, 2021 at 11:53 AM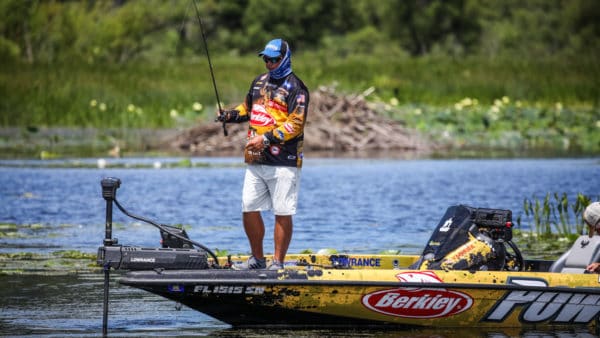 Major League Fishing Bass Pro Tour Set to Visit Harris Chain of Lakes for Favorite Fishing Stage Three Presented by Bass Cat Boats
Leesburg to Host 80 of the Top Professional Anglers in the World Competing for Purse of More than $805,000 in Third Bass Pro Tour Event of Season, Filmed for Discovery Channel
LEESBURG, Fla. (May 13, 2021) – The third event of the 2021 season for the Major League Fishing (MLF) Bass Pro Tour, bass fishing's premier professional circuit, is set for Leesburg next week, May 21-26 with the Favorite Fishing Stage Three Presented by Bass Cat Boats at the Harris Chain of Lakes.
The six-day event, hosted by Lake County, will feature 80 of the best professional anglers in the world, including superstars like Kevin VanDam, Jordan Lee, and Jacob Wheeler – as well as local favorites like Lakeland's Bobby Lane, Gainesville's Shaw Grigsby and DeBary's John Cox – competing for a purse of more than $805,000, including a top payout of $100,000 and valuable points in hopes of qualifying for REDCREST 2022, the Bass Pro Tour championship.
"We are thrilled to welcome the Major League Fishing Bass Pro Tour to Lake County and the historic Harris Chain of Lakes," said Lake County Commissioner and Tourist Development Council Chairman Doug Shields. "Lake County has some of the best bass fishing in the state of Florida as well as so many things to do off of the water. We look forward to showcasing our slice of central Florida to all MLF fans and invite them to visit us in 'Real Florida. Real Close.' really soon."
The tournament will be fished using MLF's catch, weigh, immediate-release format, in which the anglers try to catch as much weight as they can each day, while also feeling the pressure and intensity of the SCORETRACKER® leaderboard. The tournament is being filmed for broadcast later this year on the Discovery Channel.
Although the Harris Chain of Lakes has played host to numerous MLF BIG5 (previously FLW) tournaments and the 2016 MLF Challenge Cup, 2021 will mark the first time that the MLF Bass Pro Tour has visited Central Florida's Lake County. Lakeland's Bobby Lane, who won the 2016 Challenge Cup event and is currently leading the 2021 Bass Pro Tour Angler of the Year (AOY) race, thinks that the Harris Chain will offer great fishing that will allow anglers to fish their strengths.
"I think the thing I'm most excited about for this event is being close to home, knowing that all of my family and friends will be there if I'm doing well," Lane said. "I've been on the road quite a bit already this year, so it's nice to know I'm only an hour from my house.
"Harris has really come a long way from when we used to fish it 10 years ago," Lane continued. "It used to be 13 to 16 pounds would win any tournament here, but now you need at least 25 to 26 pounds every day to have a shot. I predict the big females will be feeding up, and I expect the postspawn fish will be aggressive. I think guys are going to be catching them any way they want – flipping, fishing hydrilla, fishing brush piles, even shallow fishing up on the bank."
Lane said that the key to doing well in this tournament will be ignoring the smaller fish – which are plentiful on the Chain – and keying in on fishing for big ones only.
"This place has a lot of fish, and a lot of smaller fish in it," Lane said. "When I won the Challenge Cup, I had 16 to 18 fish one day that weighed something like 31 pounds. There wasn't very many over 2 pounds. So, I think the guy that fishes his strengths, catches a few big ones in practice, and sticks with that the whole tournament will do well. I don't think it's going to be the guy running and gunning and fishing a bunch different stuff. I think to do well you're going to have to have patience, and not get spun out. It's going to be hot. The sun will be shining. It could be slick calm, and there are days when those fish don't bite at all. Then, out of nowhere, there will be a 45-minute window where they'll turn on and you'll catch 4 or 5 good ones on a stretch that 10 guys have already fished. It's kind of like brush pile fishing. You have to try to get on the right stretch, at the right time."
Although he predicts fishing fans will see a variety of baits and tactics in play at this event, Lane is already developing his game plan on how he will approach the tournament.
"I'm going to have a Berkley Choppo tied on, the big one," Lane said. "I'll have a 10-inch Power Worm tied on, and I'll be using the Berkley Diggers and Dredgers, cranking some of those brush piles. And I'll definitely have a bladed jig with a Grass Pig Jr. on it. Trailers are pretty key, and that Grass Pig stays on that bladed jig so much better than a lot of the other baits."
The Harris Chain of Lakes (Big Harris, Lake Eustis, Lake Dora, Lake Carlton, Horseshow Lake, Little Lake Harris, Lake Denham and Lake Beauclair) and the canals within the chain will be used for the Qualifying and Knockout Rounds. Locking is not allowed to Lake Apopka and Lake Griffin. Lake Griffin and the canals within the lake will be used for Championship Round. Locking to Lake Eustis is not allowed
Anglers will take off from the Venetian Gardens Ski Beach Boat Ramp, located at 201 E. Lake Harris Drive, in Leesburg, at 6:30 a.m. ET during the Qualifying and Knockout Rounds, and from Herlon Park, located at 700 N. Blvd. E., in Leesburg for the Championship Round. Each Qualifying and Knockout Round day's General Tire Takeout will be held at the Gardens, beginning at 3:30 p.m., while the final-day Championship Round Takeout will be held at Herlon Park. Fans are welcome to attend, but encouraged to follow the event online throughout the day on the MLF NOW!® live stream and SCORETRACKER® coverage at MajorLeagueFishing.com.
The Favorite Fishing Stage Three Presented by Bass Cat Boats at the Harris Chain of Lakes will feature anglers competing with a 1-pound, 8-ounce minimum weight requirement for a bass to be deemed scorable. Minimum weights are determined individually for each competition waters that the Bass Pro Tour visits, based on the productivity, bass population and anticipated average size of fish in each fishery.
The Bass Pro Tour features a field of 76 of the top professional anglers in the world – joined at each event by 4 pros that qualify from the Tackle Warehouse Pro Circuit – competing across seven regular-season tournaments around the country, competing for millions of dollars and valuable points to qualify for the annual Heavy Hitters all-star event and the REDCREST 2022 championship.
The four pros from the Tackle Warehouse Pro Circuit that will join the Bass Pro Tour to compete at the Favorite Fishing Stage Three Presented by Bass Cat Boats at the Harris Chain of Lakes are Spencer Shuffield, Kyle Cortiana, Kyle Hall and Tai Au. Those anglers qualified via their finishes in the second Pro Circuit event of the year – the Covercraft Stop 2 at Lewis Smith Lake.
The 40 Anglers in Group A compete in their two-day qualifying round on the Harris Chain on Friday and Sunday – the 40 anglers in Group B on Saturday and Monday. After each two-day qualifying round is complete, the anglers that finish in 2nd through 20th place from both groups advance to Tuesday's Knockout Round, while the winner of each group advances directly to Wednesday's Championship Round. In the Knockout Round, weights are zeroed and the remaining 38 anglers compete to finish in the top 8 to advance to the Championship Round on Lake Griffin. In the final day Championship Round on Lake Griffin, weights are zeroed and the highest one-day total wins the top prize of $100,000.
The MLF NOW!® broadcast team of Chad McKee, Marty Stone and J.T. Kenney will break down the extended action on all six days of competition from 6:45 a.m. to 3:30 p.m. CT. MLF NOW!® will be live streamed on MajorLeagueFishing.com and the MyOutdoorTV (MOTV) app.
Television coverage of the Bass Pro Tour Favorite Fishing Stage Three Presented by Bass Cat Boats at the Harris Chain of Lakes will be showcased across two two-hour episodes, premiering at 7 a.m. ET, Sept. 25 on the Discovery Channel. New MLF episodes premiere each Saturday morning on the Discovery Channel, with additional re-airings on the Outdoor Channel and the Sportsman Channel. Each two-hour long reality-based episode goes in-depth to break down each day of competition.
For complete details and updated information on Major League Fishing and the Bass Pro Tour, visit MajorLeagueFishing.com. For regular updates, photos, tournament news and more, follow MLF's social media outlets at Facebook, Twitter, Instagram, and YouTube.
About Major League Fishing
Major League Fishing (MLF) is the world's largest tournament-fishing organization, producing more than 250 events annually at some of the most prestigious fisheries in the world, while broadcasting to America's living rooms on CBS, the Discovery Channel, the Outdoor Channel, CBS Sports Network, the World Fishing Network, the Sportsman Channel and on-demand on MyOutdoorTV (MOTV). Headquartered in Tulsa, Oklahoma, with offices in Benton, Kentucky, the MLF roster of bass anglers includes the world's top pros and more than 30,000 competitors in all 50 states and 13 countries. In 2019 MLF acquired FLW and rebranded it as MLF BIG5, which expanded its portfolio of catch, weigh and immediate-release events to include the sport's strongest five-biggest-fish format tournament circuits. Since its founding in 2011, MLF has advanced the sport of competitive fishing through its premier television broadcasts and livestreams, and is dedicated to improving the quality of life for bass through research, education, fisheries enhancement and fish care.
Major League Fishing – WE ARE Bass Fishing™