Father's Day Gift Guid
Category: article
Jun 14th, 2021 by Keith Worrall
Modified Jun 14th, 2021 at 11:33 AM

Last Minute Father's Day Gift Guide
Father's Day is this weekend and no dad truly wants another tie. He wants something fun. if dad is the out-of-doors type, here are gift ideas–at various price points–guaranteed to please and get him and the family out of the house.
Symetre Combo
The Symetre needs no formal introduction, the name resonates with anglers for fishing performance and versatility. Constructed on a high-quality graphite rod blank with stainless-steel frame guides and Aluminum Oxide inserts, the Symetre Combo is a great option for anglers looking to target a variety of freshwater and inshore saltwater species with PowerPro braided fishing line or monofilament. Integrating battle-tested Shimano reel technology, the reel included in the Symetre Combo incorporates a lightweight graphite G-Free Body for enhanced balance and a Propulsion Line Management Spool for increased casting performance.
The Symetere Combo retails for $99.99.
SYMETRE-SPINNING-COMBO
Ooni Karu 12 Multi-Fuel Pizza Oven
The Ooni Karu 12 is a premium, multi-fuel pizza oven that can elevate dad's pizza game and perfect for the aspiring home chef. It can be fueled by wood, charcoal, or gas, so it offers maximum cooking flexibility for pizzaiolos. Ooni pizza ovens reach 950 degrees, which is the temperature needed for true, Neapolitan style pizza that cooks in just 60 seconds. More than that, they can cook steaks, fish, veggies and bread. Another great feature, the Ooni Karu 12 is only 26.4 lbs, so it's portable to take on the road or camping for an epic campsite meal.
Link to purchase: https://ooni.com/products/ooni-karu
The Ooni Kaur 12 Multi-Fuel Pizza Oven retails for $349.00.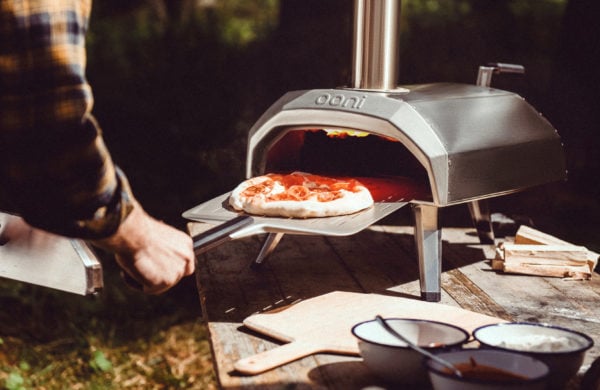 ICEMULE Coolers
These coolers strap to his back and offer hands free toting of ice, drinks and snacks while allowing full concentration on fishing, surfing, tossing a frisbee or whatever outdoor activity he enjoys. These soft sided coolers act as a backpack and come in multiple sizes and a variety of colors and configurations. When empty, the ICEMULE rolls up to store easily and out of the way for the trip home.
ICEMULE Classic™ Medium is a 15L capacity holding 12 cans or 4 750 ml bottles plus ice. $69.95
Lure Lock Tackle Box
Made with a proprietary gel to hold lures and terminal tackle in place, the Lure Lock line of tackle boxes is sure to be a hit with the avid angler. The TakLogic technology uses a sticky gel pad to keep hooks, sinkers and lures in place and prevents the dreaded rat's nest of tangled hooks with the bouncing around in the boat or trunk of the car. The TakLogic gel is a plant-based product leaving no odor or residue on the lures or hands. The pads are reusable and simple wash and rinse to restore their sticky attributes. Some boxes come with the option of LED lights for easy lure selection when fishing after dark. The boxes come in multiple sizes and are customizable to fit his tackle needs.
The Lure Locker comes with a 5 pack of boxes and carrying case with handles: $69.99
YoloTek PowerStick
Most every fishing trip has an action camera in tow to capture those memories on film; however, the chest mounted cameras are prone to losing battery within a couple hours. The problem is solved with the YoloTek Powerstick, which mounts into the light receptacle of a boat or kayak and powers the action camera throughout the day. Plug in the power cord, turn the camera on and dad can now record the entire day with the kids in the boat or verify the fish he brags about, but never brings home. The PowerStick charges a variety of action camera brands, as well as cell phones.
The PowerStick comes in various bundle offerings, but the basic 53" pole is $119.99 on sale.
PowerStick
HUK Icon X Refraction Fade Shirt
Staying out in the sun all day doesn't mean being exposed to the sun all day. The HUK Icon X Refractoin Fade shirt is an ultralightweight, long sleeve, jersey style shirt that looks cool and keeps dad feeling cool. The Icon X Refraction spreads sweat and moisture across a large surface area, creating a rapid cooling effect. The synthetic fibers allow air to pass through the shirt and also contain a hydrophobic coating that wicks sweat away from the skin. Sizes S through XXXL in 4 color schemes. $55.00
Solo Stove Ranger
The Solo Stove Ranger is a portable firepit that can be easily packed for the next campout, or just an evening in the backyard; however, due to the smokeless qualities of the Solo Stove, you don't smell like smoke the next day. It's a double-wall steel case pit that has all the benefits of an open, wood burning fire without the irritating drift of smoke chasing you around the fire all night. The Solo Stove comes in multiple sizes and also has options of turning the firepit into a camp stove or grill.
The Solo Stove Ranger is the most compact of the firepit offerings and is on sale for $199.99 (a $70.00 discount).
Turtle Box Audio
TURTLEBOX is loud, portable, waterproof and rugged–and what every dad needs–crystal clear, distortion-free sound at up to 120dB that can easily be carried with one-hand.The first Turtlebox was born out of necessity. After breaking every "loud" product on the market through routine outdoor use, the idea of the Turtlebox was born in the founders garage, not as a business but just for personal use. Nothing else could get the job done. Most portable speakers aren't actually meant for the outdoors and can't withstand the elements, the ones that can aren't loud enough to be heard. When you're at the beach or on an ATV, you need sound to carry in order to hear it over the wind, waves, and boat engines, you need a Turtlebox.
Features:
Fuller, richer sound with more bass due to larger amp and driver
Five-Step Battery Level Indicator so you'll always know how much juice you have left
Larger 1.25" Tweeter
USB-C Charging Input and Output for charging your phone
Three more battery cells mean a monster-sized 9-cell Lithium-Ion Battery
The Turtle Box retails for $375
Angler's Guide to Sonar Interpretation
"Does Dad or Grandpa have a fancy fishfinder on their boat, but don't really understand what it's showing them? For any angler that needs help learning to use their sonar and imaging equipment, The Technological Angler offers a comprehensive video course, "Angler's Guide to Sonar Interpretation," on DVD. This instructional video offers unique, on-the-water perspectives to teach you how to interpret Side Imaging, Down Imaging, and traditional 2D sonar. Each lesson includes numerous, interpreted screen captures from lakes, rivers and reservoirs, many of which are supported by underwater video from Aqua-Vu cameras. With help from The Technological Angler, you will learn to interpret all of the information that your fish finder provides, so you can have more fun on the water and enjoy more productive trips. Let the learning begin by visiting https://www.technologicalangler.com/sonar-interpretation.
The Angler's Guide to Sonar Interpretation DVD retails for $25.