HOBIE: Home Field Advantage
Category: article
Oct 11th, 2020 by Keith Worrall
Modified Oct 11th, 2020 at 9:21 AM

MCGOWAN WINS HOBIE COOSA RIVER CHAIN B.O.S. ANCHORED BY POWER-POLE
Hometown angler uses local knowledge to hold off Joshua Sharp and Lance Coley. All three qualify for Hobie's Tournament of Champions in Knoxville, TN
OCEANSIDE, Calif. (October 9, 2020) – With expansive waters, seemingly unending shoreline and a mix of largemouths plus "magnum" spotted bass to target, there was little doubt the Coosa River Chain Hobie Bass Open Series (B.O.S.) Anchored by Power-Pole was going to be an exciting contest. At stake was not only the event title, but final Angler of the Year (A.O.Y.) points, plus three qualifying spots for Hobie's Tournament of Champions (TOC) to be held in Knoxville, Tennessee, on November 14 and 15.
"This was our last open event of the season and it really lived up to expectations," said Tournament Director A.J. McWhorter. "We had 87 kayak anglers measure and release 655 bass with our top three finishers separated by just two inches. The fishing was great, Gadsden, AL offered plenty of support as our home base, and our anglers battled it out on the water until the final minutes. What a great way and awesome place to wrap up these events."
In the end, Coley McGowan, 25, a Gadsden, Alabama native, took home the crown with 181 total inches of catch and release largemouth bass for the two-day event. Joshua Sharp, 26, of Franklin, Tennessee, finished second, and Lance Coley, 38 of Calera, Alabama, carried off the bronze. All three anglers also qualified for the Hobie TOC. For their efforts, McGowan took home $5,100, Sharpe earned $2,750 and Coley pocketed $1,600 as the tourney paid out $16,100 through ninth place. Eric Siddiqi took home Bassin' Big Bass honors and $348 for a 22-inch largemouth that inhaled a Z-Man ChatterBait early on Day 1.
"I think having local knowledge helped a lot in this tournament," said McGowan. "There's a ton of water to cover on this river and its impoundments. If the fish aren't where you expect them to be after a couple days of practice fishing, it's good to have a few options to explore."
That was exactly the scenario McGowan faced early on Day 1 when a stretch of water that had proved productive during pre-fishing came up cold. "We had a full moon leading into the tourney, cooler conditions than in practice, and a few boats had worked over the area where I planned to fish," explained McGowan. "I don't know if those fish had shut down or moved on, but they weren't cooperating, so I just put my head down and kept covering water to scrape up what I could."
At the end of Day 1 McGowan was in sixth place. Fortunately, on Day 2, the bass were right back where he expected them to be – and they started hitting immediately. "They were running a little bigger than I expected," said McGowan, "and they were more numerous. In fact, I had my limit by 9 a.m. and started culling from there."
McGowan tossed spinnerbaits, buzzbaits and Z-Man ChatterBaits around shad in the mornings and switched to Bo's Jigs and green pumpkin Paca craw trailers for the afternoons. "Most of my action related to grass and wood," he stated. "I was throwing 5 to 10 feet outside the grass lines where there was some current, laydowns, stumps and trees. The fish were paralleling grass in mornings and super-glued to the wood in the afternoons."
Sharp spent most of his time waking a Santone Lures ½-ounce Pretender Series spinnerbait in shallow water and flipping laydowns with a beaver-style bait on a ½-ounce jighead. "I had to go real shallow to find those fish," he said.
Finishing in 15th place on Day 1, Sharp was optimistic about his chances on Day 2. Like McGowan, he had started slowly but a strong finish brought hope and he would bang out 98.5 inches of bass to lead the pack on Day 2, while clawing his way to the second spot. With just five minutes to go in the event, Sharp connected with a bass that looked to be over 20 inches long, but it came unbuttoned almost immediately after the hookset. "That one might have put me over the top," he conceded, "but it slipped the jig and just kept swimming. Still, I rang up my best scores both for a single day and a tournament total, so I'm thrilled with my effort. It was a really great weekend."
Coley, like McGowan, said that being on his home waters may have provided an edge. While most anglers targeted largemouths, he set his sights on the Coosa River's famed "magnum" spotted bass. "I knew it was going to be tough going against those largemouths," he explained, "but I had a stretch with a good stack of spots so I stuck with them and it worked out pretty good. I threw a variety of reaction baits including a RedLine spinnerbait. When they got smart on those, I switched to crankbaits and Z-Man ChatterBaits and culled up. I was working a small stretch of water, letting it rest, and then working it again."
While the scores showed how close the competition was in this event, McGowan said that it was even closer than he could have imagined. "I broke a paddle on a rock or stump around 2 p.m. on Day 2, and that effectively ended my fishing," he revealed. "For the rest of the way, I had to watch the leaderboard to see if my score would hold up. That certainly made things a little tense."
McGowan and Coley were all competing in their first Hobie B.O.S. Anchored by PowerPole event, and all three came away impressed.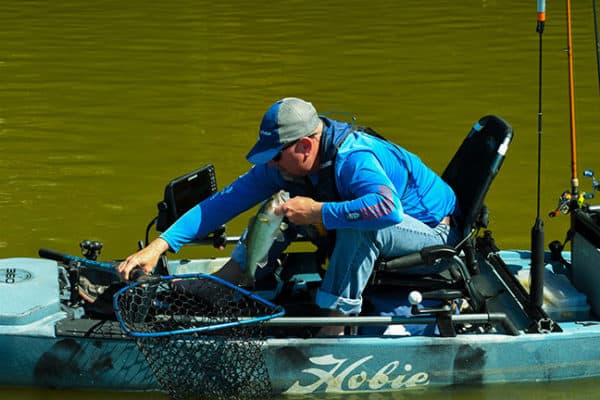 "It was great to see some of the biggest names in kayak bass fishing show up, and to see from how far away people were willing to come to compete," said McGowan. "I met people from Iowa, Ohio and the Northeast. If it's top level competition you want, this is the place to be."
Sharp called the Coosa River Chain event "the best kayak tournament I've ever fished," adding that he appreciated how it ran so smoothly, that other anglers were accepting of newcomers to the circuit, and that protocols were in place throughout the tournament to keep anglers safe during the Covid-19 pandemic.
Coley, meanwhile, enjoyed the camaraderie and testing his skills against some of the "big guns" in kayak bass fishing. "I also liked how helpful and friendly everyone seemed to be," he said. "That's the nature of this sport. Everyone seems pretty cool."
Of course, the Hobie B.O.S. series is driven by amazing supporters and sponsors, in addition to an unparalleled fleet of elite kayak bass anglers, a point McWhorter made clear at the final open event award ceremony.
"It really has been an amazing year for this Hobie series and I'd like to give a big shout out to all the anglers who supported us, everyone following and sharing these events on social media, and our amazing sponsors: Power-Pole, AFTCO, Lowrance, Scotty, NRS, Daiwa, Bassin' Magazine, Engel Coolers, Dakota Lithium, Hobie Polarized [TS1] and Aqua-Vu," summed up McWhorter. "In nine two-day opens, we qualified 27 anglers from across the country for our Tournament of Champions in Knoxville, TN. Over the next few days, we'll be tallying A.O.Y. points and announcing the next 20 qualifiers. For those who didn't make the cut by that point, we still have one last qualifying event, the Hobie B.O.S. Shootout Anchored by Power Pole, a single-day T.O.C. qualifying event with payouts and a $150 entry fee to be held on Lake Tellico, in Knoxville, on Friday, Nov. 13."
a