Go 'Timberbassing' with Z-Man's® New All-Terrain Bladed Jig
Category: article
Jun 30th, 2020 by Keith Worrall
Modified Jun 30th, 2020 at 11:44 AM

Z-Man cooked its newest ChatterBait with totally customized ingredients, including an infinitely adjustable brushguard.
Go 'Timberbassing' with Z-Man's® New All-Terrain Bladed Jig
Ultimate snag-resistant CrossEyeZ™ ChatterBait® emerges from bass pro David Walker's workshop
Ladson, SC (June 25, 2020) – David Walker is a git 'er done kind of guy, a DIY luresmith from way back. Most bass fans know all about his genius with a jig. Fewer know about the hefty bags of bass he regularly boats with a ChatterBait in tow. So it was a few years ago that Walker—who's never entirely satisfied with a lure right out of the pack—found himself once again out in the workshop, cutting, calibrating and sleuthing out a solution. The challenge? To match the right hook, jighead, skirt, and component parts and build a fish-catching ChatterBait truly worthy of the tag, snag-resistant.
"The ChatterBait has been a proven bass tour commodity since its release almost two decades back," notes Walker, who's won nearly $2-million dollars in bass competition. "To me, it's largely been known as a grass bait—and no one disputes its value in vegetation. But I worked for a long time on a design I could fish in timber, cypress knees, laydowns and around marinas and under dock structures. After boating over 75 bass on the final prototype, I'm super happy to tell folks about the CrossEyeZ ChatterBait, a highly-developed bladed jig built for true all-terrain fishing in wood, emergent vegetation and anywhere else you want to throw it."
Z-Man CrossEyeZ ChatterBait
The Z-Man CrossEyeZ ChatterBait, notes Walker, is anything but 'just another ChatterBait with a fresh coat of paint. "Other than borrowing the proven ChatterBait JackHammer blade, we developed the CrossEyeZ ChatterBait entirely from the ground up, using totally customized, deeply vetted components," he notes. Walker knew exactly what he wanted, and when Z-Man finally tapped him for design intel, he'd already sketched out a comprehensive breakdown of essential accoutrements.
"The CrossEyeZ ChatterBait features its own unique, tournament-winning action and vibration," notes Walker. "It's a high performance bladed swim jig whose blade, jighead, terminal connections, skirt and hook all work together in harmony."
Walker proudly points to the bait's totally adjustable, coated, multi-strand wire brushguard. "I knew the standard jig brushguard with a pile of stiff fibers wasn't right for this bait. I began by taking an existing ChatterBait, drilling holes in the head and welding two coated wire guards in parallel, letting the jighook 'split the uprights' for easy hooksets as the guard compresses. Deflects cover like a dream. And Z-Man has duplicated this configuration and produced what I believe to be the most efficient ChatterBait brushguard ever.
"When I say it's adjustable, I mean you can bend it down so the wires barely cover the hookpoint, or you can spread them wide apart for enhanced protection around super heavy brush, so when the bait comes up and over a log, the guard deflects the cover and protects the hookpoint. And you can customize the guard for every situation, as in, you can re-bend the guard over and over again without the wires breaking off. This really is the ultimate ChatterBait brushguard."
To activate the bait's dinner-bell-like vibrations, Z-Man and Walker affixed a proven hex ChatterBlade® to the jighead with Z-Man's patented direct-to-head connection. "I'm a steadfast believer in the bass' lateral line and its function in triggering bites, and the CrossEyeZ ChatterBait plays on this advantage with its powerful vibrations."
Adding a secondary layer of sound, Walker prescribed a wider jighead—and totally original sculpt— that frequently collides with the blade as it oscillates back and forth. "The direct blade-to-jighead connection gives the blade so much freedom of movement. When you pull the bait fast with your rodtip, you can hear that knocking sound as the blade cracks the jighead—it's another auditory cue that really makes bass eat the bait."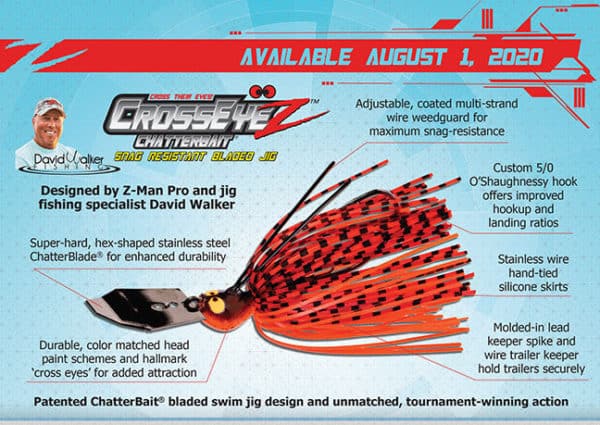 Walker also notes that the slightly flattened, well-balanced head "keels the bait and keeps the hook in the upright position at all times. The shape also produces a subtle body roll that activates the soft ElaZtech® trailer," he says. "Red, bulging 'cross' eyes focus fish's attention and provide a strike target."
To hook and keep bass pinned all the way to the boat, the CrossEyeZ ChatterBait utilizes a custom forged 5/0 O'Shaughnessy hook. Walker says this special hook sports a unique bend that keeps bass buttoned down better than other jighooks by a wide margin. Relative to the ChatterBait JackHammer™, the CrossEyeZ ChatterBait hook also has a slightly shorter shank for a more compact presentation.
Standard equipment on the CrossEyeZ ChatterBait, a high-grade snap affords extra freedom of movement and stays shut. "The snap plays a surprisingly critical role in bringing out the right vibration in the blade, as well as allowing the bait to 'start' with the first turn of the reel handle," notes Walker. To prevent it from opening up, the snap features an extended clasp, turned at a 90-degree angle to slide cleanly through cover.
Primo silicone skirts are painstakingly chosen by Walker himself, including specific strand colors and quantities. Wraps of tough-as-nails stainless steel wire affixes skirts nearly permanently in place. A two-way trailer keeper includes both a molded in lead barb and a secondary wire flange for total plastics protection. For trailers, Walker is a big fan of both the Z-Man 3" MinnowZ and the RaZor ShadZ, though the lure is equally compatible with other soft plastics.
Z-Man CrossEyeZ ChatterBait
"When it comes to lure design, David Walker is among the most hands-on and meticulous anglers we work with," notes Z-Man president Daniel Nussbaum. "It's really fun collaborating with him on projects like this because no detail goes overlooked. Makes a huge difference in the fish-catching qualities of all the baits we work on together."
Landing at outdoor retailers in early August, the snag-resistant Z-Man CrossEyeZ ChatterBait will be priced competitively at $9.99 each, perhaps the best value in pro-grade bladed jigs today. Available in 3/8-, ½- and ¾-ounce sizes and ten elite color patterns. Visit www.zmanfishing.com for more information.