Eastanollee's Morrow Wins Toyota Series Event on Lake Norman
Category: article
Oct 5th, 2020 by Keith Worrall
Modified Oct 5th, 2020 at 9:33 AM

Eastanollee's Morrow Wins Toyota Series Event on Lake Norman
HUNTERSVILLE, N.C. (Oct. 3, 2020) – Pro Troy Morrow of Eastanollee, Georgia, brought a five-bass limit to the scale Saturday weighing 9 pounds, 7 ounces to win the three-day Toyota Series at Lake Norman event in Huntersville, North Carolina. Morrow's three-day total of 15 bass weighing 32-3 earned him the win by a 4-ounce margin over second-place angler Todd Walters of Kernersville, North Carolina, and earned Morrow the top payout of $24,795 in the third and final tournament of the 2020 Toyota Series Eastern Division.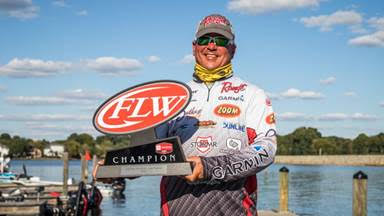 Morrow spent his practice graphing, humps, shoals and the deepest docks he could find. In all, he marked about 200 places that looked good. Each day during the tournament, Morrow hit between 30 and 40 places he had marked from practice and he rarely repeated water.
"In the old days I might only fish about 15 or 20 places per day, because I felt like I had to fish so slow and thoroughly," Morrow said. "But with LiveScope I'm much more efficient. I can fish double the number of spots because if they're not there, spooky, or not acting right, I just move on. Like, one thing I noticed immediately is if I caught a fish, a lot of the times the rest of the fish would leave. Knowing that kept me from wasting time on unproductive water."
Morrow's primary lure all week was a shaky head with a Zoom Finesse Worm on a 3-16-ounce Gambler Giggy Head instead of a drop-shot.
"They reacted to the shaky head much more positively than the drop-shot," said Morrow. "I would watch them follow a drop-shot down and they just wouldn't run it down like they would a shaky head. Sometimes they would even bite the shaky head on the way down and generally the bigger fish were more interested in the shaky head."
In addition to the shaky head, Morrow also threw a 5/8-ounce Southern Hook Southern Spin underspin with a Zoom Boot Tail Fluke to single rocks and stumps as deep as 30 feet. A Carolina rig also claimed a couple of weigh fish as well.
Morrow's win at Norman marks his fifth FLW win. He has also won two Phoenix Bass Fishing League Regional Championships and the All-American. But this is his first Toyota Series trophy. "This feels good," Morrow went on to say. "To come here and do my thing against these guys and win feels good. I've won at the BFL level several times but a win at this level has been a long time coming."
The top 10 pros on Lake Norman finished:
1st: Troy Morrow of Eastanollee, Ga., 15 bass, 32-3, $24,795
2nd: Todd Walters of Kernersville, N.C., 15 bass, 31-15, $9,608
3rd: Bryan Thrift of Shelby, N.C., 15 bass, 30-9, $7,438
4th: Martin Villa of Charlottesville, Va., 15 bass, 29-8, $6,233
5th: Jason Wilson of Lincolnton, N.C., 15 bass, 28-15, $5,579
6th: David Williams of Maiden, N.C., 15 bass, 27-11, $5,493
7th: Michael Stephens of Gastonia, N.C., 15 bass, 27-5, $4,339
8th: Cole Huskins of Gastonia, N.C., 15 bass, 27-2, $3,919
9th: Chris Baumgardner of Gastonia, N.C., 13 bass, 25-1, $3,099
10th: Cody Pike of Powhatan, Va., 12 bass, 21-11, $3,479
A complete list of results can be found at FLWFishing.com.
Pike took home an extra $1,000 as the highest finishing FLW PHOENIX BONUS member. Boaters are eligible to win up to an extra $35,000 per event in each Toyota Series tournament if all requirements are met. More information on the FLW PHOENIX BONUS contingency program can be found at PhoenixBassBoats.com.
Derek Brown of Charlottesville, Virginia, won the Co-angler Division Saturday with a three-day total of 13 bass weighing 20 pounds, 9 ounces. Brown took home the top prize package of a new Phoenix 518 Pro bass boat with a 115-horsepower outboard motor.
The top 10 co-anglers on Lake Norman finished:
1st: Derek Brown of Charlottesville, Va., 13 bass, 20-9, Phoenix 518 Pro bass boat w/115-hp outboard
2nd: Neal Shade of Greenville, S.C., 13 bass, 19-15, $3,218
3rd: Jeff Lederman of Powhatan, Va., 12 bass, 19-0, $2,574
4th: Stanton Harris of State Road, N.C., 11 bass, 18-2, $2,252
5th: Michael Miller of Greenville, S.C., 10 bass, 17-4, $1,977
6th: Gary Haraguchi of Phoenix, Ariz., 10 bass, 15-13, $1,609
7th: Todd Sosebee of Bessemer City, N.C., 10 bass, 15-1, $1,287
8th: Rob Griswold of Lincolnton, N.C, eight bass, 14-11, $1,126
9th: Donald West of Apex, N.C., seven bass, 11-7, $965
10th: David Williams of Fredericksburg, Va., seven bass, 11-1, $804
The Toyota Series at Lake Norman was hosted by Visit Lake Norman, Charlotte & Mecklenburg County Park & Recreation. It was the third and final regular-season tournaments in 2020 for Eastern Division anglers. The next event for Toyota Series anglers will take place Oct. 8-10 – the Toyota Series at Lake of the Ozarks in Osage Beach, Missouri. For a complete schedule, visit FLWFishing.com.
The 2020 Toyota Series consists of eight divisions – Central, Eastern, Northern, Plains, Southeastern, Southern, Southwestern and Western – each holding three regular-season events, along with the International division. Anglers who fish all three qualifiers in any of the eight divisions and finish in the top 25 will qualify for the no-entry-fee Toyota Series Championship for a shot at winning $235,000 cash, including a $35,000 FLW PHOENIX Bonus for qualified anglers. The winning co-angler at the championship earns a new Phoenix 518 Pro bass boat with a 115-horsepower outboard. The 2020 Toyota Series Championship will be held Dec. 3-5 on Lake Cumberland in Burnside, Kentucky, and is hosted by the Somerset Tourist & Convention Commission and the Burnside Tourism Commission.
For complete details and updated information visit FLWFishing.com. For regular updates, photos, tournament news and more, follow the Toyota Series on FLW's social media outlets at Facebook,  Twitter, Instagram,and YouTube.
About FLW
FLW is the world's largest tournament-fishing organization, providing anglers of all skill levels the opportunity to compete for millions in prize money across five tournament circuits. Headquartered in Benton, Kentucky, FLW and its partners conduct more than 290 bass-fishing tournaments annually around the world, including the United States, Canada, China, Italy, South Korea, Mexico, Namibia, Portugal, South Africa, Spain, and Zimbabwe.
FLW tournament fishing can be seen on the Emmy-nominated "FLW" television show while Bass Fishing magazine delivers cutting-edge tips from top pros. Acquired by Major League Fishing in late 2019, FLW is expanding its programming in 2020 to the Outdoor Channel and the Sportsman Channel as well as on-demand at MyOutdoorTV (MOTV).