DAIWA: Perfect Fit for Fishing
Category: article
Oct 27th, 2021 by Keith Worrall
Modified Oct 27th, 2021 at 9:47 AM

Perfect Fit for Fishing
New Performance Camo Sweatshirt and Masked Hoodie are comfortable and water resistant, and the perfect fit for an outdoors adventure.
Cypress, CA (October 27, 2021) – Just in time for the fall and Holiday seasons, Daiwa has added NEW Performance Camo Hooded Sweatshirts and Face Masked Hoodies to its growing apparel line. Ideal for cool weather fishing, boating, camping or simply hanging out with friends and family, both look great, feel terrific and are designed to keep you comfortably warm without overheating.
Performance Camo Sweatshirt
Sporting premium polyester fabric on the outside and a soft fleece inner liner, both the Performance Camo Hooded Sweatshirt and Face Masked Hoodie are stain and water resistant, incorporating water-wicking technology to keep you dry and comfortable in fog, mist or when accidently brushing against a wet console. Additionally, the hoodie features a lightweight pull-up style facemask that will not hinder breathing while it keeps the sun off your face and locks out the wind as you buzz across the water. Both the sweatshirt and hoodie also prominently feature Daiwa's signature D-VEC Logo.
Available in sizes SMALL to XXXL, The NEW Performance Camo Sweatshirt comes in an attractive black with a muted yellow Daiwa D-VEC logo on the chest plus an Army-style camouflage D-VEC logo on the back. Available in November, it retails for $59.95.
The NEW Daiwa Face Masked Hoodie will be available late October and comes in sizes small though XXXL. Black with silver grey Daiwa D-VEC logos on the chest and sleeve, it retails for $69.95.
Performance Face Masked Hoodie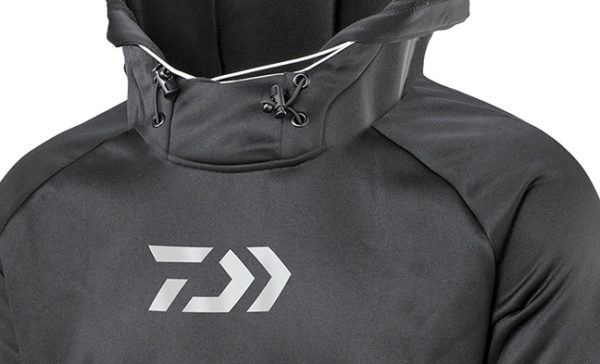 Designed to fit the Daiwa outdoors lifestyle, both the Performance Camo Hooded Sweatshirt and Face Masked Hoodie provide medium warmth, making them suitable for cooler temperatures in a variety of climates. Whether worn afield, on the water or around the house, they feel comfortable, look sharp and stand up to frequent use. Check them out today, whether for yourself or as gifts for friends and family.
For Daiwa's latest color catalog and/or information on Daiwa products, call Daiwa's Customer Service Department at 562-375-6800 or e-mail inquiries to: [email protected]. The URL for Daiwa's web site is Daiwa.us