DAIWA: Distance Matters
Category: article
Sep 29th, 2020 by Keith Worrall
Modified Sep 29th, 2020 at 1:16 PM


Casting Distance was the Key
Daiwa Pro Patrick Walters Wins Bassmaster Eastern Open on Hartwell
Cypress, CA (September 28, 2020) – This past Friday, Daiwa Pro Patrick Walters, of Summerville, South Carolina, battled heavy winds to win the Bassmaster Eastern Open at Lake Hartwell with a three-day total of 44 pounds, 5 ounces. The win translated into a check for $42,267.
Walters credits his gear for being able to boat so many largemouth and spotted bass throughout the tournament.
"I was catching a limit early each day on a jerkbait with a 7-foot rod and Tatula SV TW103 baitcasting reel," said Walters. The downsized and exceptionally lightweight Daiwa baitcaster manages line like none other. Walters continued, "It was windy, and I could throw weightless baits farther than most competitors. The fish were a hundred feet away from the boat, so I needed the distance."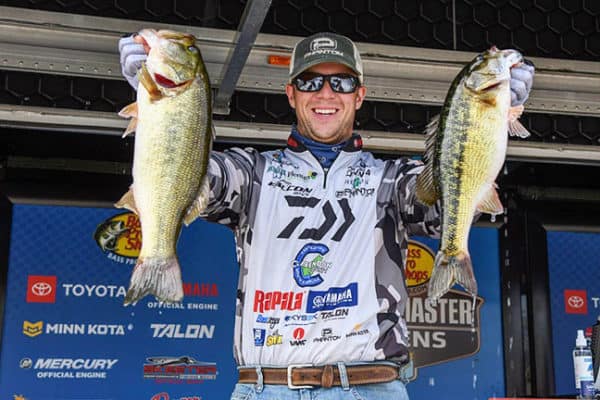 Photo courtesy of B.A.S.S.
Engaging numbers of fish wasn't a problem for Walters, either. "I started out with a jerkbait, caught a limit, and then switched to a fluke. On Day One, I caught some decent fish on the fluke, including a four-pound largemouth. I was working the fluke right next to the boat and a 12-incher bit, I pulled the fluke away, and the four-pounder grabbed it right out of his mouth! It was one of those lucky bites!"
In terms of habitat, Walters spent most of his time targeting cane piles and long, tapering points in depths between 5 and 15 feet of water.
On Day Two Walters caught a limit early on a jerkbait and then switched to a fluke, but didn't get the results he expected. So rather than keep with the bait many of his competitors were fishing, Walters decided to shake things up.
Daiwa Tatula SV TW103
Around 11 a.m., Walters changed to a stick-style fluke on a spinning rod. "It worked out really well, and I got some big bites. I could throw the light bait extremely far with 4000 Series Tatula reel. That's why I love 4000 Series spinning reels: they cast light baits extremely far and hold a lot of line. I can bring more inches in per turn, too. Daiwa 4000 Series reels are now my bread and butter," pronounced Walters.
This change in presentations and beneficial casting distance yielded 15-11 at the scales for Walters on Day Two. Staying mobile, too, also played in Walters favor as he fished 40 to 50 separate spots a day, largely on the lake's lower end.
Day Three proved similarly in Walters' favor as he weighed a Championship Friday limit of 13 pounds, 11 ounces, comprised of quality spotted bass.
Photo courtesy of B.A.S.S.
While Walters is already prepping for upcoming tournaments, he's incredibly grateful for the victory, which adds to wins at the 2017 Carhartt Bassmaster College Series Southern Regional at Winyah Bay and the 2018 Bassmaster Central Open on the Red River.
Walters concluded: "I believe that the difference-maker in this tournament was the distance I was able to cast. It was really windy throughout the tournament, and all the baits had to be fished weightless. It really came down to the reels and being able to throw a bait farther than other anglers. That capability without backlashing constantly allowed me to confidently make as many casts as I could. For me, that was the difference between winning a tournament and not getting a check."
For Daiwa's latest color catalog and/or information on Daiwa dealers in your area, call Daiwa's Customer Service Department at 562-375-6800 or e-mail inquiries to: [email protected] The URL for Daiwa's web site is http://www.daiwa.com/us/