2019 FLW Cup Underway on Hamilton
Category: article
Aug 9th, 2019 by sworrall
Modified Aug 9th, 2019 at 9:53 AM
The 2019 FLW Cup is officially underway at Lake Hamilton in Hot Springs, Ark. Last year, when the location of the Cup was announced, there was speculation that this could be one of the toughest Cups of all time. A challenging pre-practice report reinforced that assumption. But this week, practice has been fantastic. There are fish to be caught from one dam to the other on Hamilton, from the shoreline to brush piles 30 feet deep. And there are a lot of bass being caught. This morning pros welcomed a change in weather conditions. It's overcast, with rain and scattered thunderstorms in the forecast, which should make the shallow bite even better, and probably won't hurt the deep bite too much. This is shaping up to be a fantastic championship, and no matter what happens, someone is bringing home the big silver trophy and a check for $300,000. Will it be a veteran pro looking for his career-making win, or a young gun ready to springboard to the top? Follow along this week to find out.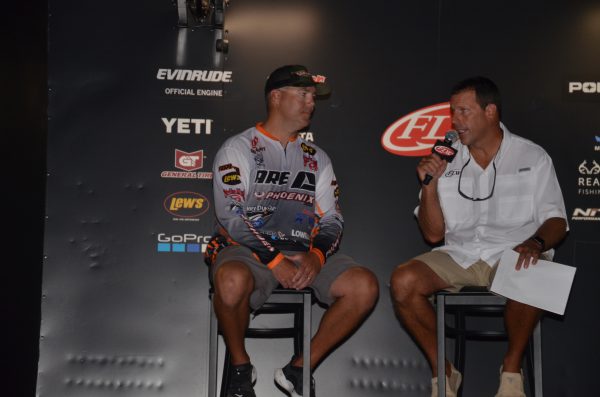 CONDITIONS: Temperature at takeoff: 78 degrees. Forecast high: 88 degrees . Sky: Overcast. Precipitation: 40 percent chance of rain and scattered thunderstorms in the afternoon. Wind: Light from the east, but switching around to the west.
TOURNAMENT DETAILS
Hosted by Visit Hot Springs and the Arkansas Department of Parks and Tourism
Takeoff: 6:30 a.m. CT at Andrew Hulsey Fish Hatchery, 350 Fish Hatchery Road, Hot Springs National Park, Ark.
Weigh-in: 5 p.m. CT at Bank OZK Arena, 134 Convention BLVD, Hot Springs, Ark.
FLW Expo: 10 a.m. – 4:30 p.m. at Hot Springs Convention Center, 134 Convention BLVD, Hot Springs, Ark.
FLW Live: 8 a.m. – 2 p.m.
.