Taking a Bite out of Your Catch
Category: article
Mar 12th, 2021 by Keith Worrall
Modified Mar 12th, 2021 at 11:18 AM
Protect your catch from sharks with the Sharkbanz Zeppelin.
Captain Profile:
Billy Delph, Delph Fishing Charters, Key West, Florida
KEY WEST, FL (March 12, 2021) – If there's anything akin to street cred for professional charter fishing skippers, you can bet Capt. Billy Delph has a double dose. The full-time captain and owner of Delph Fishing Charters from Key West, Florida, has a serious reputation for catching big fish and plenty of them while keeping each trip fun, entertaining and educational.
"There's more to this game than simply dropping a bait to the bottom," says the 41-year-old who is Key West born and raised. "The more you learn about the fish you target and the environment they live in, the better an angler you'll become. Everything on the water is interconnected and understanding that makes a great starting point for a successful trip."
"It's exactly that attitude, combined with a tremendous passion for fishing, first-hand knowledge, and four decades of experience in shark-infested waters, that prompted us to reach out and ask Billy to be a Sharkbanz ambassador," says Sharkbanz co-founder, Nathan Garrison. "He's helping us better understand the best practices for using and positioning our new Sharkbanz Zeppelin for anglers – the world's first and only shark deterrent fishing tackle. It's a compact, easy-to-use device that helps reduce the age-old problem of shark depredation, otherwise known in fishing circles as 'Paying the Taxman.'"
Ask Delph how he acquired his tremendous fishing knowledge and he'll tell you he was lucky to have grown up in a fishing family. "Good stock," is how he puts it, and he's not kidding. His father, the late, legendary light-tackle specialist, Ralph Delph, relocated to Key West in the early 1970's to become a full-time guide and enjoyed tremendous success, at one point winning the Metropolitan South Florida Fishing Tournament (MET) Guide Achievement award for 20 consecutive years as he led more clients to Master Angler titles than any other captain in history. He was also the first to guide more than 100 clients to International Game Fish Association (I.G.F.A.) world record catches, won the I.G.F.A. Lifetime Achievement Award in 2008, and recorded numerous tournament wins. Collectively, the Delph family has received, broken or chartered over 300 I.G.F.A. records, racked up hundreds of tournament wins, and whipped the largest fish ever taken on stand-up tackle, a 1,154-pound bluefin tuna caught off Cape Cod, Massachusetts.
Delph, who has two brothers that are charter captains, and four sons growing up on the water, started paying his dues as a teenager washing charter boats and cleaning fish. From there, he graduated to commercial stints covering everything from pulling stone crab and crawfish traps to catching yellowtails on reefs and longlining in the cold waters of the north Atlantic. Plenty of additional knowledge was gained while fishing with family.
"We've fished the Southern Kingfish Association (S.K.A.) tournaments and did very well from North Carolina to Texas," continues Delph. "We were the only team ever to be undefeated in Division 11 S.K.A. competition, and we did that twice. We are also the only team to ever break 70 pounds for a kingfish during the tournament – we did that twice, too," he says proudly. "We've had an entire series of fishing rods with our name on them in Bass Pro shops, and the I.G.F.A. recently asked me to be an ambassador, so we've been lucky to receive plenty of recognition around the country."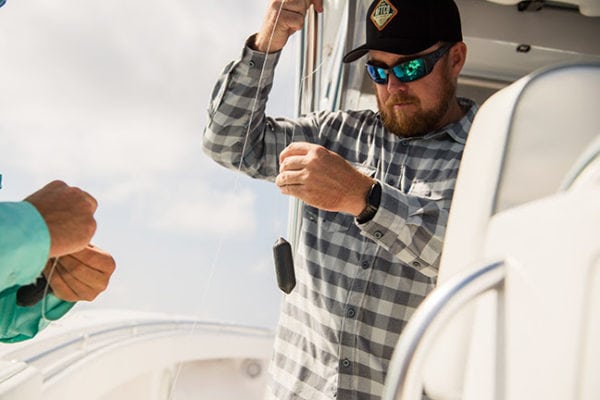 Rigging the Sharkbanz Zeppelin for deployment.
Still, it's to the waters of Key West and the Dry Tortugas that Billy Delph always returns. "I just love this place," he says simply. "It sports one of the most diverse fisheries in the world. We have everything from flats fishing for tarpon, permit and bonefish in the back country, to deeper water in the Gulf of Mexico and Atlantic Ocean. Get over a reef and you'll catch snapper, grouper and other bottom species. Head offshore and pelagics including tuna, wahoo, sailfish, king mackerel and mahi come into play. It really is fishing heaven."
Except for the growing population of predatory sharks that often chomp on bottom fish being reeled to the surface. "That's one thing we really need a solution for," reveals Delph. "With stricter regulation and more protection for sharks these days, the numbers of sandbar, dusky and bull sharks have significantly increased here. What's worse, they hear the boats and come looking for a free meal. When sharks see a fish struggling at the end of a line, they get right on it."
Fortunately for Delph, and hundreds of other anglers in the Key West area, Sharkbanz may be able to help. Recognized world-wide by surfers, swimmers and beachgoers, the company already offers a wearable device, the Sharkbanz 2, that uses patented magnetic technology developed by marine biologists to deter predatory sharks with amazing consistency. The result of over a decade's worth of research in the USA, Bahamas, Australia and South Africa on the efficacy of permanent magnets as a shark deterrent, this technology has also proven effective at deterring sharks in fishing applications.
Originally designed for bottom-fishing applications, the travel-friendly Sharkbanz Zeppelin wards off aggressive sharks looking to tear into catches being reeled to the surface. Streamlined, cylindrical and weighing just 6.5 ounces, it requires no batteries, no charging, and can be used as a sinker or tied into the leader. The shark deterring Zeppelin provides an approximate 3- to 6-foot electromagnetic field that overwhelms a shark's electroreception, creating a highly unpleasant sensation that stops the ocean's Taxman in his tracks and causes it to turn away before slicing off a free meal. The device does not harm sharks or other sea creatures, does not repel other fish, and is effective at any depth.
Delph has been experimenting with the Zeppelin and reports good results. "At first I was a huge skeptic," he reveals, "but after a lot of testing I figured out how to implement the Zeppelin most effectively, and I can honestly say it works very well in most sharky conditions. By using the Zeppelin as a sinker positioned to ride 18 to 24 inches below the tail of the target species when hooked, we achieved a 100% success rate in terms of deterring sharks on our final day of testing. They just don't want to penetrate that electrical barrier. Since then, I've been using the Zeppelin regularly with solid success. It's definitely a must-have in your saltwater arsenal and I'm proud to be helping Sharkbanz continue to refine its testing, research and products in real-life fishing situations."
Captain Billy Delph, his crew and family.
Garrison says he's thrilled to have Delph consulting on the Sharkbanz Zeppelin. "We couldn't ask for a more knowledgeable, more professional skipper to provide input," he states. "I had the opportunity to fish with him last year and his dedication to ensuring the happiness of his clients is as good as I've ever seen by someone working as an outdoors guide whether it's been flyfishing, surfing, kayaking, white water rafting or reef fishing. His ability and fun personality put him in an elite class. I also like that he's a straight shooter so when he offers feedback it carries exceptional weight. He's out on the water daily and in need of solutions to his shark problems. If the Sharkbanz works for him, it can work for anybody."
As for continuing the family legacy, Delph has no plans to slow down. "My boys are getting into the business now, and that's fun," he says. "This is my heritage and I absolutely love it. I get paid to teach fishing in a place where people come to play. Everyone is happy when they meet you at the boat. My job is to make them even happier by the end of the day."