Shimano Curado DC 200 Blends Performance and Flexibility
Category: article
Oct 3rd, 2022 by Keith Worrall
Modified Oct 3rd, 2022 at 12:23 PM
Shimano Curado DC 200 Blends Performance and Flexibility
Tournament-tested Reel Designed for Long Casts and Tough Conditions
The Shimano Curado family sets the benchmark for performance and versatility among low-profile casting reels. Wielded by professional anglers and weekend warriors alike, Curado reels provide dependable, tournament-tested performance in a compact form factor that enhances success on the water. Shimano now introduces the Curado DC 200, leveraging Digital Control technology and increased line capacity for enhanced performance and flexibility.
Frequently, the fish that anglers want to catch most are also the farthest from the boat, requiring long casts to reach them. The new Curado DC 200 provides anglers with increased line capacity – up to 40% more compared to the smaller Curado DC 150 – bringing easily spooked, trophy-caliber fish well within range. Additional line capacity enhances versatility and performance using a wide range of baits and techniques, especially those using larger diameter line or larger lures.
Curado DC 200 boasts Shimano's unique DC technology, I-DC4. This Intelligent Digital Control braking system utilizes a microcomputer to monitor spool speed 1,000 times per second, and applies the perfect amount of brake as the spool spins to prevent backlashes. Anglers of all skill levels will appreciate less thumbing and trouble-free casting in all conditions – especially when swirling winds drive fish into a feeding frenzy.
Shimano engineers built the Curado DC 200 to handle superlative fish thanks to a rigid HAGANE Body and durable Cross Carbon Drag. Shimano's exclusive HAGANE Body technology enhances rigidity and eliminates flexing, transforming angler inputs into more direct and effortless cranking power. Cross Carbon Drag – the product of Shimano's continuing emphasis on improving drag performance – provides an expanded range of drag settings for exceptionally smooth performance when battling tournament-winning fish. The Curado DC 200 withstands continual use and – and occasional abuse – by seamlessly blending toughness and durability with precision engineering and enduring craftsmanship.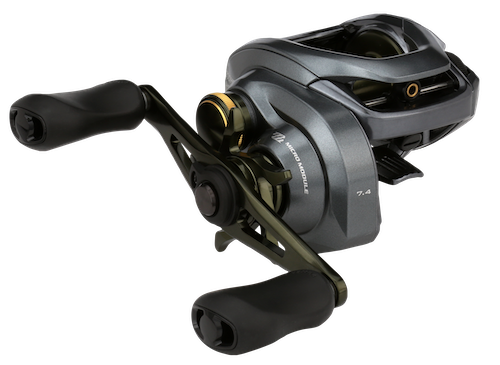 Precision gearing lies nestled at the heart of the Curado DC 200 with Shimano reel technologies such as X-Ship and MicroModule Gear II, creating an unmatched reeling experience. MicroModule Gear II uses a gear set with an increased number of smaller teeth, providing additional contact points between the pinion and drive gears to deliver a smoother and more efficient gear train. X-Ship technology optimizes the overall drive gear design for exceptionally smooth handle rotation and efficient power transmission. Anglers will notice the benefits of X-Ship and MicroModule Gear II every time they turn the handle, experiencing smoother gear operation and reduced sound.
The Curado DC 200 is available in two gear ratios to cover a wide range of situations that anglers encounter on the water. The medium 7.4:1 gear ratio Curado DC 200 (CUDC200HG) is a versatile workhorse reel that is an excellent choice for any relatively slow presentation, like fishing a crankbait in cold water, slow-rolling a spinnerbait, or grinding a squarebill against rocks and stumps. The extra-high 8.5:1 gear ratio Curado DC 200 (CUDC200XG) lets anglers retrieve line fast – perfect for flipping or winching trophy fish out of heavy cover. Rig Curado DC 200 reels on Shimano Curado rods to experience bass angling at its finest.
Fish smarter and leverage Shimano's premium DC technology with the all-new Curado 200 DC, available now at authorized Shimano dealers with an MSRP of $269.99.
Curado DC 200 Features:
MicroModule Gear
X-Ship
HAGANE Body
CI4+
S3D Spool
I-DC4 Intelligent Digital Control
S A-RB Shielded Anti-Rust Bearings
Super Free Spool
Cross Carbon Drag
7.4:1 and 8.5:1 Gear Ratios
Right or Left Hand Retrieve