AGLOW Cast and Blast Event Showcases Lake of the Woods
Category: article
Oct 18th, 2019 by Keith Worrall
Modified Oct 18th, 2019 at 10:25 AM
AGLOW Cast and Blast Event Showcases Lake of the Woods
For outdoors minded folks, fall is an incredible season. With cooler water temps, many fish are putting on the feed bag prior to ice up. Fishing is typically very good, there are no bugs and of course, the beauty of the season. In addition, for those who like to hunt, fall is the season to get outside and enjoy. Very few areas offer high quality hunting and fishing at the same time. Last week, a small group of outdoor media and corporate folks associated with AGLOW (Association of Great Lakes Outdoor Writers) had the opportunity to find out what cast and blast Lake of the Woods style is all about. Goose hunting Lake of the Woods MN
For this small group event, the cast and blast destination was River Bend's Resort located on the mouth of the Rainy River just before it enters Lake of the Woods. Guests arrived Sunday night and enjoyed a delicious dinner, their favorite beverage and of course, good conversation geared around the outdoors. In addition to getting to know one another, the plan was to decipher who is going goose hunting Monday morning and who was going fishing. As it turned out, both options were good choices.
Goose hunting around Lake of the Woods is spectacular. Like in most areas, hunters will look for geese in the fields the afternoon before the hunt and try and receive permission to that land so they can set up decoys in the filed prior to day break the following morning. It just happened we had permission on some fields the geese were working and the hunt was top notch. Limits of geese (3 per person around LOW) were harvested right away in the morning. In fact, each of the three mornings, good numbers of geese were harvested and cleaned.
One of the nights, the resort actually prepared some of the geese for an appetizer. For many who have tried goose, sometimes the memories are of a very dry and stringy meat. With that being said, there were a lot of ideas on how to cook goose differently with this group and the final product turned out to be absolutely delicious.
Goose hunting, Lake of the Woods MNOf course, you might be wondering what was different. First off, the cleaning of the geese. One of the media who was on this AGLOW event was Bret Amundson. Bret is host of Prairie Sportsman TV show, MN Sporting Journal Radio and a long time waterfowl guide and guru. Let's just say, he knows his stuff. "Right off the bat, when I was cleaning birds, I basically cubed the breast meat which also allowed me to remove some of the larger arteries, etc within the breast. This not only really cleans the meat up, it allows the smaller pieces of meat to cook better."
In addition, the goose was soaked in beer overnight to remove blood and impurities. The chunks were then deep fried to a medium rare. Often times with goose or other lean forms of wild game like venison, the meat gets overcooked. Typically medium rare or less is a good choice. The goose chunks were offered with either a sweet chili or barbecue dipping sauce. I am telling you, there were so good, the next time I have a chance to get my hands on some goose breasts, I am taking advantage of them.
The other part of the crew ended up going fishing on Lake of the Woods for fall walleyes. The walleye bite all fall has been good. The key for Lake of the Woods is finding the fish. On this given day, a group of us went fishing with Roger Niesen of Qwest Pontoons. Yes this was a pontoon, but a beefed up fishing pontoon. It has tri-toons underneath with a special design enabling it to handle some good sized waves. On the back end was a 200 HP Suzuki that allowed the Angler Qwest to scoot right along. This rig was loaded with downriggers, high end electronics and a rocket launcher (rod holders that are overhead) that gave it that fishing boat look.
We decided to run over near Zippel Bay where we heard there were some nice walleyes being caught. We picked at them, but didn't really slam them. It seemed we would hit a spot and pick up one or two keepers, a few small ones and move one. Slowly but surely the livewell started to fill up. We made our way down to the Morris Point gap area and began to jig. Here we found some nicer slot walleyes with some keepers mixed in. As we were curious more than anything as good reports came out of Four Mile Bay that morning, we stopped and jigged in about 15′ of water as the sun started to tell us supper was approaching. There we again picked up a couple of keepers, a nice slot fish and a few small ones.
From a fishing perspective, it was one of those days that when you look at the livewell, the day looks successful. Knowing what kind of fish come out of Lake of the Woods, it felt like it was just a so-so day. I had to pinch myself, a so-so day on LOW is like a rocking good day on many other bodies of water.
As the few days went on, there were good numbers of geese shot as well as walleyes caught. Everyone had the opportunity to both hunt and fish. Some stuck to just to fishing, others made it a true cast and blast.
One of the highlights of the cast and blast event was having the opportunity to shoot a number of SAR USA pistols. Representatives from SAR USA arranged a shooting day at the Warroad Lost River Sportsman Complex near the airport in Warroad. If you haven't been there, this is a public shooting range that is big, has a variety of shooting areas including clay pigeons and is set amongst the beautiful setting of a northern MN forest. It didn't hurt we had beautiful fall weather.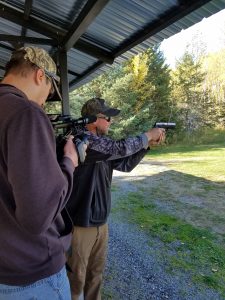 The shooting day during the cast and blast event offered the opportunity to shoot a number of pistols at targets both close and far out. Being more of a hunter than someone who shoots pistols a lot, I appreciate the education and experience I received from SAR representatives during the day. Education is key in not only feeling more comfortable with firearms, but also is safer.
SAR USA is one of those companies that is big, successful but you may never have heard about them. SAR USA is the exclusive U.S. importer for all firearms and ammunition products produced by Sarsilmaz Silah Sanayi of Istanbul Turkey. Interestingly enough and not very widely known, Sarsilmaz is one of the largest firearms manufactures in the world founded in 1840. They produce some of the highest quality firearms on the planet and supply many NATO countries military. SAR USA works closely with the engineering staff at Sarsilmaz to develop new firearms products for the American market and with many years of firearms manufacturing experience to build on. The company believes they will soon be one of the major firearms companies in America. With the insight that SAR will be bringing in an entire line of shotguns in the near future, that could very well be true. SAR USA, Lake of the Woods MN
And what a week it was. AGLOW does a nice job of bringing together outdoor media, outdoor companies and destinations together for mutual benefit. At this event, Mark Smith, Executive Director of AGLOW was fully engaged in the cast and blast activities and festivities.
SAR USA, Lake of the Woods MNOn this given week in October, Lake of the Woods was the setting and was given the opportunity to shine. The abundance of fish and game in this area didn't disappoint. Attendees departed the event happy, were very well fed, developed new or re-kindled relationships and certainly, some lasting fond memories of the many fall fishing and hunting opportunities around Lake of the Woods.
Click here for the Lake of the Woods Tourism website.