North American Sturgeon Championships August 17th
Category: article
Aug 1st, 2019 by Keith Worrall
Modified Aug 1st, 2019 at 12:31 PM
The 2019 Annual North American Sturgeon Championship, Open to the Public
Summer on the Rainy River is known to most for walleyes, bass and pike. One of the fish gaining popularity and for good reason is the lake sturgeon. The population is growing and the average size of the population is getting larger each year. These fish are fun to catch, big and ancestry goes back to the prehistoric ages. That brings us to a fun event based just east of Baudette in Birchdale, MN. The 2019 North American Sturgeon Championship is in mid August and is open to the public.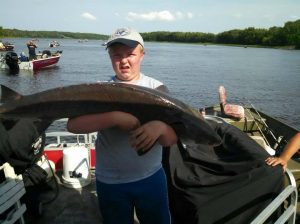 The Rainy River is loaded with sturgeon, so why not have a tournament for them right?! The fishery is extremely strong right now and the average length of Lake Sturgeon continues to grow along with the population. It is only fitting that the home of the 28th Annual Sturgeon Championship takes place is in Birchdale, MN just 27 miles east of Baudette on Hwy 11. This event is open to the public anBirchdale signd all are welcome. The tournament is Saturday, August 17, 2019. Noon -2:00 pm is the Youth Contest. 3:00 pm – 7:00 pm is the main contest open to all ages.
This will be the fifth year there is a youth sturgeon championship. This is free of charge and youth are encouraged to take part.
If you have never fished sturgeon, most anglers use a sturgeon rig with a no roll sinker and a few nightcrawlers loaded on a hook. Anchor upstream or in a deep hole in the river and still fish with your offering on the bottom. It is a good idea to use heavy rods, reels and line as sturgeon can reach 100 lbs. Click Here for a video to show you how.
It is also a good idea to have a big net or some way of landing a sturgeon that does not cause harm to the fish or yourself. When you handle a sturgeon or any big fish, do not grab the eyes or gills. It is best to grab just in front of the hard tail and support their underbelly keeping the fish horizontal, not vertical. Holding a big fish vertically can actually cause internal tearing of organs due to the sheer size.
If you plan on attending, there is lodging along the river and in Baudette. Here is a list of lodging on the Rainy River and Baudette area.
For more details on the Birchdale Sturgeon Championship, see info below. Good luck!
2015 sturgeon championship youth winnerSturgeon championship, Rainy RiverSturgeon championship, Rainy RiverRainy River Sturgeon
This fundraiser for the Birchdale Community Building
FOR MORE INFORMATION CONTACT Mike Hanson at (218)-244-6886
Event takes place at the Nelson Park public landing 1 mile north of highway 11.
5th Annual North American YOUTH Sturgeon Championship
ENTRY FEE: FREE
Saturday, August 17th, 2019. From 12:00pm – 2:00pm OPEN TO ALL YOUTH AGE 17 AND UNDER. Longest Measured Fish will Receive Trophy and Grand Prize Sturgeon Championship Prizes Awarded by Drawings.
28th ANNUAL NORTH AMERICAN STURGEON CHAMPIONSHIP
Saturday, August 17th, 2019. From 3:00pm – 7:00pm
Longest Fish: 50% Payback
Entry Fee: Adults $20, 17 & Under $10
JUDGING BY LENGTH ONLY
(Verification Judge Boats on Water)
All Judges Decisions are Final.
PLEASE OBEY ALL MINNESOTA BOATING AND ANGLING REGULATIONS.
CATCH AND RELEASE ONLY!
BE SAFE AND HAVE FUN!
NOT RESPONSIBLE FOR ACCIDENTS OR INJURY