MEGA 360 Imaging™️ – Universal Is Now Here
Category: article
Jun 11th, 2020 by Keith Worrall
Modified Jun 11th, 2020 at 6:11 PM
The MEGA 360 Imaging™️ – Universal transducer shows you a 360-degree, detail-rich view around your boat. Now bring this technology to virtually any boat, thanks to an adjustable GeigerTec mount, made from billet aluminum.
LEARN MORE >>
MEGA 360 Universal Mount
NEW Universal Mount
The 50-inch shaft fits even large Deep-V and Bay Boats. The mount's 4-axis adjustment offers anglers maximum flexibility to install anywhere on the boat and the quick-detach feature makes that install fast and easy.
FIND FISH LIKE CLOCKWORK
Suitable for fresh or saltwater, get the unmatched clarity and detail of Humminbird's revolutionary MEGA Imaging now in a 360 degree view. With up to 125′ of MEGA Imaging all around your boat, you'll be able to view fish and structure like never before, in a variety of fully customizable viewing areas and scanning speeds.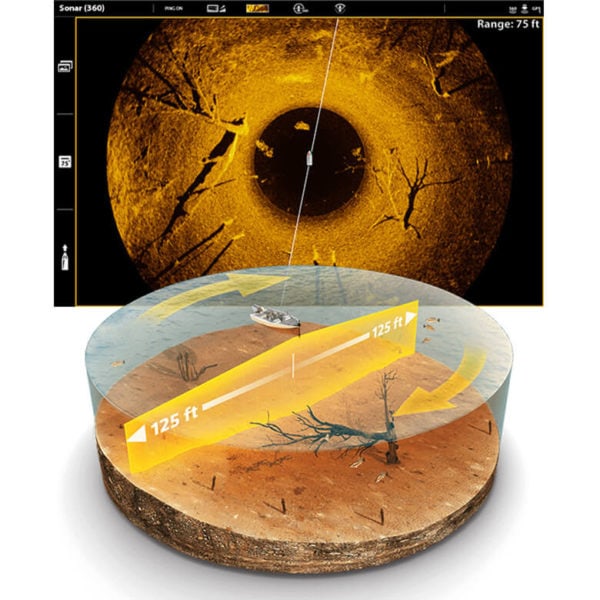 Compatible with SOLIX®️ G2 and HELIX®️ G3N models with MEGA Imaging+®️. Once connected to a compatible unit MEGA 360 Imaging views can be shared via Ethernet to all SOLIX and HELIX G2N / G3N models.
SEE IT IN ACTION

WHAT IS MEGA 360 & HOW TO READ IT
Like underwater radar, 360 Imaging surrounds you with incredibly detailed images of the world below. See fish, cover, structure and drop-offs in any and every direction—while trolling, sitting still and even using Spot-Lock.
WATCH NOW >>
MEGA 360 IMAGING: It's HERE
2019 Bassmaster Classic World Champion, Ott Defoe,shows how MEGA 360 provides clearer, sharper underwater views, and reveals fish hiding in underwater, so anglers can spend more time fishing the most productive water.