Lake Of The Woods MN Fishing Report
Category: fishing reports
Jun 6th, 2022 by Keith Worrall
Modified Jun 6th, 2022 at 7:16 PM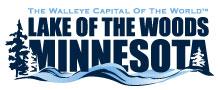 On the south end… Fishing has been excellent. Good numbers of walleyes being caught in 18′ – 28′ of water. There is high water in the area but most lodging facilities have adjusted to accommodate. Most boat ramps are open including Wheeler's Point.
Most anglers are still vertical jigging. Anchor up and jigging with an emerald shiner or fathead has been very productive. Bright colors like gold, glow, pink, orange, chartreuse or a combo of these colors works well.
Some good reports for those drifting spinners this week. Try either a minnow ro half crawler.
A few anglers who are trolling crankbaits are catching as well. Gold continues to be a good color for both crankbaits and spinner blades.
Walleyes, saugers, pike, jumbo perch and an occasional pike, crappie or sturgeon in the mix on Big Traverse Bay.
On the Rainy River… The river has a lot of current with the dam wide open and high water levels. Despite the current, some have figured out where the walleyes are and are doing well.
Current breaks adjacent to shorelines or the mouth of bays have been productive for those fishing the river. Once you find fish, there are normally good numbers.
Bays have been good for pike. Rocky current break areas for smallmouth bass.
Up at the NW Angle… A really great week of fishing on both sides of the border. Most anglers are targeting walleyes and catching good numbers of fish with an occasional trophy.
Again, a jig and minnow was by far the most common method vertically jigged below the boat. Some anglers finding fish deep, over 30′. Others are still finding fish shallow, trolling spinners and crankbaits in 5′ – 18′.
Shoreline structure during the first and last hours of the day is also producing nicely.
A mixed bag with walleyes, saugers, pike, smallmouth bass, crappies and jumbo perch.
Various ways to travel to the Angle.
1. Drive through Canada to the Angle (must be vaccinated, no covid test required)
2. LOW Passenger Service (charter boat service across the lake avoiding customs)
3. Lake Country Air.(fly from various Midwest locations to LOW and NW Angle)
4. Take your own boat. (Safety first, this is a 40 mile ride over big water)
A complete list of lodging, guide and charter boat trips at www.LakeoftheWoodsMN.com/Lodging.