Lake Of The Woods MN Fishing Report 9/21
Category: fishing reports
Sep 21st, 2020 by Keith Worrall
Modified Sep 21st, 2020 at 6:44 PM
On the south end… Anglers are pulling in nice catches of walleyes with some big trophy walleyes mixed in as well. The MN Tournament Trail Walleye Tournament just finished their championship with the winning team putting up 80.99 lbs for 10 walleyes! Water temps have dropped to the upper 50's, shiners are running and there is a lot of bait adjacent to shorelines, fall is here. The jig bite has picked up tremendously, but pulling a spinner with a crawler or shiner along with trolling crankbaits is still effective. Along shore try 10-16′ and out on the mud 22-28′. Gold, glow and orange are strong this week.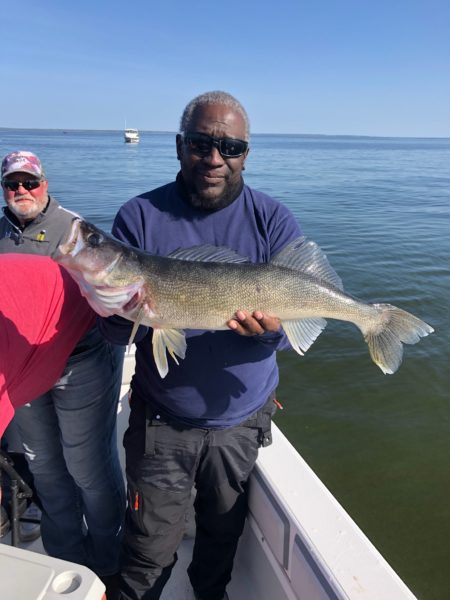 On the Rainy River… More and more emerald shiners are entering the river this week. Current on the river is slow. Reports of some nice walleyes but still not the big run yet. Most anglers are jigging with frozen shiners. Trolling crankbaits or crawler harnesses still working and a good way to cover water. Sturgeon anglers focusing on deeper holes with a 3 ounce no roll sinker with an 18″ snell of heavy line (60 lb) with a 4/0 circle hook loaded with crawlers and shiners. Pike showing up on weed edges.
Up at the NW Angle… Until the US / Canada border opens, guests can travel across the lake staying and fishing in MN waters. There are boat shuttle / passenger services available to the Angle. Check with your favorite NW Angle resort for options.
As fall kicks in, many anglers jigging with good results. Gold spinners with crawler or minnow also producing nicely. Some really nice walleyes caught this week targeting structure and shorelines in 10 – 15′ and 21 – 27′. Muskies and big pike hitting topwater in weedy bays. Some big crappies on small jigs in 15-30′. A complete list of lodging available at www.LakeoftheWoodsMN.com/Lodging