Lake Of The Woods MN Fishing Report
Category: fishing reports
Feb 9th, 2022 by Keith Worrall
Modified Feb 9th, 2022 at 3:16 PM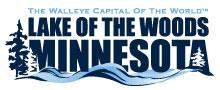 On the south end… A great week of ice fishing. In many areas where ice fishing is taking place, ice is over 24″ thick with 18-24″ of snow. Ice conditions vary across the lake, resorts and outfitters will advise on weight limits for their ice roads and trails.
Walleyes and saugers are spread out this time of year and anglers are seeing various sizes. The lake has a big population of small walleyes and saugers coming through which is great for the future. It means some sorting of fish to find keepers. Most are catching fish for a fish fry. Some, if lucky and/or good, catching a slot fish or two or even a trophy walleye over 28 inches.
Most ice fishing is taking place in 26 – 33 feet of water. In addition to walleyes and saugers, jumbo perch, eelpout, tullibees and an occasional crappie or sturgeon are being caught.
Working a jigging line in one hole combined with a deadstick in the second hole which is usually a live minnow on a plain hook or small walleye jig just off of the bottom is an effective combo. Noise and rattles in the stained water has been effective.
If you are seeing fish on your electronics and they are not biting, downsize your presentation. Gold, pink, green and orange good colors this week.
On the Rainy River… Walleye fishing continues best in the mornings and evenings. Gold, glow or gold combined with glow colors working well. A jig and minnow close to the bottom has been effective. Some nice walleyes living in the river.
The snowmobile trail is groomed and staked from Baudette to Wheeler's Point continuing up to the Angle.
Up at the NW Angle… Good walleye fishing up at the Angle this week. Resorts are continually moving fish houses keeping them in productive areas. Walleyes with some saugers, jumbo perch, eelpout and pike mixed in.
Most fishing taking place in 24-30 feet. Gold, pink and various glow colors continue to be productive.
There are various ways to travel to the Angle.
1. Drive through Canada (vaccination and COVID test required).
2. Groomed and staked snowmobile trails (stays in MN)
3. LOW Passenger Service (bombardier service across the lake staying in MN)
4. Lake Country Air.(stays in MN)
LOW enjoys extended seasons with fish houses on the lake through March, walleye and sauger season open through April 14th and pike open year round. Lodging and fish house openings are available around the lake. A complete list at www.LakeoftheWoodsMN.com/Lodging.