Lake of the Woods MN Fishing Report
Category: fishing reports
Dec 13th, 2021 by Keith Worrall
Modified Dec 13th, 2021 at 2:37 PM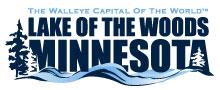 On the south end… Ice fishing has begun and fish houses are out on most areas of Lake of the Woods. The lake is big and ice conditions vary greatly. Be safe and work through a resort or outfitter and stick to their marked ice roads, trails and fishing areas where they have checked ice.
Fishing reports are excellent overall. Early ice is a great time traditionally and this year is no different. Good numbers of walleyes and saugers with eelpout, pike, perch and tullibees mixed in.
Anglers are fishing from 8 – 27 feet of water depending upon the time of day and in some cases, what ice conditions allow. Some good walleyes caught early morning and last light in shallow water. This bite can happen all winter as some walleyes will come up shallow to feed low light.
The one two punch, jigging one line and deadsticking your second line is most effective. Gold, glow colors, lures with vibration and rattles, jigging spoons tipped with a minnow head or tail working well. Live minnow just off the bottom on the second line.
As a general rule, snowmobiles, ATV's and side by sides are being allowed so far. For those fishing in resort fish houses, they will transport you out via light ice rigs.
Pike anglers are finding good numbers of big pike. Some spearing / fishing is still taking place in bays. Great success tip up fishing on the main lake.
Extreme safety is always important, especially so with early ice conditions. Each resort / outfitter will share info as it is available.
On the Rainy River… The Rainy River is ice covered and where there is good ice, anglers are finding walleyes and sturgeon. With the current of the river, knowing where and where not to travel and working through resorts / outfitters who know ice conditions is key.
Sturgeon have been cooperative through the ice this week. With a larger hole and beefed up equipment, those targeting dinosaurs are having great success.
Up at the NW Angle… Ice is progressing nicely up at the Angle. Some local snowmobile travel has been happening in marked areas with good ice conditions. Like every year, there are areas with cracks, current, etc. Stay on marked trails when things open up. Check with your favorite NW Angle resort for specifics.
Travel to and from the Angle via land through Canada is open. Must be vaccinated and have a negative PCR COVID Test. Plan ahead with testing or rapid tests are available in Baudette and soon in Warroad. Once at the Angle, no additional COVID testing is necessary for traveling back south from the Angle through Canada.
Want to avoid crossing the border? Snowmobilers can take the groomed and staked trail across the lake. Charter transport via bombardiers on the ice trail or flights over the lake landing on an ice runway are available through the LOW Passenger Service and Lake Country Air this winter.
A complete list of lodging and ice fishing packages around LOW, the NW Angle, Baudette and the Rainy River at www.LakeoftheWoodsMN.com/Lodging.