Lake of the Woods MN Fishing Report
Category: fishing reports
Oct 18th, 2021 by Keith Worrall
Modified Oct 18th, 2021 at 11:20 AM
On the south end… An excellent week of fall walleye fishing. Bring lots of bait as the fish are active. There are lots of small fish in the system that bodes well for the future. You will catch your eaters and other larger fish, but will usually have to sort through small fish along the way.
Anchored up and jigging with a fathead or emerald shiner is the go to method. Most fish are usually adjacent to the bottom. Live shiners are available and effective. Some anglers still using spinners with a minnow or trolling crankbaits.
The best reports are coming from 17-27 feet of water across the south shore in areas such as Pine Island, Morris Point, Zippel Bay, Graceton Beach, Long Point and Rocky Point. Various schools within these depths.
In addition to walleyes and saugers, pike, jumbo perch, sturgeon and even a few crappies are in the mix for walleye anglers.
On the Rainy River… Emerald shiners continue to run in the Rainy River, consequently, there are walleyes around. Jigging with a frozen or live shiner, is the go to method. Emerald shiners are tough to beat.
Trolling crankbaits is an extremely effective technique in the river. Also great in locating walleyes or when fish are scattered.
Sturgeon activity continues good. A gob of crawlers and/or frozen shiners on a sturgeon rig (18 inch leader made of 60lb test, circle hook and a 2-3 ounce no roll sinker) is the ticket. The catch and release season continues through April 23, 2022.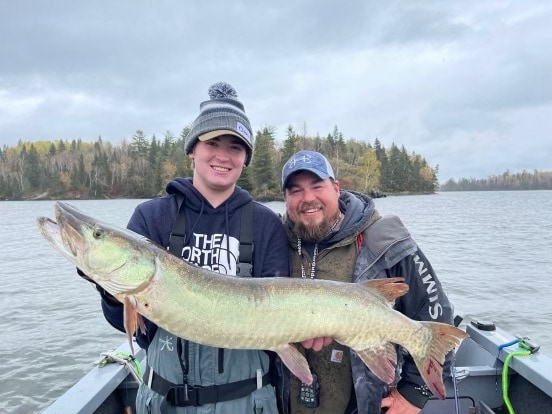 Up at the NW Angle… Fall fishing up at the Angle continues to be excellent. Most anglers are using a jig and minnow or jig and plastic for walleyes. In some areas, walleyes are stacked and active with big numbers of fish being caught.
Gold, pink and/or glow colored jigs and spinners are doing well. Reminder, no live, frozen or dead bait being able to be transported over the border from the U.S. into Canada, consequently anglers boating into Ontario waters reporting various plastics on their jigs and spinners working great.
Various areas of structure such as points, reefs and sandy areas in neck down areas continue to hold good fish. 12 – 26 feet is the range depending upon the spot.
Big crappies are active in their fall spots and being caught on jigs and minnows in 24-30′ around various structure.
Muskie action was hot this week. Jigging large baits has boated good numbers of fish as well as casting and trolling.
Travel to and from the Angle via vehicle through the 40 miles of Canada is open. Boating into Canadian waters is now open.
Want to avoid crossing the border? Charter transport via water and ice and flights over the lake are available through the LOW Passenger Service and Lake Country Air both this fall and into the winter months via ice.
A complete list of lodging, fishing and ice fishing packages around LOW, the NW Angle, Baudette and the Rainy River at www.LakeoftheWoodsMN.com/Lodging.