Lake Of The Woods MN Fishing Report
Category: fishing reports
Oct 18th, 2022 by Keith Worrall
Modified Oct 18th, 2022 at 3:32 PM
On the south end… Walleyes are showing up in various locations along the south shore of Big Traverse Bay. This is a typical fall pattern and normally these fish will be at many of the same locations for ice fishing in December.
Anglers report a mixed bag of walleyes, saugers, pike, jumbo perch and an occasional crappie or sturgeon. Some walleyes are using structure while others are in the basin over mud. A good overall depth has been 20 – 25′. When fishing structure, the tops and sides of reefs have been effective.
Anchored up and jigging with fatheads and frozen shiners is working well. Anchor up and vertically jig over the side. Give it 30 minutes and adjust to a new spot if there is little activity.
Long Point area, Zippel Bay, Morris Point and Lighthouse Gap areas producing fish.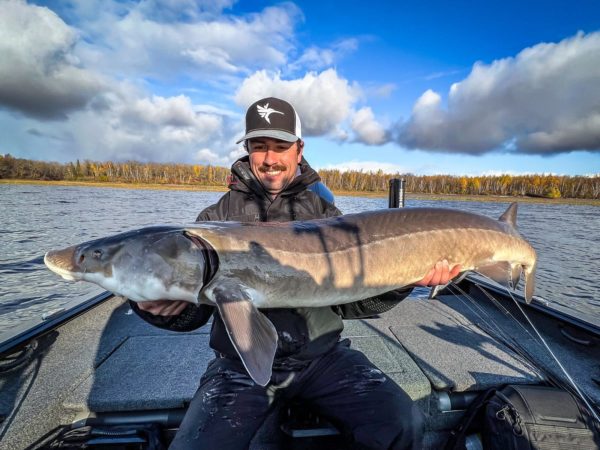 On the Rainy River… A great week of walleye fishing, despite some weather systems moving through. Good fish were caught regardless of the weather. The upcoming week looks warm and dry.
Good walleye reports up and down the river. Larger fish were caught between Wheeler's Point and the International Bridge in Baudette. Walleyes are constantly moving and the entire river is holding fish. Traditionally, some big fish move at the end of October.
Jigging with frozen shiners has been producing nicely. Gold, orange, chartreuse, glow white, pink or a combo of these colors are working well.
Cooler water temps are getting the sturgeon fired up. Some big fish were caught again this week. With colder water, target holes in the river.
Boat ramps are open from Wheeler's Point to Baudette east to Birchdale.
Up at the NW Angle… Walleye fishing has been awesome all summer / fall and continues to be very good. Jigging with a minnow has been the go to method.
Targeting high probability walleye areas such as points, rock islands, sunken islands, neck down areas, etc. is proving successful for most anglers.
Nice crappies, perch, pike and smallmouth bass are also active and being caught each day.
Muskies are cooperating nicely for those pursuing them. Working shorelines has been productive. Dropping water temps is leading to some incredible fall muskie fishing.
Resorts are busy preparing for what is shaping up to be a great ice fishing season. Book now.
A complete list of lodging, guides, charter boat trips and ice fishing trips at www.LakeoftheWoodsMN.com/Lodging.