KastKing Moves Into The Saltwater Fishing Tackle Market With Affordable, Hi-Tech Inshore Fishing Rods
Category: new products
Jan 7th, 2020 by Keith Worrall
Modified Jan 7th, 2020 at 11:24 AM

KastKing Moves Into The Saltwater Fishing Tackle Market With Affordable, Hi-Tech Inshore Fishing Rods
KastKing utilized American Tackle Microwave fishing line guides, a new light, powerful, proprietary rod blank using Nano-resins and more in creating a remarkable new saltwater inshore fishing rod series.
January 6, 2020 – Garden City, Long Island NY) After developing a successful freshwater fishing tackle business during the last few years, KastKing (www.kastking.com) has now expanded into the saltwater fishing rod market. KastKing designed and developed the KastKing Estuary Saltwater InShore spinning rods and Estuary Saltwater InShore casting rods specifically for Striped Bass, Fluke, Tarpon, Snook, Redfish, Cobia, Speckled Trout, and other inshore fsaltwater species.

Every KastKing Estuary InShore Saltwater Fishing Rod features proprietary KastKing KastFlex technology fishing rod blanks with exceptional 30 million modulus graphite IM7 Toray carbon fiber for greater strength and sensitivity. Nano-resin technology is used to deliver an even higher strength to weight ratio. KastKing states the Nano-resins increases their rod blank strength by an estimated 22% while keeping weight to an absolute minimum.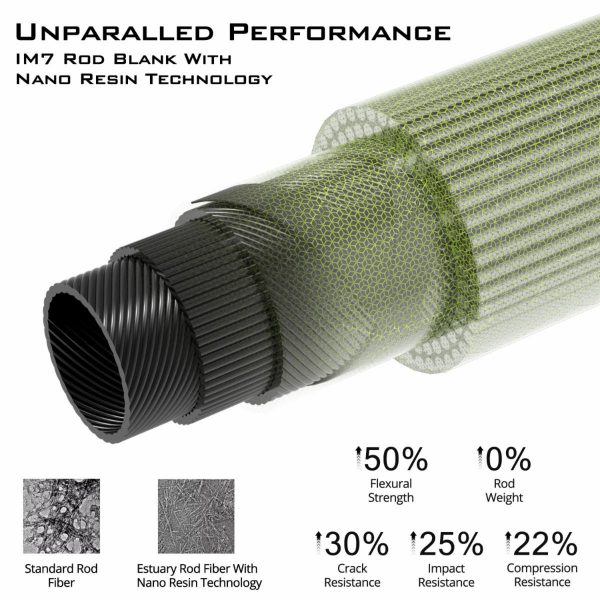 KastKing selected American Tackle MicroWave Air Line Guides as the best option for improved line control and farther, more accurate casts. American Tackle Microwave Air MW20 spinning rod guides and MW12 double footed casting rod guides have proven to increase saltwater corrosion resistance while delivering exceptional saltwater performance. All Estuary fishing line guide wraps are double coated for added protection.

Reel seats are from American Tackle, as well. KastKing chose American Tackle G2 Apex spinning rod reel seats models and AT G2 Edge casting rod reel seats due to their light weight and extreme strength. Each features an exposed blank section for added rod sensitivity.
KastKing Estuary InShore rods are well-appointed with top-quality full length AAA cork handles that are finished with high density EVA sections to protect the rod and cork handle during use and have EVA protective end caps. The rear handle end is finished with an engraved aluminum butt cap.
All rod models are finished with a medium blue metallic finish to blend with the sky. This was done to help reduce fish being spooked while sight-fishing on the flats. It no doubt carries a benefit to other fishing techniques.

"We have been patient and waited until we had a firm foundation in fishing rods before going after the saltwater fishing rod market," says KastKing CEO Tate Cui. "We were able to draw from our experiences and testing with high-end rod products such as the KastKing Speed Demon Pro Rods, Krome rods for salmon and steelhead, WideEye Walleye rods, and our KatTech catfishing rods that are built to handle 100 pound fish. The results in the Estuary rods have been outstanding. You're not going to find a true Nano-resin rod of this caliber at this price-point."

"Testing of the Estuary rods has been extensive. It began last year on Montauk Point, Long Island," says KastKing CMO Tom Gahan. "I could see that the Estuary rods were winners out of the box. During that initial test I watched a petite woman KastKing staff angler easily handle striped bass to 40 pounds on a prototype medium-heavy blank. Since then the design team has added quite a few tweaks for even more performance. The final designs were given one last round of testing in the Gulf on snook, sea trout, and red fish. Estuary rods have exceeded expectations. Maybe we should rename it 'Super-Rod'."

Al Noraker, KastKing VP of Business Development says, "Inshore saltwater fishing is easily one of my personal favorite pastimes. It's challenging, rewarding and simply some of the favorite fishing I do all year! When designing the new Estuary series of InShore rods I was determined to design a rod that would satisfy even the most serious inshore anglers but offer it at typical KastKing values. The use of our new proprietary, Toray High Carbon blanks combined with Nano Resins deliver incredibly light but powerful performance which is further enhanced by the use of American Tackle MicroWave air guides. We're excited to introduce the saltwater world to the KastKing Estuary series and we're confident that you'll agree that these rods are the best available at any price."

KastKing Estuary InShore Saltwater Fishing Rods are available in six sizes. MSRP price range is $119.99 to $129.99 based on sizes. Estuary rods will be initially sold at Amazon.com.
In this video see KastKing Estuary InShore Rod action during testing in Florida: