KastKing Introduces Three New Best Value Fishing Reels
Category: article
Oct 11th, 2020 by Keith Worrall
Modified Oct 11th, 2020 at 10:23 AM
KastKing Launches Three New Fishing Reels Priced Under $53
Three innovative best value KastKing reels, two baitcasting reels and a spinning reel, arrive before the holiday shopping season begins.
(For Immediate Release – October 8, 2020 – Garden City, Long Island NY) Today KastKing announced the launch of three new fishing reels all with MSRPs below $53.00. The trio includes two baitcasters, the Spartacus II and Valiant Eagle, and a Gold Edition Valiant Eagle Spinning Reel. All were designed to be lightweight, compact and have robust features.

With a totally new design, Spartacus II baitcast reel is an extremely low profile "Palm Perfect" baitcasting reel at only 39 mm tall. Other features include a 4-disc carbon fiber drag with 17.6 LB Carbon Fiber Drag, 7 + 1 Shielded Ball Bearings, and a 7.2:1 gear ratio. It also features an interesting line guide system — the technologically advanced KastKing "Double Tapered Control Chute" (DTCC) Line Guide that reduces line friction for line control and bird nest reduction. KastKing is offering left and right hand model Spartacus II reels in four different colors: Fire Engine Red, Black Rhino, Flash Silver and Spindrift, which is a seafoam green color.
Possibly the most amazing aspect of the Spartacus II baitcaster is that it only weighs in at 6.0 ounces. "To have a quality baitcast reel weighing only six ounces and selling for under $50 is unheard of," says Tate Cui CEO at KastKing. The MSRP of KastKing Spartacus II is $45.99.

KastKing's second baitcasting reel in the fall lineup is the Valiant Eagle Baitcasting Reel. KastKing has had a series of Valiant Eagle Spinning Reels for the last two years. Valiant Eagle Baitcasting Reels come in a 6.6:1 model with 26.1 IPT, and a faster 8.1:1 gear ratio that retrieves 32.1 IPT of fishing line on its gold anodized aluminum spool. All are available in right-handed and left hand styles. The fishing reels feature double bearing supported pinion gear technology that delivers a 35% increase in smoothness under load compared to older generation reels. This new design structure increases durability by 30%
KastKing brought over features from some of their more expensive fishing reels to the Valiant Eagle such as the Swing Wing Side Cover, which stays attached to the reel when opened and prevents it from being lost, 7 + 1 shielded stainless steel ball bearings, a maximum drag of 17.6 pounds, Hamai cut precision manganese brass gears, magnetic brakes, and like the Spartacus II it uses a KastKing "Palm Perfect" low profile design of just under 40 mm that weighs only 7.2 ounces. It has a seven button fully adjustable magnetic brake. All models carry a MSRP of $49.99.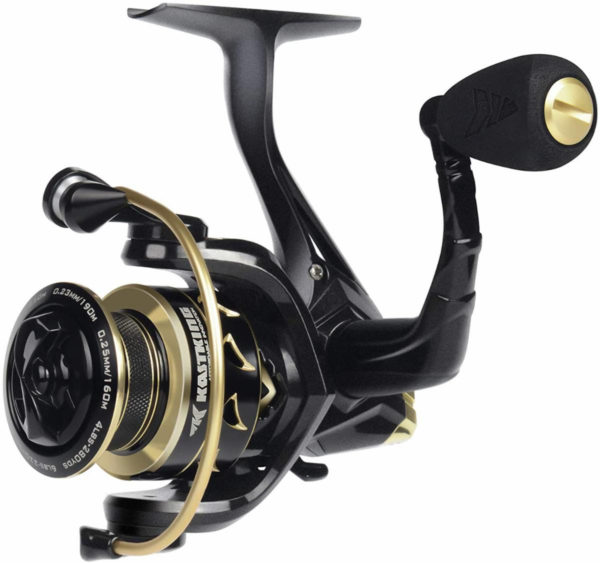 KastKing Valiant Eagle Gold Spinning Reels round out the new KastKing releases for early October. In addition to some unique features like its patent-pending, sealed, braid ready spool. KastKing's engineering team used affordable innovation technology to deliver revolutionary systems including their amazing patent-pending E.P.S. (Expanded Pinion System) and S.S.R. (Sliding Stabilizer Rod) into a spinning fishing reel priced under $60. Stabilizing the pinion gear and main gear increases the gear strength and durability. Standard features covered are a 6.2:1 fast retrieve gear ratio, 7 + 1 shielded stainless steel ball bearings, up to 22 pounds of drag and sizes from 1000 to 4000 for fresh and saltwater fishing. MSRP starts at $45.99 and goes to $52.99 for the larger models.
All reels will initially be available at Amazon.com and other select online retail platforms in the future.