Jackall Unveils New Lures at ICAST 2021
Category: article
Jul 22nd, 2021 by Keith Worrall
Modified Jul 22nd, 2021 at 10:37 AM

Jackall Unveils New Lures at ICAST 2021
Classic Profiles Pair with Advanced Designs to Catch More Bass
Contemporary bass fishing obeys a simple equation: Innovation delivers results. Japanese lure designer Seiji Kato and the Jackall team use the latest technologies to craft unique hard and soft lures, each precision-engineered to help anglers catch more fish. At ICAST 2021, Jackall introduces three new lures that set new standards in quality, innovation, and fishability.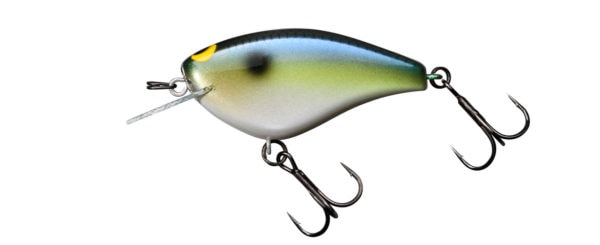 Jackall Bling 55
Back by popular demand and irresistible to bass, the Jackall Bling 55 is a flat-sided crankbait featuring a custom Circuit Board fiberglass lip that creates quick wobbling action. The Bling 55 features a specially-designed weight transfer system that increases casting distance while also keeping the crankbait stable during retrieves. The Jackall Bling 55 dives to depths of four to six feet on the retrieve to trigger shallow water bass throughout the season. Each Jackall Bling 55 is 2.2 inches in length, weighs 5/16 ounce, and is available in a library of eight bass-catching color patterns with an MSRP of $15.99.
Jackall PikuPiku 78
The Jackall PikuPiku 78 is a new concept in topwater fishing. Featuring a unique curved body, the PikuPiku 78 draws strikes from bass with a distinct swimming action that creates irresistible ripples on the surface. With a few light twitches of the rod tip, the PikuPiku will move left or right. When twitched on a slackline, the PikuPiku rolls in place to draw unbelievable topwater bites. Perfect for clear water or highly pressured fish, each Jackall PikiPiku 78 is 3 inches in length, weighs 1/10 ounce, and is available in a library of six strike-provoking color patterns with an MSRP of $14.99.
Jackall Bounty Fish 158
Jackall designed the Bounty Fish 158 to allow anglers to fish cover with a walk-the-dog action in a way that is impossible with hard baits. The soft jerkbait-style lure features a heavily ribbed section that grabs water and slows the bait down during the retrieve, keeping it in the strike zone longer to trigger aggressive bites. The Bounty Fish 158's unique Net-Joint System doesn't just walk-the-dog with ease, it also enables the tail portion to flutter even on a dead stick. For increased versatility, anglers can add a nail weight to the Bounty Fish 158 so that it can be fished with a slow sink to trigger additional bites. Available in six color patterns, each Jackall Bounty Fish 158 measures 6.2" long and has an MSRP of $9.99 for a pack of four baits.
Learn more about the entire Jackall lineup by visiting booth 2500 at ICAST 2021 in Orlando, Florida. We look forward to seeing you there!
Media Contacts:
Dena Vick
[email protected]
501-749-4575
Andrew Cox
[email protected]
843-314-4792
About Jackall:
Started by Japanese lure designer Seiji Kato and tournament angler Ty Ono in 1999, a Japanese-based manufacturer, Jackall Lures is known for innovative and highly sought-after designs. From the first product, the three-inch cross-tail shad, to the very latest – quality, innovation, and helping anglers catch more fish are the top priorities. Jackall designs reflect Seiji Kato's goal of creating lures with more natural action, material, and undulation. Through a partnership with Shimano North America Holding in 2010, Jackall introduced North American anglers to this premium tackle. The lure product lines from Jackall include everything an angler could need for fresh or saltwater, from lipless crankbaits and wire baits to soft plastics and hard swimbaits. Jackall crafts every product available in the United States with US waters, techniques and needs in mind.