Introducing the Okuma Fishing USA 2022 Line Up!
Category: article
Jul 22nd, 2021 by Keith Worrall
Modified Jul 22nd, 2021 at 11:07 AM
Todays the day that Okuma Fishing USA introduces the newest, upcoming product releases for the year. At Okuma, we continue to develop new products after carefully listening to what anglers need, and as local and global fisheries evolve. Here's a sneak peek of what's coming for 2022.
A New Era in Bass Fishing Takes Flite with Okuma's Hakai Reel.


Okuma's new Hakai DT reels have been built from the bottom up. These lightweight reels feature Okuma's LiteCast magnesium frame with a corrosion-resistant coating on both the frame and side plates for maximum durability. Starting at a whopping 5.9 ounces, these reels are lightweight and feature-packed.
A New Era in Bass Fishing Takes Flite with Okuma's Hakai Reel.
NEW TECHNOLOGY
Flite Spool is a Dream Tackle Design allowing Okuma to offer a super tuned spool on our premium baitcast reels. The spool is 33mm in diameter and was developed for long distance casting as well as finesse style fishing. The complete spool design weighs in at just 0.33 ounces as a result of its uniform thickness, which is what helps set this super tuned spool apart from others.

Flite Shaft is a patented hollow stainless steel spool shaft with precision stainless steel balls pressed on each end. These balls rotate under pressure to reduce friction and help increase casting distance. Providing the perfect balance point between weight, strength, and smoothness.
NEW REELS
Ceymar TG are the latest limited edition reels from Okuma. The Ceymar TG will be offered in a matte Tactical Green color and come in various sizes for both spinning and bait feeder models.
NEW RODS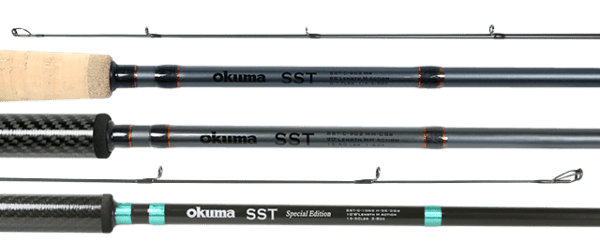 The SST Series has received a whole new look! Sleek design fused with power and strength, the SST Series will be offered in a variety of cork, carbon, technique-specific, and travel models that will meet the needs of anglers in any application.

The new Psycho Stick Musky Rods were designed with the help of many musky fishermen and built to their exact standards of what they want. Designed for casting big, heavy baits for the fish of a thousand casts, the Psycho Stick Musky Rods are light weight, sturdy and durable.
The new Silver Slayer Tarpon Rods are built with powerful and responsive 24-ton carbon rod blanks that feature Okuma's UFRII rod tip technology. Okuma designed the Silver Slayer Rods with the brute strength that a tarpon possesses in mind, giving these rods components to match.
You're seeing this exclusive content, additional information will be made available as they debut.