Frank "The Tank" takes it to the Bank
Category: article
Oct 7th, 2020 by Keith Worrall
Modified Oct 7th, 2020 at 6:06 PM
Lew's and Strike King Pro Frank Talley Wins Lake Guntersville Bassmaster EliteFrank "The Tank"Thunders his path All the way to The Bank
Lexington, SC. –October 7, 2020–The official record of last week's Bassmaster Elite Series event on Lake Guntersville shows Temple, TXpro Frank Talley posting a total weight of 64 pounds, 3 ounces to earn his first Bassmaster victory and take home $100,000 for his efforts. While those stats are impressive, they do not represent the complete picture.
Talleywon by catching the majority of his 64 pounds on a 1/2-ounce Strike King Thunder Cricket vibrating jig tipped with a pair of trailers, a 3.75-inch green pumpkin pearl Rage Swimmer and a green pumpkin Blade Minnow when the current levels increased. He also generateda few bites with a topwater frog. He initially tried adding a rotating, plopping tail to one hook of his Strike King KVD Sexy Frog, however, it would not ride upright, so he opted for a different model. The bulk of his winning catch, however,would come courtesy of the Thunder Cricket.
He tossed his Thunder Cricket on a 7'3" medium-heavy fast action, Lew's Custom Pro "Magnum Hammer" rod, matched with a 6.8:1 gear ratio Lew's Custom Pro reel filled with 17-pound-test Strike King Tour Grade Fluorocarbon line.
His pattern involved paralleling his Thunder Cricket down eel grass edges in the upriver sections of the Tennessee River impoundment. He said that it was important to see the small clumps of grass that created points and current breaks in the weedline. "I would reel the bait into the grass and most of the time strikes would occur as I ripped it free," he said. "The Rage Swimmer early in the event was key for action, but as the current increased, the Blade Minnow helped me keep the bait in the strike zone better."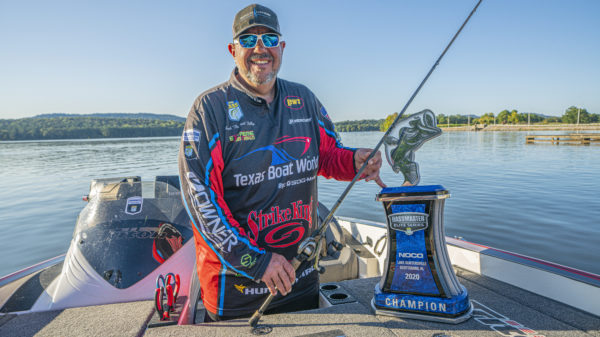 As his name was announced as Champion, Talley's family –his wife Christy, daughter Destiny and son Frank and his granddaughter and others flooded the stage to celebrate his moment with him. "My wife looked up at me and told me, 'I knew you could do it,'" he said. "The win hasn't yet sunk in, but that moment is already something that made the whole thing that much sweeter."That kind of loving response from family is inspiring, but the response from fellow anglers was also touching. Following the event, fellow Team Lew's angler Wes Logan –who was in contention for the win at Lake Guntersville as well –revealed that he was happy for Talley. "Of course, I wanted to win, but Frank has become a really good friend of mine this year, and I couldn't be happier for him and his family," said Logan.
Longtime Lew's and Strike King pro Mark Menendez said that Talley is the kind of guy people like to be around. "Frank is one of the true nice guys on the water, he loves and cares for his family, and is liked by his peers," said Menendez. "Seeing him win on the Elite Series is especially warming because to see someone who is a genuinely decent person and a good human being win; you can't help but feel happy for him."Talley, who is in his second season on the Bassmaster Elite Series has quietly and steadily built his way to this position, yet it didn't start out looking like this outcome would be an inevitability. After winning the 2018 Bassmaster Opens Angler of the Year title handily,Talley's Elite bid was a learning curve. "I started out trying to mimic the style of anglers I had watched win Elite Series events in the past, and it really wasn't working," he said. "I decided to focus on fishing things the way that got me here, and it has really helped me perform better in events."
That improvement, with the obvious exclamation point of a win at Guntersville last week, has seen the 45-year-old pro make six cuts in his last seven events since the 2019 season finale at Lake Tenkiller in Oklahoma. His efforts currently have him positioned in 26thplace in the Bassmaster Angler of the Year standings –in position to qualify for his second Bassmaster Classic; a goal he set at the outset of the season. "I'll never forget that first morning of the 2019 Classic, and I want that feeling again," he said. "Plus, with it being in Texas, I really want to be there in front of all of my family and friends; that would be really cool."
About Strike KingStrike
King is a Lexington, SCbased supplier of fishing tackle and sunglasses. The Company supplies hard baits, wire baits, soft plastics and related accessories through the mass market, sporting goods, and specialty outdoor channels. For further information about Strike King, please visit www.strikeking.com.
About Lew'sLew's
Fishing is a Lexington, SCbased supplier of fishing equipment and tackle. The Company supplies branded fishing reels, rods, and related accessories through the mass market, sporting goods,and specialty outdoor channels. For further information about Lew's, please visit www.lews.com.