Fish Brain Teams up With Navionics
Category: article
Aug 13th, 2021 by Keith Worrall
Modified Aug 13th, 2021 at 11:13 AM
Fishbrain teams up with Garmin-owned brand, Navionics, to integrate its marine map technology into the app, giving millions of anglers eyes beneath the surface
Using Navionics' technology, Fishbrain Pro users in the US & Canada will be able to access HD bathymetry maps and data on their smartphone, providing Fishbrain's anglers with an accurate contoured visualization of the lake, river, bay or ocean they're fishing.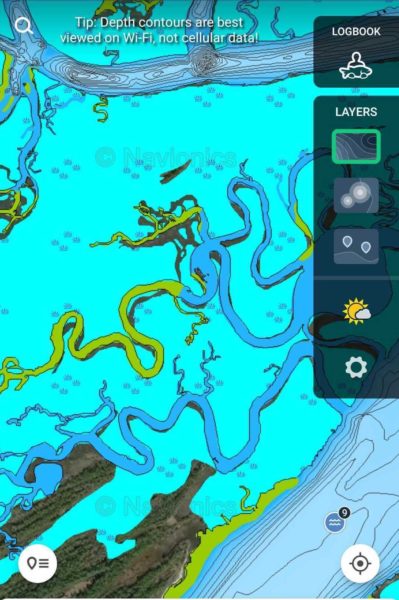 USA & CANADA – Fishbrain (www.fishbrain.com), the world's most popular fishing app and community which has just surpassed 13 million users, today announces a significant update to its mobile application, with the integration of advanced HD bathymetry maps powered by Garmin®-owned brand, Navionics® (www.navionics.com). As one of the leading electronic navigation companies, Navionics will supply Fishbrain with cutting-edge cartographic intelligence and data, which will be offered as a premium add-on feature to Fishbrain Pro users in the USA and Canada.
In addition to being a personal fishing logbook, forecasting tool and fishing gear marketplace, Fishbrain also provides its users with detailed interactive maps for bodies of water, through which users can access free information including fish species, top baits, local fishing areas and reviews. With a Fishbrain Pro monthly, quarterly or annual subscription in the app, anglers can take advantage of features like Navionics depth contours, catch positions, spot prediction and personal waypoints.
Integrated within Fishbrain's map display powered by Mapbox, Navionics' advanced bathymetry technology will further enhance anglers' visibility. Layered within each interactive map, anglers will now be able to see specific depth contour labels and depth safety areas, which will then automatically appear as white demarcated zones, indicating and positioning anglers in the best possible spot from which to cast.
To help anglers further explore and understand their local coastal and inland waters, Navionics technology also delivers enhanced mapping with depth contours for the entire waterbed. By offering daily updates chart content from Navionics and informing anglers of detailed information about the lake bottom or ocean floor, Fishbrain will be able to provide its community with all the necessary knowledge needed to select an ideal location to secure a bite, without getting their feet wet.
Johan Attby, Fishbrain CEO and founder, comments: "Giving users the means to see beneath the surface and visualize the water in which they fish, is by far one of the most exciting and beneficial features that we have been able to bring to our growing community of intelligent anglers. Teaming up with an electronic navigation specialist like Navionics, enhances our dynamic catch forecasting technology and complements our "fish smarter, not harder" philosophy. We believe that anglers should have all the knowledge that they need in the palm of their hand, so that each time they go out, they're in control of the odds."
Damiano Ceccarelli, Navionics Head of Product Management, adds: "By integrating Navionics HD bathymetry maps with Fishbrain technology, anglers can take to the water with an even greater understanding of the lake bottom or ocean floor. Thanks to No. 1 Mapping from Garmin and Navionics data and chart content that is constantly enhanced by the contributions of millions of boaters, Fishbrain users have access to the latest chart updates within the app to stay in tune with where the fish are located."
About Fishbrain
Fishbrain is the world's most popular mobile app, social network, and social commerce platform for people who love fishing. With 13 million registered users across the globe, the free-to-use app helps create the best possible fishing experience by providing everyone – whether beginner or pro – with the tools, insights, community, and fishing gear to fully enjoy the world's most popular hobby.
The app's interactive map helps anglers find hot new fishing spots and see what other people are catching, with what bait and specifically where. Fishbrain's in-app and on-web marketplace, Fishbrain Shop, allows users to find and purchase the best fishing gear from over 350 of the world's most respected brands. With other features like Fish Species Recognition, marine mapping (provided by Garmin and Navionics), forecasts, bait recommendations and more, Fishbrain has become one of the most valuable and rewarding tools in a fisherman's tackle box. Fishbrain values responsible fishing, supporting a catch and release approach and the sustainable harvest of fish species.
In March 2021, Fishbrain raised $31 million in a funding round backed by main existing shareholders, B Capital Group (set up by Facebook co-founder Eduardo Saverin), SoftBank Ventures Asia, along with participation from Swedish and Norwegian institutional investors and family offices, including Consensus Småbolagsfond and Adrigo Asset Management. Fishbrain has to-date has raised nearly $60 million.
About Garmin and Navionics
Engineered on the inside for life on the outside, Garmin and Navionics products have revolutionized life for anglers, sailors, mariners and boat enthusiasts everywhere. Committed to developing the most sophisticated marine electronics and mapping the industry has ever known, Garmin believes every day is an opportunity to innovate and a chance to beat yesterday. For the sixth consecutive year, Garmin was recently named the Manufacturer of the Year by the National Marine Electronics Association (NMEA). For more information, visit Garmin's virtual pressroom at garmin.com/newsroom, email [email protected], or follow us at facebook.com/navionics, twitter.com/navionics, instagram.com/navionics, youtube.com/navionics or linkedin.com/company/navionics.
www.fishbrain.com