OUTDOOR DISCOVER: Searching for Civil War Relics
Category: article
Apr 27th, 2022 by Keith Worrall
Modified Apr 27th, 2022 at 10:37 AM
Arkansas Detectorist Searches for Civil War Relics
Minelab EQUINOX 800 Used to Find 160-Year-Old Artifacts
Nick Brainard, AKA Relic Hog, began metal detecting with his dad at a young age. The country surrounding his boyhood home in Southern Arkansas was an ideal hunting ground for Civil War relics, and the artifacts his dad routinely discovered helped Nick to develop an early appreciation for our nation's history.
About six years ago, Brainard cultivated a desire to start hunting a lot more often. By 2019, he had used two different brands of metal detectors, but a number of new models came out around that time and he made the decision to upgrade. "I had heard a lot of great reviews on the Minelab EQUINOX 800 and decided to give it a shot. I quickly found it to be a great machine for digging Civil War bullets and other relics at deeper depths. I also love how I don't have to purchase AA batteries anymore," Brainard says, adding that he also appreciates Minelab's Multi-IQ technology that comes on EQUINOX and VANQUISH Series detectors. "My EQUINOX finds all metals in all soil types, all the time, in one machine. It also works on land or in water."
Brainard is primarily a woods hunter due to the fact there are a lot fewer signals from modern "trash" targets when searching deep in the woods. That said, he'll follow his research and hunt any location that he believes might be a Civil War-era hot spot.
"Civil War sites are very rarely found in recent times through extensive research," the Relic Hog says. "To tell the honest truth, most relic hunters simply hear of artifacts being found in the areas they already hunt. Unless you have obscure documentation or diaries, untouched Civil War campsites are nearly impossible to locate," Brainard adds. "But it is possible if you can locate old roads and cross reference them with official Civil War records."
Nick has found some really outstanding relics with his Minelab EQUINOX 800, including a US Model 1816 bayonet marked "Confederate", which was a rare issue. This artifact was detected sticking straight up in a hole along the perimeter of an established and documented campsite at the site of the Battle of Jenkins Ferry, a conflict that occurred southwest of Little Rock. Another great find was an 1838 capped bust half dollar. His Minelab EQUINOX 800 discovered the rare coin on a skirmish site in Southern Arkansas at a Confederate States position.

This 1838 capped bust half dollar read 32 on Brainard's EQUINOX 800 screen when found.
Four Arkansas Hog .69 caliber French Mangeot bullets – among the most-desired Civil War bullets to be found with a metal detector – are also included in Brainard's collection of top finds. These bullets were found inside a 15-foot radius amongst some old tram road spikes. The screen on his EQUINOX 800 read 18-19. A US belt buckle and several hundred assorted Civil War bullets have also come to see the light of day thanks to Brainard and his Minelab machine.
"Most of my finds have been found at Civil War campsites at a depth between two inches to over two feet," Brainard reveals, adding that the wooded and rugged areas of Arkansas he typically hunts are prime rattlesnake habitat. "I normally wear Redhead snake chaps which I bought at Bass Pro Shops," he says.
Brainard shares a few additional tips to others interested in hunting for Civil War relics. "If you're trying to locate a new site, the best thing to do is dig every target – iron and all – to see if there is anything of the period in the area," he advises. "On known Civil War sites with no trash, every target must be dug no matter what the VDI (Visual Discrimination Indicator) or tone indicates. Both can fluctuate due to soil conditions and depth."
FINDS
Assorted artifacts found at a Civil War campsite.
Nick still detects with his dad and other friends with whom he's hunted for years. Occasionally, he will invite a few select friends to join him if his usual partners are not available. If he is swinging his metal detector, he is usually searching for Civil War relics; Nick doesn't attend seeded hunts, even though there are several good ones within driving distance of his home. He says he normally detects around 15 hours a week if his work schedule allows it.
Brainard encourages all detectorists – beginners through advanced – to give Civil war relic hunting a try, especially those with an appreciation for our nation's history. "Using the best equipment and putting in a lot of time swinging your detector in the right location will add some great relics to your collection."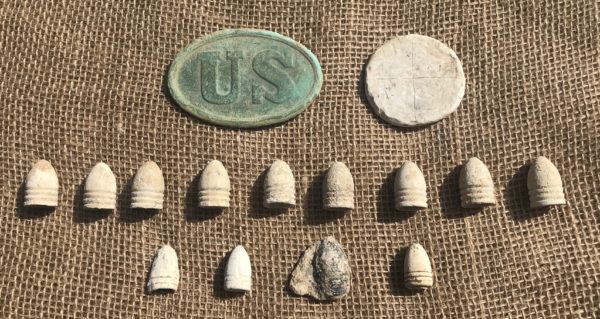 US belt buckle, lead poker chip and .69 caliber Minie balls.
Story by Rich Creason
ABOUT MINELAB:
Minelab is an Australian, multi-award-winning business that has successfully scaled world markets to command global leadership in its key areas of operation. Based in Mawson Lakes, South Australia, with regional offices in Cork, Ireland; Dubai, UAE; Monterrey, Mexico; Itajai, Brazil; and Chicago, U.S.A., the company specializes in advanced electronic technologies. Since its origins in 1985, Minelab has been the world leader in providing metal-detecting technologies for gold prospecting, treasure hunting and landmine clearance. Through devotion to research and development and innovative design, Minelab is today the major world manufacturer of handheld metal detector products. Over the past 30 years, Minelab has introduced more innovative and practical technology than any of its competitors and has taken the metal detecting industry to new levels of excellence. Minelab is a Codan Limited company (ASX: "CDA"). To learn more about Minelab, visit minelab.com.