David Mullins joins Shimano
Category: article
Jan 12th, 2022 by Keith Worrall
Modified Jan 12th, 2022 at 9:35 PM

Shimano Welcomes David Mullins to Elite Pro Team
Elite Series Angler Leans on Shimano, PowerPro for Success in 2022
Shimano has a century-long legacy of crafting the most innovative and reliable tackle for anglers around the globe, and is the brand that true professionals reach for when a paycheck is on the line. Bassmaster Elite Series angler David Mullins has enjoyed eight years of success on bass fishing's biggest stage, building an impressive resume that includes back-to-back Bassmaster Classic appearances paired with numerous top-10 finishes. Now, the Tennessee-based pro will wear the Shimano and PowerPro logos on his jersey as the newest member of the Shimano Elite Pro Team.
Bob Mahoney, Freshwater Product Marketing Manager for Shimano North America Fishing, notes that "David is perfect for Shimano. His fishing prowess and tackle experience perfectly reflect Shimano's commitment to growing the sport and continuing to develop 21st-century tackle for the bass angling community."
"I was raised in East Tennessee and have fished for as long as I can remember," reflects Mullins. "Like lots of kids, I started on ponds, and when I was a teenager, I wanted to start competing in tournaments. By the time I was 18, I was entering BFL events, placing me on the path I find myself on today."
"I was good friends and even roomed for several years with Aaron Martens when we were on the road. Aaron just loved his Shimano gear and gave me a bunch of reels when I was an Elite Series rookie. I've been using those same reels ever since; Shimano tackle is incredibly smooth, durable, and above all else, reliable. Those are qualities that all anglers – from touring pros to weekend warriors – demand, and I'm proud to represent the Shimano and PowerPro brands starting this season."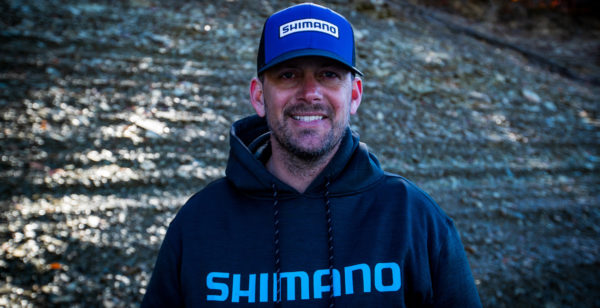 "David is a humble guy that everyone on the Elite Series loves to be around," adds Mahoney. "He gave up everything – including a career as a high school teacher – to chase his dreams as a professional angler. His rise on the Bassmaster Elite Series will aid Shimano in branding, promotion and education on a variety of different platforms. Our product development team will be spending a lot of time with David as we work together to create innovative and exciting new bass tackle that aligns with Shimano's brand identity and market objectives. Anglers can look forward to detailed descriptions of David's tackle as he competes this season, as well as how-to tips designed to help everyone find more success on the water."
A renowned hard bait specialist, Mullins will be leveraging Shimano's innovative World Minnow 115SP jerkbaits, Shimano Expride rods, and Shimano Bantam reels to bring more and bigger bass to the Bassmaster Elite Series scales. Shimano and PowerPro are excited to add David Mullins to the Elite Pro team and look forward to following his continued success on the water.