Al's Goldfish Lure Company's Ice Jigs: A Must for Serious Winter Anglers
Category: article
Nov 2nd, 2021 by Keith Worrall
Modified Nov 2nd, 2021 at 10:45 AM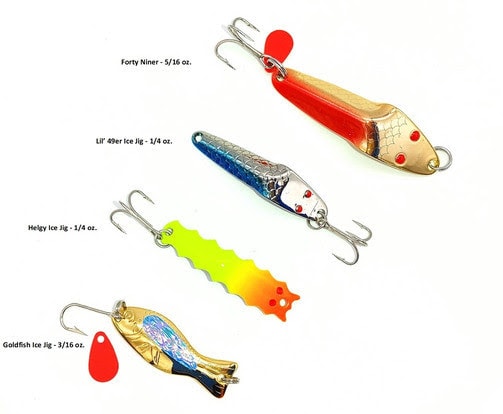 Al's Goldfish Lure Company's Ice Jigs: A Must for Serious Winter Anglers
ELIOT, Maine (Nov. 2 2021) — Winter is fast approaching, and with it will come an event that a growing number of cold-country anglers anticipate every year – lakes and ponds will freeze over. It's time to go ice fishing! And smart ice anglers do not head to the lake without a tackle box containing a good selection of the sport's most effective lures – Al's Goldfish Lure Company's Ice Jigs.
The popularity of ice fishing has grown significantly over the past couple of years due to several factors – the pandemic lockdowns and families looking for ways to get their kids outdoors, a budding interest in acquiring and preparing your own food, and the simple fact that few meals are tastier than those prepared around trout, char, walleye, pike, and panfish caught in the frigid waters of winter lakes. And with today's technological improvements — space-age clothing, electric powered ice augers, reasonably-priced electronic fish finders, even insulated portable shanties – it's easy to stay toasty warm and comfortable all day, even in frigid conditions.
But it all comes down to catching fish, and that's where Al's Ice Jigs come in.
Al's Goldfish Ice Jig is based on the original Al's Goldfish lure which is a wobbling spoon design that was developed in 1952 and has been a staple of serious ice anglers for more than six decades. For the Goldfish Ice Jig, the 3/16 oz. lure body is turned upside down with a single J hook off the nose. It can be jigged as is, or with the optional red tag, or paired with a creepy-crawly and the lure body acts as a flasher. With this tried and true lure you will be cleaning fish before you know it.
Al's Lil' 49er Ice Jig is a brass spoon with a distinct shape and action, weighing in at 1/4 oz., and measuring 1 3/4-inches long. Anglers watching the lure's jigging action with sonar will see the lure zigzag erratically in and out of the transducer beam as the lure is pulled up, and observe a pronounced flutter on the drop. Configured for vertical jigging with a treble hook off the nose, the Lil' 49er is set to catch smaller freshwater species such as panfish, trout, and bass. If you like the shape and action of this lure but want a little bigger action for species such as lake trout, walleye and northern pike, the Lil' 49er's big brother –- the Forty Niner — is an outstanding bait when jigged vertically through ice.
The Al's Helgy Ice Jig is a spoon shaped lure mimicking a Hellgrammite, the aquatic larvae of the Dobsonfly. It performs well as a flutter spoon when jigged through ice, as its erratic flutter action paired with glow-in-the-dark paint will catch the attention of species like trout, salmon, bass, walleye and panfish. It weighs 1/4 oz., measures 1 1/2-inches long, and comes with a treble hook.
Al's Goldfish Lure Company has the lures to catch the fish. It is up to you to get out there and do it.
All Al's lures products are proudly made in the USA. They are available at select retailers across the country and conveniently online at www.alsgoldfish.com. For more information, visit https://www.alsgoldfish.com/ or call them at 413-543-1524.
About Al's Goldfish Lure Company
The company was launched in 1952 with a single pioneering spoon lure, known as Stuart's Goldfish, named after founder Al Stuart. The company's flagship lure was renamed Al's Goldfish in 1954, and by 1973 the popularity of the Goldfish lure soared to nearly one million lures sold in a year. Along the way, other popular lures, such as the Forty-Niner and Helgy, and hook bonnet lure accessories were added to the company's list of American-made products. In 2015 the line was expanded to include the Saltwater Goldfish series. In 2022, present owners Jeff and Mandy DeBuigne will celebrate the 70 year anniversary of the Goldfish lure. For more information on Al's Goldfish Lure Company visit www.alsgoldfish.com.