BREEO INTRODUCES THE OUTPOST: THE ULTIMATE CAMPFIRE GRILL
Category: article
May 1st, 2020 by Keith Worrall
Modified May 1st, 2020 at 11:51 AM

BREEO INTRODUCES THE OUTPOST: THE ULTIMATE CAMPFIRE GRILL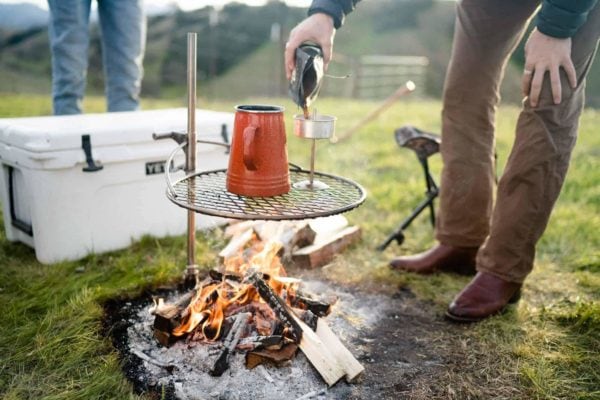 LANCASTER, Pa. (April 30, 2020) — Breeo, creators of award-winning line of smokeless fire pits, announces the launch of its newest open-fire grilling product, the Outpost. The self-pounding, post-locking, campfire grill grate fits seamlessly with all Breeo fire pits and can also be used as a stand-alone grilling machine for on-the-go adventurers who savor the experience and flavor offered by open-flame cooking.
Like all Breeo products, the Outpost is American made in its Lancaster facility in the heart of Pennsylvania's Amish country. Crafted of 100-percent, high-grade 304 stainless steel and backed with a lifetime warranty, the Outpost is corrosion resistant and can be securely anchored in sand, dirt or grass to create a solid grilling platform making it ideal for grill masters looking for a portable, high-quality cooking option for life in the outdoors.
"We're tired of being handed gadgets and technology that highlight convenience and predictability over taste and experience," said Jonathan Miller, founder and marketing director at Breeo. "Our smokeless fire pits and cooking products like the new Outpost grill awaken the senses and provide the tools to truly experience outdoor cooking in its most primal and visual form."
Adventurers of all kinds will appreciate the quality and craftsmanship of the Outpost, as well as its mobility that make it easy to bring it along for the ride. Whether in the backcountry, on the beach, tailgating or the backyard, the versatility of the Outpost elevates open-flame cooking to a new level.
The Outpost is available in two sizes: 19 inches (weighing 8 pounds) and 24 inches (weighing 14 pounds) and comes with a heavy-duty bag for easy transport. Stabilizing bars on the Outpost provide extreme balance while its adjustable grilling platform includes a post-locking mechanism to keep it firmly in place during use. The Outpost is also compatible with the Breeo Kettle Hook to suspend food above the fire and integrates into all Breeo Smokeless Fire Pits. For more information about Breeo and its products, visit www.breeo.co.
About Breeo
Breeo products are handcrafted in Lancaster, Pennsylvania. Founded in 2011, Breeo's heavy-duty, steel smokeless fire pits and cooking products create the ultimate synergy between campfire and grill and are built to handle anything. Made in the U.S.A., Breeo takes outdoor cooking to a new level with smokeless fire pits designed to produce significantly less smoke and cooking products designed to up your open-fire grilling game. Whether upgrading your backyard or perfecting your steaks, Breeo has you covered. For more information visit: www.breeo.co. Follow Breeo on Instagram, Facebook and YouTube.